The Cake Boss Airbrush Kit is a useful tool that allows you to create eye popping designs on your cakes. With this easy to use kit you are sure to always wow your clients and audience with incredible edible cake arts.
This great kit has many wonderful features but before we discuss them, let's look at the brand behind the product
Brand Profile
Buddy Valastro is a fourth generation baker who learnt the fine art of baking and cake decoration from his progenitors. He and his family operate the famous Carlos Bakery with  headquarters in Hoboken Street New Jersey.  Long years of experience gained from trials, errors and experimentation earned him the title of Cake Boss.
Cake Boss has over the years developed a number of cake decorating tools and products. Some of these products include cake pans, ready to use fondant, modeling tools and the airbrush kit under review.
The acclaimed Cake Boss desires to help bakers achieve the level of expertise that he and his team have attained.  This desire is the driving force behind the development of these easy to use products and tools.
Understanding Cake Airbrush Machines and Features to Look out For 
You may have stumbled on this review in  your search for cake airbrush Kits. If you do not know how a cake airbrush machine functions , then you'll not really know what features to look out for.
We already have an article that explains what a cake airbrush kit is and all you need to know about it. so we need not repeat ourselves here. Click here to read the article.
Now let's get back to the review of our product; the Cake Boss Airbrush Kit.
Features of The Cake Boss Airbrush Kit
Click here to check it out and buy on Amazon
The Cake Boss Airbrush Kit is thoughtfully designed for both professional and amateur cake decorators. It comes with many great features that include some of the following:
A Compact and Solid 18 PSI Compressor
This compressor is just right for cake airbrushing projects and works with Dc voltage and 9W.  It also an uncomplicated machine that runs smoothly and efficiently.
Three Adjustable Levels
The airbrush can be adjusted to high medium and low. The high level is used for airbrushing large surface areas. The medium level is ideal when you want to make basic airbrush design. For detailed designs and scripts you need the low level.
With these three levels you can cover basically all types of cake designs and scripting.
Flexible Rubber Hose
This rubber hose connects the airbrush to the compressor and is flexible. This allows you to move the airbrush gun around when it's in use
A/C 12V 50Hz/60Hz Adapter
Plugs and electrical outputs are factors that cause great inconvenience for users of electrical appliances.  The Cake Boss Airbrush Kit solves these issues with an A/C 12V 50Hz/60Hz adapter.  With this, the airbrush kit can be adapted to work with different types of electrical output.
Storage Case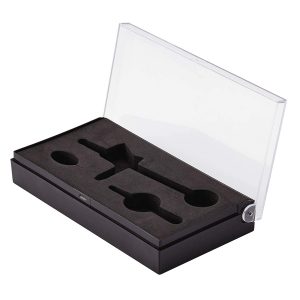 This may not seem like much but it comes in handy when the machine is not in use. The case helps you store the kit properly and preserves it from dusts and dirt. It also makes transporting easier and more convenient.
User Guide
The kit comes with an instruction manual that helps the user get started. The instructions are precise and simple to understand. This makes it easy for a beginner to be able to use the kit.
Manufacturer's Warranty
The product is covered by a one- year manufacturer's warranty. This should give the buyer a level of assurance and also allay fear of buying an inferior product
Extra Features
The Cake Boss Airbrush Kit comes with extra features that include a nozzle cleaner, nozzle wrench and plastic dropper. The nozzle cleaner is a great addition because some people don't know or have the right tool for cleaning the airbrush nozzles. Using the wrong tool to clean to clean the nozzles can spell early demise for the nozzles.
The plastic dropper is also a useful tool that makes transferring color to the airbrush color reservoir more convenient.
Click here to check it out and buy on Amazon 
Benefits or Pros of The Cake Boss Airbrush Kit
The features we have discussed  afford users several benefits; here are few of them:
Ideal Gift Product
The packaging of the kit makes it an ideal gift item for a cake decorator. The vibrant color and storage box all make it aesthetically appealing. You don't have to bother about the skill set of the recipient because the kit is easy to use; more so it comes with easy to understand instructions.
Great Value For Money
The Cake Boss Airbrush Kit is a product that is reasonably priced and it offers great value for the money. It is an investment that one can make without so much risk. If used for commercial purposes, you should be able to recoup the cost after a number of projects.
Simple to Use
The learning curve for using the Cake Boss Airbrush Kit is not steep. You can get a hang of using the kit with only a few tries. What's more, the kit comes with an instructional manual that's easy to understand.
Easy to Clean and Maintain
The Cake Boss Airbrush Kit is easy to clean and maintain. It has few moving parts unlike some other sophisticated and more complex airbrush kits. Included with purchase is a nozzle cleaner which make cleaning the nozzles a lot easier.
Portable
The compact size of the Cake Boss Airbrush Kit makes it a great on site tool. You can easily pack it up and travel with it. Whether you are going to set up for a wedding or event or going for a culinary competition; this is a handy tool to own.
Produces Consistent Results
Once you get a hang of the working of the Cake Boss Airbrush Kit, you are assured of a consistent result.  A number of users swear by the results they get every time they use this kit.
Click here to buy and enjoy this easy to use tool 
Cons of The Cake Boss Airbrush Kit
This review wouldn't be complete if we don't tell you the demerits or cons of this product. Following thorough research we came up with some of these demerits
Not For Professional Use
Some users are of the opinion that the Cake Boss Airbrush Kit is not for serious bakers. What we deduced from this assertion is that the kit wouldn't withstand long and vigorous use. If you bake on a consistent and large scale then this kit shouldn't be your primary or one and only airbrush kit. It may work well as a standby or on site kit but not for heavy duty use.
It is Not Stable When in Use
The motor of the kit makes the machine to move around a lot when it is in use. This means that you have to figure out how to keep the machine secure on your working surface when working with it.
Lack of Durability
There have been complaints of lack of durability. Those who had issues complained that the motor stopped working after two or three uses.  The general assertion is that it wouldn't last for long if it is used for large scale projects.
Verified Customer Opinions on the Cake Boss Airbrush Kit
Just as with everything in life, different people have different opinion about the Cake Boss Airbrush Kit. Some had nice and positive things to say while others had some challenges with it.
One customer really loved the kit but wasn't happy with the instruction manual. They felt that the manual should have a trouble shooting section. This would help users to deal with some user errors or minor issues that may arise.
The compact and portable nature of the kit is a big plus to a number of customers. They say it makes it easy for them to store the machine and also transport it. This feature has made the Cake Boss Airbrush Kit a very useful onsite cake decorating tool.
A wide variety of customers are happy with the price of the Cake Boss Airbrush Kit. However there are dissenting opinions on the durability of the kit. Some customers feel the durability is commensurate with the kit if well managed by the user while others feel that it is not.
Our Verdict
From the foregoing, we can say that the Cake Boss Airbrush Kit is a good product for the price. But one thing any buyer has to bear in mind is that it is not a heavy duty machine.
We advise that anyone who needs an airbrush for large scale projects should invest in a more professional airbrush kit.  The Cake Boss Airbrush Kit would serve for small scale projects or as a standby airbrush kit.
Furthermore, note that any electrical or electronic equipment you buy has to be handled with care. That means that you have to follow the direct for cleaning and maintenance. You also have to use the machine as directed so that you'll get the best from your purchase.
If you have been convinced that the Cake Boss Airbrush Kit is adequate for your cake decorating needs, click here to make a purchase.
Click here to buy now on Amazon 
But if you are still in doubt about it, let's quickly give you a summary of some alternatives.
Alternatives to the Cake Boss Airbrush Kit 
Multipurpose and Professional Kit
Click here to buy this  machine on Amazon 
The Master Pro Multi-Purpose Airbrush Kit is a versatile kit that is suitable for a variety of crafts. It can be used for cake decoration, make up, fine art, temporary tattoo, sunless tanning and many more projects.
It is a professional kit that comes with three master airbrushes, powerful 1/6 horse power compressor.  The compressor has an air filter water trap and pressure regulator. The machine is designed for heavy duty and large scale projects.
This multipurpose airbrush kit is just right for people who are involved in multiple crafts and hobbies including cake decoration.
Click here to check it out and buy on Amazon
Kit With Full Selection of Colors
Click here to check this out and buy on Amazon 
The U.S Cake Supply Airbrush kit has all that is needed for making edible cake craft. This includes a professional airbrush compressor, airbrush hose and holder, 110V AC plug in adapter, single action gravity feed airbrush, 0.4mm nozzle and a 1/16 oz cup.
The kit also comes with 12 vibrant food colors for airbrushing and a detailed user manual. The manual has tips and design techniques that would help a beginner in airbrushing; some of these designs are even useful for professionals too.
Furthermore, customers who purchase this kit have the advantage of getting tips and techniques, in addition to the 12 airbrushing colors that are included.
If you are interested in buying the U.S Cake Supply Airbrush Kit, click here 
Cheaper Option
Click here to check this out and buy on Amazon 
The Master Airbrush Kit is a very pocket friendly airbrushing machine that is high performance. It comes with a precision airbrush that has a 1/3 oz gravity fluid cup and 0.3mm fluid tip. The 6 foot hose has a 1/8 inch fitting and the compressor is lightweight and portable.
This is also a great kit for students and beginners because it can also be used for airbrushing projects apart from cake decoration. It has many features that make it a user friendly and versatile kit.
If you are looking for an airbrush kit that's budget friendly then click here to purchase the Master Airbrush Kit.
Before we wrap up this review, let's give you a quick table of comparison of the products discussed.
Table of Comparison of Products
Cake Boss Airbrush Kit

 

Master Pro Multi-Purpose Airbrush Kit
U.S. Cake Supply Airbrush Kit

Buy now by clicking on this link

 

Master Airbrush Kit

 

Category

Featured  Cake Airbrushing Kit
Multi purpose and professional Kit
Kit with Full Selection of Colors
Cheaper Option

Source of Power

Electricity
Electric
Powered by Electricity
Electrically powered

How Many  Airbrushes

1
3
1

Type of Airbrush

Single action
Dual action
Single action

Design of Color Cup

Cup is Gravity fed Design
Siphon and  Gravity Feed
Gravity feed

Number of Hose and Length

1 hose. Length not specified
Unspecified
1 6 foot long hose

No. and capacity  of Color Cups

1 cup, Capacity not specified
 2 color bottles
1, 1/6 oz color cup

Number of Nozzles and Sizes

1 size not specified
3 nozzles ( 0.3mm, 0.8mm tip and 0.35mm tip)
1, 0.4mm nozzle

Compressor

18 PSI Unit
1/6 horse power
Not specified
15 PSI on demand  with maximum of 25 PSI

Storage Case

 

Yes
None
Not included
No

Extra Features

Nozzle cleaner, Nozzle wrench and Plastic dropper
Reducer and cleaner
Color chart guide
Conclusion
Knowing and understanding the features of an airbrush kit is crucial for making an informed decision to purchase. However, it is more important  to appreciate the merits and demerits of the product. This is because it's safer to buy a product knowing what to expect rather than being ignorant.
We therefore hope that this candid review has equipped you with the information you need. so if the fore going has convinced you that the  Cake Boss Airbrush Kit is right for you then click here  to make a purchase now.
Topics
#airbrush machine
#airbrushing tools
#cake airbrush kit
#cake boss airbrush kit