Cake stencils are templates that are used to create stunning and exceptional designs on cakes. The art of stenciling though it appears complex is quite easy and effective. It is an age old technique cake decorators have relied upon to bring satisfaction to many.
There are lots of effects that can be created with stencils using different media. From cake paints, to gel color, luster dust or plain icing sugar or cocoa; your choice would depend on the effect you intend to create.
Types of cake stencils
Cake stencils are mostly made of acrylic but there's the more recent innovation which is the silkscreen mesh stencils. The great thing about cake stencils (both mesh and acrylic stencils) is that they are readily available in specialty stores. Before we discuss the different ways you can use cake stencils, let's quickly look at acrylic versus mesh cake stencils.
Acrylic Cake Stencils
They are made of a type of plastic but are flexible enough to be placed on cake. Though you can create wonderful designs with them, they do not have the fine details that mesh stencils have. One advantage of acrylic cake stencils is that you can make your own design.
With a pack of acrylic stencil sheet, a stencil burner and a good tutorial, you can create your unique design. But if you don't have the time or inclination there are a lot of acrylic cake stencils on Amazon.
Mesh Cake Stencils
Mesh cake stencils are made from food grade mesh materials. They usually have finer details than acrylic cake stencils and are usually more flexible. This makes it easier to wrap them tightly on round cakes when using them.
The mesh materials make for more intricate designs and are perfect to use with royal icing. What's more?  You can achieve that edible lace effect without the use of an edible lace mat. 
Although acrylic cake stencils are more popular, mesh cake stencils are also readily available on Amazon or other cake craft stores.
Different Techniques for Stenciling on Cake
There's a whole world of possibilities with cake stencils. You can work with them using, gel paint, royal icing, airbrushing, luster dust and even piping gel!
Here we'll share just 5 techniques that are sure to help you create eye catching designs on your cake.
1. Using cake stencils with colored edible dust
Using edible dust for cake stenciling is pretty much like coloring by numbers. First you mix the colored dust with edible spirit to achieve a paste; make sure that the consistency is right. After that, place your cake stencil on the cake and paint the patterns on the stencil.
Ensure that every detail in the stencil is covered before lifting it off the cake. Some cake decorators have been known to go over the first step with dab of dry luster powder. This gives it a different effect from if you had just stopped at painting. Some decorators on the other hand just use only the dry edible dust.
2. Stenciling with royal icing
This works very well on fondant covered cakes. First ensure that your royal icing consistency is right. If you don't have a royal icing recipe, you can always download one online. Or you can check out already made royal icing mix.

Place your cake stencil on the cake and secure firmly with pins or adhesive tape.
Make sure that the stencil would not move. Then with an offset spatula,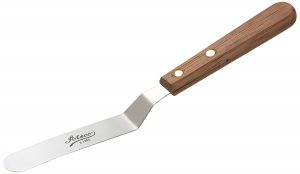 apply the icing from one end of the design to the other.
Make sure that you cover all the details on the stencil with the icing. After this, use a scrapper 
to remove excess icing from one end to the other. Also ensure that you leave a fine layer of icing; if the icing is too thick you'll not get a fine imprint on your cake.
Then lift off the stencil from the cake. You might want to add the effect of dry luster powder on the design. To do this, just dust the stencil with the edible dust before lifting from the cake.
3. Airbrushing with cake stencils
You can use this technique on any type of cake surface but the best is a fondant covered cake.First place your stencil on the cake and secure firmly with pins or adhesive tape. Then cover the other parts of the cake so that the spray doesn't stain the part you aren't working on.
Keep you airbrush gun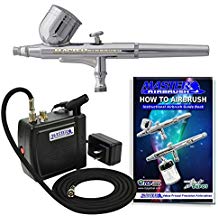 at about eighteen inches away from the cake and spray.If you want your colors to be deeper and more intense, you would need to spray more than twice.
Remember to allow for one or two minutes intervals to allow the previous spray to dry. Be careful when spraying so that it won't be too heavy; this would make the paint drip and spoil your work.
For those who do not have an airbrush gun/machine, this technique can be done with a luster spray.  Just follow the steps outlined earlier. Do not forget that airbrushed cakes have to be handled with care to avoid smudging. This is even more so for luster sprays.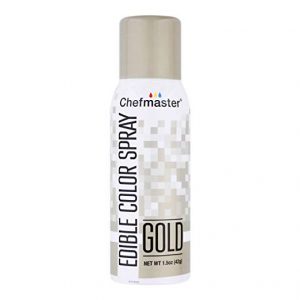 4. Using Mesh stencils with metallic colors
In case you don't want to use royal icing for your mesh stencil, you can use metallic colors. First, you mix your metallic color with vodka or edible spirit just as you would for airbrushing.Then you mix in some piping gel to form a paste. With this paste, follow the same procedure as for royal icing and voila! A stunning metallic finish to your cake.
5. Stenciling with food coloring
The procedure for stenciling with food coloring is basically the same with no 4 above. The only difference here is the medium which is food coloring. When using food coloring, you have to be careful not to allow the color to drip. This would happen if the consistency of the color is too thin.
For this method, you can either use a blush brush or small foam to apply the paint/color. As with every other method, ensure that you go over every detail of the stencil with the paint; leave no surface uncovered.
Some of these techniques may appear to be the same but trust us when we tell you that the results are not the same. So in case you see a cake picture online that you want to reproduce, ensure that you check out which method and tools were used.
This would determine the effect you'll get on your cake. This is especially for those who would always want to reproduce an exact replica. But for the adventurous decorator, you can always play around with different methods and tools to create your own unique style.
Common Mistakes in Cake Stenciling
We know that not all cake decorators have the privilege of formal training. Many have had to learn through trial and error and a lot of experimentation. While life is all about learning from our mistakes, there are some mistakes that can be prevented by learning from others.
Here we'll share some of these mistakes and how to avoid them. If you've already made the mistakes, hopefully there are ways to correct them. Some of these mistakes include:
1. Using the wrong size of stencil
A common mistake is buying a cake stencil that's not the same size with the cake to be decorated.If you want to decorate a cake that's 6 inches high, then you need a 6 inch cake stencil. Using a 4 inch or 8 inch cake stencil would be awkward for you to use. You might also not get the effect you are looking for.
2. Not placing the stencil securely on the cake surface
Unless you are a pro in cake stenciling, it's difficult to hold the stencil and apply the medium at the same time.One or both of the procedures would suffer. It's either your stencil would shift away from position or your medium would smear/smudge.
3. Lifting off the stencil the wrong way
When you pull off the stencil haphazardly, you end up with blotched patterns.
4. Not scrapping off enough icing or scrapping off too much
Some people make the mistake of layering on so much icing and not scrapping it off. While others make the mistake of scrapping off so much icing. Either way the result wouldn't be nice.
5. Laying on too heavily or not enough with paint
Same as with 4 above, the medium used for the stencil has to be layered on just so.
Tips for Getting the Perfect Finish
1. Make sure that your fondant covered cake is set and dry
This would allow you to place the stencil without fear of denting the cake. It would also allow the medium to stick properly. By medium we mean, the royal icing, cake paint, gel or luster dust.
2. Buy the right size of stencil for your cake
Peradventure you already have a cake stencil that isn't the same size with your cake here's what to do. Find a stand that would help elevate your cake; especially if your turntable doesn't do the trick. This would help you to align the stencil better than if it isn't elevated. If you are yet to buy your stencils, factor in the heights of the majority of your cakes.
3. Secure your stencil to the cake
When you place your cake stencil on the cake, secure them with pins or adhesive tape. Always ensure that the adhesive tape would not smear or pull off your fondant. You can do this by testing it out on an inconspicuous part of your cake.
4. Always allow pattern on one side to dry before doing the next one
This would help you avoid smudging or smearing the previous pattern.
5. Wash your stencil between use
If you're doing a repetitive pattern, it is a good idea to wash your cake stencil after each use. Rinse out the stencil with warm water and dab with a kitchen towel. Be careful not to scrub as this would tear the delicate patterns of the stencil.
6. Scrap off your medium properly
When you lay on your icing or whatever medium you are using, make sure it covers all the design. Then scrap off properly to achieve a fine layer of design. Before you scrap, ensure that you have fully covered all the little/intricate patterns. Failure to do so would give you incomplete designs.
7. Apply medium correctly
If you are using paint/food coloring, do not apply too heavily. Heavy application can lead to blotched or blurry designs.Also ensure that your color has the right consistency to avoid dripping on the cake.
Tools for a Perfectly Stenciled Cake
It has been said that a workman is only as good as his tools.  The first step to getting a perfectly stenciled cake is having the right tools. You do not need too much tools, just these basic things:
1. Different designs of cake stencils
You know you can always start with one. If you are hands on person, you can even create your own stencils.
2. Adhesive tape
This would come in handy for holding the stencils securely on the cake. You can also use sewing pins with head or acupuncture pins.
3. An offset spatula
This for spreading the icing properly on the stencil.
4. A metal scraper or ruler
This is very useful for removing excess icing.
5. Different types and sizes of brush
This especially useful in case you're using food coloring or edible paint.
6. Toothpicks
These have to be handy for cleaning up some smudges especially with royal icing.
7. A good turntable
This is actually a basic tool for any cake decorator. It  makes your decorating less stressful. You don't have to keep turning around to get round your cake; let the turntable do the work.

8. Your medium
This  (royal icing, edible luster dust, food coloring or gel paste) is not actually a tool but an ingredient. Howbeit, it is at the top of what you should get right for a perfectly stenciled cake.
Finally… Don't Sweat the Small Stuff
Bet some of you have seen cake pictures online that left you gaping; we sure have. These pictures can sometimes be an inspiration but also intimidating. One is often tempted to ask 'how can I ever achieve such perfection?
Let's let you into a secret. A good number of those cakes are glossed up (made picture perfect) with all the wonderful technology at our disposal. Do you know that even the best of the best do have some little imperfections on their cake?
As you foray into the possibilities presented by cake stencils, go with realistic expectations. It would be foolhardy for you to expect your first attempt to be flawless.
As with everything in life all that's required is your best. Have an eye for details; be diligent and patient to get it right. Consistently  give your best and you'll  one day  also post  pictures of perfectly stenciled cakes (they might have flaws, but no one would notice).
Topics
#acrylic cake stencils
#cake stencil designs
#cake stencil kits
#cake stencil tools
#cake stencils
#DIY cake stencils
#mesh cake stencils