The Chefmaster 12 Color Airbrush  Set is a food coloring set stocked by U.S. Cake Supply. This set is made up of 12 vibrant colors that come in 0.7 fl. oz. bottles. These colors are Royal Blue,Hawaiian Blue,Spring Green, Canary Yellow,Sunset Orange,Super Red, Violet, Deep Pink,Harvest Brown,Midnight Black, Metallic Silver and Metallic Gold.
Good quality cake airbrush colors are a necessity for every cake decorator. For a better understanding of this review we encourage you to read our article on cake paints here. Now before we go further into the discussion of the features of the Chefmaster 12 Color Airbrush  Set, let's take a sneak peak at the company profile of the supplier.
Brand  Profile
U.S. Cake Supply is a subsidiary of TCP Global an E-Commerce organization. TCP Global started out in 1974 as a little store that sells home decorating products. It began in Lakeside California but has now expanded to operating over ten e-commerce websites. These sites are dedicated to meeting the demand for online shopping with commensurate supply.
U.S. Cake Supply is one of these outlets and is dedicated to providing top quality cake products. Some of these products range from cake mixers to airbrush machines, cake pans to cake boards and food colors.
TCP Global has grown consistently for the past 40 years and now has massive warehouse space. This enables it to meet the growing demands of the e-commerce industry.
U.S Cake Supply looks forward to consistently being a force to reckon with in the e-commerce industry. It has a full assortment of cake decorating products for any level of culinary expertise. And of such great products is what we are reviewing today.
Features of The Chefmaster 12 Color Airbrush Set
Click here to buy this set on Amazon
For more than half a century now, cake decorators have always trusted Chefmaster cake decorating products. The Chefmaster 12 Color Airbrush  Set consists of cake airbrush colors that are great for cake decoration. They are easy to use by cake decorators of any level of expertise.
This wonderful cake airbrush color set has many other great features which we would examine in greater details. These features include the following:
Highly Concentrated Colors
The set contains 12 vibrant colors that are highly concentrated. These edible colors are perfect for airbrushing on cake and are of superior strength and quality. The high concentrations of these colors make a little go a long way. You do not need to use so much to achieve bright vibrant effects.
Wide Variety Of Colors
The 12 0.7 fl. Oz bottles of colors provide a wide variety of colors and shades to choose from.  With this set, your airbrush coloring needs are covered. If a single color does not give you the shade you need, you can mix two or more colors for more exotic hues.
Easy to Use Dispenser Bottles
The colors come in bottles with flip top covers that are sealed. All you need to do is flip the top of the bottle opened and press in the color drop by drop.
Made With Top Quality Materials
All ingredients used in the manufacturing of the Chefmaster 12 Color Airbrush Set are of top quality. Only materials approved by FDA are used; this is to ensure its food safety and quality . All the ingredients used are also certified Kosher. Furthermore, these colors are made in USA just to maintain the high standard of the product.
Functional and Versatile Colors
Though these colors are made specifically for cake airbrushing and cake related products, they are quite versatile. They can be adapted for use without an airbrush gun or kit.
For cake decorators who do not have an airbrush machine/kit, a cake paint brush works just fine.  The only thing is that you have to experiment with it first before using on your actual/final product. This is to help you get a hang of how it works outside of an airbrush gun.
Many people also attest to the fact that they have used these colors for other craft projects apart from cake airbrushing. They have been pleasantly surprised to note that they worked perfectly for these other projects.
Pros of the Chefmaster 12 Color Airbrush Set
Click here to check this out and buy on Amazon 
This great airbrush color set has many advantages and some of them include the following
 Money Saving Product
This airbrush color set has saved a lot of money for many cake decorators. The colors work well in contrast to using a can of edible spray to achieve bright and vibrant effects. Whereas you might need to use a whole can of edible spray to cover a whole cake, you wouldn't need a whole bottle of this airbrush color to achieve the same effect.
The cost effectiveness of the cake airbrush color set is amazing. From the initial cost of the set in contrast to that of the edible spray can, to the bottom line   cost effectiveness. What this means is that the Chefmaster 12 Color Cake Airbrush Color Set is a money saver.
One Stop Color Set
The variety of colors in this set eliminates the need for multiple individual colors or food coloring products. With this set the buyer gets many difficult to find shades of color such as purple, navy blue or green. You can rest assured that your color needs are adequately met by this set. You don't have to go shopping for colors when you have new projects.
Long Lasting Color Set
The colors in this set are highly concentrated making a little go a long way. Because of this, the colors would last for long if properly stored.
The dispenser bottles also help to eliminate error and waste because it allows you to dispense the color drop by drop. The flip top also contributes to the ease of use of the color while preventing waste.
Cons of the Chefmaster 12 Color Airbrush Color Set
This airbrush color set is a great product as attested to by verified buyers. However there are some things that can be changed to make it better.
Listed below are some of the features  that customers complain about:
Size of the Bottles
Some people wish the colors came in bigger bottles. Though not a deal breaker, some commercial users would have preferred bigger bottles. They say that with 8 to 10 drops of color for some cakes, they would have to constantly replenish their stock.
Too Thick For Some Airbrush Guns
The colors can be too thick for some airbrush machines. This leads to a clogging of the airbrush gun. However, this is not a deal breaker because you can thin out the color with edible spirit before use. This allows you to get the right consistency for your airbrush kit/gun.
It also takes some practice to eliminate blotchiness because of the high concentration of the colors.
Improper Packaging
One complaint that runs rampant with a lot of buyers is the lack of proper packaging. More than 50% of customers have received packages with one or more bottles with leakages .  We wish these beautiful colors would come better packaged to avoid these spillages.
Overall, the Chefmaster 12 Color Airbrush Color Set is a bargain and would give any cake decorator good value for money.
This brand also has cake airbrush colors that come in different sizes and quantities. You can check out the following variants of this product.
Variants of The Chefmaster Cake Airbrush Color Set
Chefmaster 6 Color Airbrush Metallic Color Set 
This set comprises of the following metallic colors: Green, Red, Blue, Yellow, White and Silver. They all give off a bright metallic finish to your cakes, fondant, isomalt, gum paste and other cake related products.
So if what you need are airbrush colors to give your finished products that glitz and glamour, look no further.
Click here to check out and buy this variant on Amazon 
Chefmaster Deluxe 24 Bottle Airbrush Color Set
Click here to check out and buy this set on Amazon 
This Chefmaster Airbrush Color Set is ideal for people who use a lot of colors and are not keen on mixing colors.
This set has a wide variety of colors that include the following: Deep Pink, Midnight Black, Canary Yellow, Royal Blue, Violet, Hawaiian Blue, Neon Orange, Super Red, Spring Green, Harvest Brown, Sunset Orange, Neon Blue, Neon Purple, Neon Yellow, Neon Green, Neon Pink, Metallic Blue, Metallic Red, Metallic Green, Metallic White Pearl, 2 bottles of Metallic Silver and 2 bottles Metallic Gold.
Chefmaster Airbrush Cake Color Set in 2.0 fl. oz. Bottles
Click here to buy this set on Amazon 
This set of Chefmaster airbrush colors come in bigger dispenser bottles. It is ideal for those who want their colors  in larger quantities.
Still not sure about the Chefmaster Cake Airbrush Color Sets , let's look at some other options.
Alternatives to The Chefmaster Cake Airbrush Color Sets 
High End Cake Airbrush Color Set 
Click here to buy this set on Amazon 
The Americolor 12 color kit consists of 12 0.65 Oz bottles of pearl-scent colors. The colors in this set has superior strength and would not separate or weep. Furthermore it does not harden like some other food colors.
The basic ingredients used to make the colors allow them to dissipate quickly. This means that you get to use less color than with other products.
This set is a high end product  but well worth the price.
Individual Color Offerings
For people who do not want to buy a complete set of colors, there are also individual colors that you can choose from.  Here's an example of such a product:
Click here to choose any color you want on Amazon 
The Americolor AmeriMist Cake Airbrush colors are highly concentrated with super strength. They are ideal for airbrushing and very effective. They are sold in individual 9 ounce bottles and come in different colors. These colors work well even for those baked goods and items that are hard to color.
The consistency of the colors removes the tendency to over spray. This means that moisture would not accumulate on your finished product.
The overall effect is that there would be no water marks on your fondant and your icing would not break down.
These colors are well packaged in dispenser bottles that are easy to use. They are made in U.S.A to further ensure that the high quality of the product is not compromised.
Edible Spray Cake Colors 
There are times when you nay not want to use an airbrush kit. It might also be that you do not have an airbrush machine. You don't have to miss out on the joy of cake painting.  You can buy the Chefmaster Edible Spray Cake Decorating Color.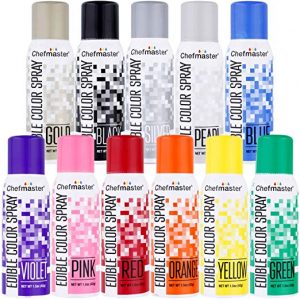 Click here to check out and buy this edible spray set on Amazon 
This spray colors are not water based and is ideal for highlighting cakes and baked goods. They come in cans that are easy to spray and allows for the use of the right quantity of color.
Because of the base ingredients, there is no risk of the colors bleeding.
This is a time saving product because it dries in as little as 60 seconds. You don't have to wait for the paint to dry before continuing with your decoration.
The set contains both standard vibrant colors and metallic colors. With this set, you can either give your product a bright vivid effect or glitz and glamour all without an airbrush kit!
Table of Comparison
Feedback from Verified Buyers of Chefmaster 12 Color Airbrush Set
The Chefmaster 12 Color Airbrush Set has a lot of positive feedback from verified buyers. There's one thing that stands out about this color set and that is the high concentration of the colors.
This cake airbrush color set is not a mediocre product like some food color brands. Majority of users love the fact that it gives you the exact color on the label when applied. This makes it a winner among other food colors out there.
From all the customer reviews, majority of users have only great things to say about the color set.
Topics
#cake airbrush colors
#cake decorating colors
#cake paint
#food coloring