There's a magic ingredient in cake decoration that does wonders and transforms boring cakes into masterpieces. That magic ingredient is edible luster dust!
Gone are the days of boring all white or pastel colored cakes. Bolder colors with shimmery and shiny accents have taken center stage in the cake arena.
Maybe you have been wondering how those incredibly stunning cakes are created and if you'd ever be able to create such.
You need some help if you want to quit the stands and join creators of awesomely splendid cakes. It's your lucky day! We are here to help you!
Before we go further, let's start first by explaining what this ingredient is and its components.
What is Edible Luster Dust?
It is a form of powder that's used to decorate cakes and other baked goods. In recent times we have discovered that it's even used in other branches of the culinary arts. It's tasteless, not poisonous and can be ingested (it's edible).

This product comes in a wide variety of colors that are used to create metallic glossy finish on baked goods. There are myriads of ways and methods of using edible luster dust; there is really no right and wrong way of using it. The end justifies the means.
That said however, you know that there are always rules of thumb for everything in life. Same goes for decorating with this magic ingredient.
Components of Edible Luster Dust
When you look at the label of most edible luster dust, they do not list the ingredients they are made of. There are some factors that affect the ingredients used in making each type of this product. One of such factors is the color and intensity of the edible luster dust.
The most commonly named ingredients on many luster dusts labels include: Mica, Titanium Dioxide, Carmine and Iron Oxide. Some labels also cite Chromium Oxide or Iron Blue.
If you want to mix in edible luster dust to elements that would be eaten, you need to be sure of the ingredients. You can call the manufacturer to ascertain the ingredients used in the product you want to use.
This issue doesn't usually come up as most cake decorators don't used edible luster dust on elements that would be eaten. That's not to say that edible luster dust is not food safe. In fact some manufacturers have gone a step further to indicate whether a product can be ingested or not.
Always check the label or product description to be certain. Some would have FDA approved stamp on them others would have food grade stamp. There are others still that are clearly labeled "not to be consumed".
Different Types of Edible Luster Dusts
Edible luster dust is an umbrella term used for any decorative dust or powder. There are specific products in this broad category and they include highlighter dust, pearl dust, disco dust, petal dust and sparkle dust.
Though they are all used to decorate and glamorize cakes, they all have different components and create different effects.
Let's briefly look at them individually and highlight the effects they produce.
Luster Dust
This is actually the most subtle of all the other kinds of edible luster dusts. It comes in a wide variety of color and adds a beautiful sheen and subtle sparkle effect. Luster dust is fine and smooth and can be diluted to be applied with paint brush or airbrush gun.
Some brands of luster dusts are labeled as safe to ingest while others though food safe are labeled "not for consumption"
Pearl Dust
Click here to buy yours now on Amazon  
Pearl dust produces a sparkly pearly luster with a hint of color to it. It is usually opaque which makes it ideal for use on decorations that don't require too much color. The good thing about this edible dust is that it can also be mixed with petal dust for a little color.
Petal Dust
Click here to buy this product on Amazon
This type of edible dust is best for gum paste flowers. This is because it  produces strong deeper hues and has a matte finish. This matte effect gives gum paste flowers a more realistic look.
Apart from gum paste flowers, petal dust is useful for elements that you don't want to have that glossy finish. This usually works well for modeling figures and other life like effects.
Sparkle Dust
Click here to buy now on Amazon 
Sparkle dust produces the sparkle and shine effect which is quite similar to the luster dust. The only difference is that the grain of sparkle dust is larger than that of luster dust. Because of the larger dust grains sparkle dust  works well for dry usage. That way the sparkles would stand out more.
That means that you can use sparkle dust when you want an effect that's not over the top but not as mild as with pearl dust.
Highlighter Dust
Click here to buy  this product from Amazon 
Highlighter dust is used to give  high gloss metallic finish and they come mostly in gold and silver hues. Though they may look similar to the other edible dusts, highlighter dust gives off the highest sheen.
This type of "luster dust" are usually labeled "for decorative purposes only" They work beautifully for cakes that require bold, in-your-face popping colors. Although the most popular colors of highlighter dust is silver and gold, other colors are available too.
Disco Dust
Click here to buy this or other colors on Amazon 
As the name implies, disco dust is the most glamorous of the edible luster dust family. This is because it has the largest grains of all the others.
It is ideal for creating "bling" effects and making your decoration to sizzle and sparkle. This magic ingredient is not ideal at all for very formal or traditional decoration.
They cannot be used for airbrushing because of the large grains.
Now that we have discussed the basics of edible luster dusts, let's move on to tips and techniques for it usage.
Tips on How to Use Edible Luster Dust
Edible luster dust can be used in several ways and on different medium. In this segment, we shall discuss some of the methods and medium.
Preparation
You have to prepare your dust properly to get the best out of  it. The first and most important thing to note is that edible luster dust is not water soluble and so should not be mixed with water. It won't work at all; it must be mixed with a liquid that's alcohol based.
Scoop a little edible luster dust into a bowl or paint palette and add one or two drops of vodka and lemon. You can also use clear vanilla extract or edible spirit. Stir the mixture well to form a paste. Remember that your consistency has to be right.
Get the Right Consistency 
If your mix is too thick your painting would streak and look untidy and if it's too thin, it would run. We want to assume that there's an instruction manual or tutorial that you plan to follow.
Well, assuming you don't have any guide, here's what to do. Start out your mixture on the thick side and test on a piece of fondant. Keep thinning out until you get the right consistency. Bear in mind that as you work, the mixture would dry out so you'll need to keep thinning it out. But be careful with this process.
Note that you can also use your luster dry; if that's the case then you don't need to mix it with anything.
You can also check out this video…
Application 
When applying the mixed dust paint, you have to see yourself as an artist and so think and work as one. First of all the type of brush you use matters a lot.
The surface you want to apply the paint on determines the type of brush you would need.  If you are painting a large surface(like an entire cake), you would need a medium size blush or flat brush. If you are painting in designs, you would need a brush with delicate tips and bristles.
Some designs might require that you use several sizes of brushes; remember that the size of your brush determines the brush strokes and the effects produced.
Do not take this lightly. We suggest you get a tutorial or a template to copy. This would surely help you get a hang on the types of brushes and the effects they would create.
How to Airbrush With Edible Luster Dust
Fill your airbrush gun with the liquefied solution of edible luster dust and airbrush designs onto your cake.
If you are already comfortable with airbrushing then you shouldn't have any problem. But if you are not, you can read our article on cake airbrushing to get some tips.
You may decide to do your airbrushing free hand or you may need to use templates and stencils. This depends on your airbrushing skill level.
How to Use Edible Luster Dust with Stencils
Stencils help you to create stunning designs on your cake and baked goods. There are several ways of using edible luster dust with stencils. We've already discussed one of the ways and that's airbrushing.
Another way is on fondant either directly on the cake or before placing on the cake. If you are using it on fondant, here are the steps:
Roll out your fondant to the desired thickness and press your stencil into the fondant. Remember to dust your working surface with cornstarch and also your stencil. This is to ensure that there's no stickiness anywhere.
When you press in your stencil, be firm but also careful not to press it too deep that the details would tear out.
Use your dust or the liquefied mix to paint over the stencil; ensure that all the details are well covered with paint. Allow the paint to dry before you remove the stencil. Then cover your cake with the designed fondant. You can also make fondant cut outs with the designed paste.
You can also use this method on a cake already covered with fondant. In this case, you have to be careful to let the fondant dry first before pressing in the stencil. This is to ensure that the handling of the cake does not smudge or dent the shape.
How to Use Edible Luster Dust in Icing
Butter icing or butter cream is one medium that's too soft for you to paint edible luster dust on. However, this doesn't mean that you can't have a glittering and shiny butter icing. All you need to do is add the edible luster dust to the frosting before using it.
Start out with one tablespoon of luster dust and keep adding until you get the effect you want. You can also add edible luster dust to royal icing or knead it into fondant.
Royal icing can be left to dry and then carefully painted with edible luster dust.
Whichever way you want to use this dust with icing, remember that it has to be the type that can be ingested. So check the label of product description well before purchasing.
Two Methods of Applying Edible Luster Dust
We have touched briefly on how to use edible luster dust in the fore going. We would now discuss in greater details the two methods of applying edible luster dust and the tools required.
These methods are the Dry and the Wet methods of application.
Dry Application of Edible Luster Dust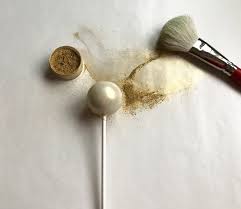 In the dry method of application, you do not liquefy the edible luster dust. You use a soft blush brush to paint your cake surface to get the effect you want.
The advantage of this method is that you do not have to grapple with getting the right consistency of liquid solution. It also allows you to paint without any streaks of paint on the cake and leaves you with an evenly painted surface.
The disadvantage of this method is that it uses way more luster dust than the liquefied solution. This makes is a more expensive method than the wet method.
Ingredients and Tools Required
The ingredients and tools required for this method are
(i) Fondant or Gum Paste– This is either to cover the whole cake with or to make decorations and accents.
(ii) Food Coloring – You use the food coloring to color the fondant or gum paste before applying the edible luster dust.
(iii) Edible Luster Dust- To create the shimmer and shine effect required.
(iv) Vegetable Shortening – The vegetable shortening would serve as the "glue" that adheres the edible luster dust to the fondant or gum paste.
(v) A Soft Blush Brush – This is essential for the proper application of the edible luster dust.
Method
(i)First start off by coloring your gum paste or fondant in a lighter shade of the color of the edible luster dust. For instance, if you are going to use gold edible luster dust, then you have to color the fondant deep yellow or a dark shade of ivory. Similarly, if  you'd be using silver luster dust, you color the fondant light gray. This would reduce the quantity of edible luster dust you would have to use before you get your desired effect.
(ii) Secondly,cover your cake with the fondant and rub in a thin layer of shortening all over the cake. Ensure that every bit of the cake is well covered with the thin layer of vegetable shortening.
(iii) Thirdly,spread a paper towel on your working surface and place your cake turntable on it. Then place the covered cake on the turntable.
(iv) Finally,gently dab your brush into the luster dust and proceed to paint in smooth even stroke all over the cake. Always alternate using different sides of the brush when one side is clogged with luster dust.
This method is quite simple and gives you a smooth and glossy effect and what's more, it doesn't need time to dry. This is your go to method when you don't have enough time to allow your edible luster dust to dry.
Wet Application of Edible Luster Dust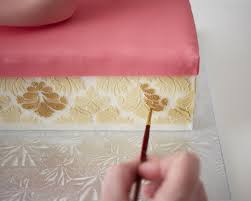 In this method, you have to liquefy the edible luster dust; remember that you can only do this with an alcohol based liquid. You can choose to use vodka alone, or with lemon. You can also use clear vanilla extract or edible spirit.
When you have liquefied the edible luster dust, you then go ahead and paint your cake with it.
This method is ideal when you have cakes with uneven surfaces, fold designs and hard to reach places.
Ingredients and Tools Required 
The ingredients and tools needed for the wet method are similar to those needed for the dry method. The only difference is that you'll need the wet ingredient for liquefying and a different kind of brush set.
These different ingredient and tool are the edible spirits and the paint brushes.
Steps
(i) First, follow step one of the dry method.
(ii) secondly,cover your cake with the colored fondant and smooth out properly. After that leave the fondant to dry so that it won't be smudged or dented when you start painting.
(iii) Thirdly ,follow the steps in Tips on How to Use Edible Luster Dust and How to Get the Right Consistency of Edible Luster Dust Paint above.
(iv) Next,proceed to paint your cake with the paint brush.
(v) And finally, allow the paint to dry then brush the whole cake over with dry edible luster dust. This would help to cover any paint streak and even out the color.
Click here to buy  this magic dust on Amazon 
Topics
#disco dust
#edible glitter dust
#edible luster dust
#gold sparkle dust
#luster dust
#pearl dust
#petal dust
#silver luster dust