Cake decoration and sugar craft is one vocational craft that evolves on a daily basis. As you go higher in your skills, you'll find out that you can't do without gum paste tools.
With the myriads of gum paste tools that are available today, you can give free reins to your imagination.
From flowers to life like models, there's no end to what a cake decorator can do with the right tools and ingredients.
Types of Gum Paste Tools
Gum paste tools can be categorized into many groups. But bear in mind that there are gum paste tools that fall into all categories. This is because they multi functional and versatile tools.
These categories of gum paste tools include; modeling tools, flower making tools, and decoration tools. In this write up we shall discuss some of the tools in all three categories.
Modeling Tools
Molding characters and figurines have become a predominant aspect of cake decoration.
In years gone by, modeling was done by hands; even till date cake decorators take pleasure in making their characters by hand. These days, there are many modeling tools that have been manufactured to help make modeling an easier task.
Gum Paste Molds
These molds are made of plastic, silicone and sometimes metal. They usually have the imprints of flowers, figures, animals and so on.
All you have to do is prepare your gum paste in the right consistency, and then press it into the mold. You can leave it to set for some minutes or remove immediately; it all depends on the item you are making.
When working with gum paste molds, you don't need too many tools. You only need a firm surface mat for kneading the gum paste and the gum paste mold.
Samples of Gum Paste Molds
There are a hundred and one gum paste molds but we'll just show you a few so that you'll catch the drift.
Note that you can also make these molds by yourself; all you need are the right materials and instructions.
You can use these to make pearl strands for cake borders, doll costumes and many innovative items of cake decorations.
Instead of spending hours making human figures, these molds help you churn them out fast and easy.
You can get figures for bridal showers, baby showers, and family celebration cakes and other occasions that require human models.
Gum Paste Cartoon Character Molds
Same as human figures, there are gum paste molds that help you create any cartoon character you can think of. These gum paste cartoon character molds open you up to a whole world of fun cake decoration.
Gum Paste Flower Mold
Although most professional cake decorators would argue that handmade flowers are the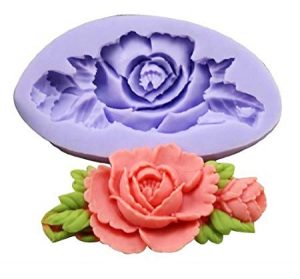 best, these molds still come in handy.
There are some cake decoration projects that leave you with little time to make all the lovely decorations you need by hand. Gum paste flower molds would help you to make hundreds of flowers in a short time.
Gum Paste Shape Molds
Shapes give some dimension and details to a cake and they work well for novelty cakes.
Children's cakes are usually fun with different shapes and also help the kids to learn as they have fun. With these gum paste shape molds you'll be able to make uniform shapes.
This is a time saving tool that helps you create uniform alphabets for messages on cakes. If you make cakes often, you can make these alphabets ahead of time and store them.
Tools for Modeling By Hand
If you are making your character or figure by hand you'll need some gum paste modeling tools to work with.
Some of these tools include different types of ball and imprinting tools.
Bone Modeling Tool
This bone modeling ball tool has a small and a large tip. It is used in flower making but it also an essential tool in gum paste modeling. You can use it to thin out edges of leaves and petals and also add details to characters or figurines.
Wheel Tool
This tool has a quilting wheel tip, a wavy wheel tip and a cutting wheel tip. Each of these tips help you achieve different effects on your gum paste or fondant decoration.
You can use the quilting tip to make stitches on gum paste items and also patterns on gum paste.
The cutting wheel is used to cut out stripes or ribbons of gum paste. And the wavy tip is used to emboss patterns into gum paste decorations.
This combination tool helps you to imprint fine seashell details on your cake borders. You
can also use the comb end to make serrated patterns on fondant covered cakes.
Some brands make this combination as a shell and knife combo. So with the knife end you trim small portions of gum paste or fondant.
Gum Paste Flower Tools
Flower making kits consists of a wide assortment of tools. Although most cake decorators still love the traditional method of making their gum paste flowers by hands, times have changed. There are many gum paste molds that are designed to help
produce myriads of flowers in minutes.
That said however, there is a quality to handmade gum paste flowers that flowers from molds cannot have.
For creation of life like gum paste flowers, you need these basic gum paste tools:
Solid surface board, rolling pin, petal cutters, flower formers, ball tools, veining tools, brushes, flower drying racks , foam pads and the right ingredients.
These ingredients include gum paste, corn starch, vegetable shortening and food coloring or petal dust.
In a previous article, we have discussed in details the basic gum paste tools in a flower making kit. You can check it out here
So here we'll discuss some of the tools that we didn't mention then. They include the following:
This tool has a cone side and a serrated end. The cone side is used to make the large well in the flower center where you place the stamens and the tip of the bud.
The serrated side is useful for embossing star patterns or to mark the divisions in tubular flowers. You can also use the serrated side to vein petals or add dots to a decoration.
Flower Leaf  Gum Paste Tool
This gum paste tool is used to add details to gum paste flowers and leaves. You use it like a pen to add details and texture to the surface of your decoration. You can also use it to create wide of thin veins on your gum paste flowers and leaves. The wide curved edge of the larger end is used to frill or round out petals.
Gum Paste Umbrella Tool
The gum paste umbrella tool has a five division side and a six division side. It is used to add details to the throat of gum paste flowers and the top of flower buds. It can also be used to make petals by pushing the tool into the top of the gum Gum paste bud.
The no of petals you get depends on the side of the tool you push into the flower bud. When you push the tool into the bud, you extract it and then shape the petals to the desired effect.
This tool allows you to trim gum paste and fondant items with precision. Although you can use ordinary knives to trim your gum paste, this tool gives you precision and is made just for sugar paste.
These sticks are multi functional and versatile tools that can be used both to frill petals and also roll out gum paste. When you have those itty bitty gum paste piece, you don't need to use your 7 or 8 inch rolling pin. The thick end of these sticks would serve just fine. You can also use the sticks to form curved flowers or flower tubes.
This tool help you to dry your gum paste flowers without them losing their shape. This is especially useful for flowers that are made with florist wires and flowers that shouldn't  lie flat to dry.
Cake Decoration Tools
The most basic of all cake decorating tools especially when working with gum paste and fondant are the rolling mat and rolling pin.
Rolling Mats
There are various sizes and textures of rolling mats but there are two components that they all must possess. A rolling mat must be non stick and smooth. These two features ensure that you would roll out your gum paste as thin as possible without it sticking to the surface of the mat.
The smoothness of your paste and rolled out dough depends on the smoothness of the surface of your rolling mat.
Rolling Pins
Rolling pins also come in different sizes and materials. There are plastic rolling pins, wooden rolling pins and glass rolling pins.Each material has its own merits and demerits.
Whatever material you chose to work with, always ensure that you get the best quality.
Most gum paste projects require small size rolling pin; a maximum of 8 inches in length. Unless you are working with a large batch of gum paste at a time, you don't need a big rolling pin.
The best rolling pins to use for gum paste projects are those that have the measurement rings; you can actually get those measurement rings individually. But most often rolling pins for gum paste or fondant projects come with the measurement rings.
Measurement rings for rolling pins, allow you to roll out the dough to the precise thickness or thinness required. And in working with gum paste this is an important factor that determines the perfection or otherwise of your end product.
Gum Paste Crimpers
Crimpers are gum paste tools that look like tweezers; they come in different sizes and designs. They are used to add different effects to the edges of a fondant covered cake or gum paste decorations. You can also use crimpers to secure your fondant to a cake board.
This gum paste tool is a versatile one because it can be used to apply primary decorations, add effects and seal gum paste to decoration surfaces. Crimpers are only effective on soft sugar dough; if you use a crimper on dry gum paste or fondant, you'll tear the sugar dough.
Crimpers are quite easy to use; all you have to do is open the crimper and place on the soft sugar dough. Then clamp the two edges close and lift off from the paste. Ensure that you do this gently so that you don't tear out the paste. If your paste is sticky, you can stick your crimper into corn starch before using it on the paste.
Before you use the crimper on the main paste, you can experiment with some spare gum paste or fondant. This would help you know the kind of effect to expect with the different pressure applied to the crimper.
Gum Paste Embossers

Gum paste embossers are used to imprint different patterns on a fondant covered cake or gum paste decorations. There are different kinds and sizes of embossers. Some embossers can be used to roll out large quantities of sugar dough while others are ideal for small decorations.
This tool helps you to imprint intricate and fine details onto your cake or gum paste fast and easily. Designs such as diamond squares, stars, dots, cobblestones and bricks are easier to achieve with embossers.
Conclusion
As is often said, a workman is only as good as his tools. To get the best out of gum paste and take your sugar craft to the next level, you need the right tools. A cake decorator can never have too many gum paste tools.
The great thing about gum paste tools is that most of them are multi functional and versatile. Although you can do without most of them but they make sugar craft less stressful. You can also create beautiful and stunning effects with little effort and in shorter time.
You can either buy these gum paste tools in sets or you can buy them individually. However you choose to get these tools, it is best to learn the techniques first before buying the tools.
Topics
#fgum paste flower tools
#gum paste ball tools
#gum paste embossers
#gum paste pearl tool
#gum paste shapes tools
#gum paste tools