We believe that every homemaker should know how to make a simple cake at home. It doesn't have to be anything complicated just a simple recipe that would come in handy from time to time.
In this article, we would share the basics of how to make a simple cake at home.
How To Make A Simple Cake At Home – The Basics
In case you have never made a cake at home, here are some of the basic tools and ingredients to always have at hand.
Tools Needed
Baking Pans (You could start with an 8'', 9'' and 10'')
Click here to check this out and buy on Amazon
Measuring Cups and Spoons 
Click here to check this out and buy on Amazon
Kitchen Scale
Click here to check this out and buy on Amazon
Mixing bowls
Click here to check this out and buy on Amazon
Mixer (stand or hand mixer)
Click here to check this out and buy on Amazon
Ingredients
Eggs
To get your baking right, you need to have your ingredients in the right proportions. Not only that, you need to also have the right temperatures and baking time. Just like with cooking, you don't expect to become a pro in one day; so this means that you need some practice and experimentation.
In trying to answer the question of how to make a simple cake at home, we did some extensive research.  Yes we had to research on how to pass across what we already know by reason of practice in understandable terms. So here goes:-
How To Bake A Simple Cake At Home – Understanding Basic Ingredients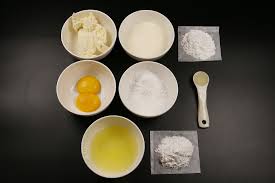 It is important to understand what each ingredient brings to table. For example, flour and egg helps to give structure to your cake while the sugar and fat makes your cake moist and tender.
So to get a cake that has the right amount of structure and tenderness, you have to get the right balance of the ingredients that give structure and those that provide the moistness.
Experts have developed some basic formulas and they say that if one stays within the limits of these formula, they'll be alright. The right margin of deviation they say is 20%
The first formula is what they call the lean cake formula. This formula contains less sugar than flour.
The second formula is the high ratio formula which uses more sugar than flour. High ratio recipes require added emulsifiers. Some bakers use a mix of butter and oil to achieve a highly aerated cake. Others still use only butter but ensure that it's thoroughly creamed to achieve the desired lightness.
We have discovered that most popular basic cake recipes are high ratio recipes.
Basic Ratios
Sugar and Flour
Click here to check this out and buy on Amazon
The weight of sugar and flour should be the same or the sugar slightly more than the flour. Bear in mind however that a cup of sugar weighs almost double the size of one cup of flour. So if you are using a cup of sugar, you'll need one and a half cups of flour.
Egg and Butter 
Click here to check this out and buy on Amazon
For the eggs and butter, they weigh the same, but sometimes eggs weigh more than butter. So we'll still use a ratio of one to one for egg and butter. One large egg (outside the shell) is about one and three quarters of an ounce. This means that a recipe that calls for four ounces of butter (oil or shortening) you'll need approximately two eggs.
Yes this weight would not be an exact one to one ratio but it is well within the range of the right proportions.
In speaking about eggs, bear in mind that the egg white dries out baked goods while the yolk creates a smooth and velvety texture. So if you are looking to make your cake smoother and more velvety, add more egg yolks.  Note the yolk of a large egg weigh approximately two thirds of an ounce.
Your liquid content should also weigh the same or a little above the sugar. You can achieve the required liquid content with eggs and milk.
Leavening 
Click here to check this out and buy on Amazon
Every cake requires proper leavening.  Leavening is the ingredient that makes the cake to rise. If you add too much, your cake will rise very fast and fall leaving the cake dense and heavy.
So the basic ratio of leavening is one teaspoon of baking powder to one cup of flour. For recipes with a high amount of acid, you'll require a quarter of a teaspoon of baking soda to one cup of flour. Some recipes would call for a mix of both baking powder and baking soda.
Food Flavorings/Flavor Extracts  
Flavors go a long way to define the taste of a cake. When you are starting out in baking, the most commonly used flavor is vanilla. I've always wondered why and I've come to the conclusion that vanilla helps to enhance all the inherent flavors in a recipe without detracting from them.
Don't ask me for the scientific formula for coming to that conclusion(lol)  ; this is an intuitive conclusion by reason of years of experience!
In using flavors bear in mind that some are more potent than others so it is best to add in little doses. I would usually taste my raw cake batter when I try out new flavors. That gives me an idea of what to expect when my cake is done.
Click here to check this out and buy on Amazon
Salt 
Finally salt is an important ingredient in a cake recipe. It always help to cut down the sugary taste and tie in all the flavors. The basic measure of salt to use for a small cake is half a teaspoon. But remember that if you use salted butter, you may not require salt. This also depends on other ingredients in the recipe.
In Conclusion …
You might wonder why this long explanation on ingredients and ratio? Well this is because you might want to develop your own recipe. Trust me when I tell you that developing a recipe is not as difficult as you think. All you need is a basic understanding of how the ingredients interact and the right ratios.
That essentially is why we took the time to give you this little explanation.
And by the way; this is by no means a comprehensive expose on ingredients and ratios for baking a simple cake. There's a lot more information to be found online and offline. Do a little bit more research if you are interested in developing your own unique recipes.
Now let's share a simple recipe to help you make a simple cake at home.
How To Make A Simple Cake At Home – A Simple Butter Cake Recipe
Ingredients
1 and ½ Cup Butter
2 Cups Sugar
5 Eggs
3 Cups Flour
¾ Tablespoon Baking Powder
¼ Teaspoon Salt ( ½ teaspoon if your butter is unsalted, I use salted butter)
1 Cup Milk
1 Teaspoon Vanilla Essence
¾ Teaspoon Almond Essence
Instructions For Preparation
(i) Preheat your oven to 350°F. Grease two 8'' round cake pans and line with baking paper.
(ii) Sieve all the dry ingredients into a tray/ mixing bowl and set aside.
(iii) Separate the eggs and set both whites and yolks aside.
(iv) Place the sugar and butter in a mixing bowl and mix until creamy. Add the egg yolks one at a time mixing well after each addition (ensure that the butter and egg yolk is properly incorporated before adding the next one).
(v) Next add the milk and flour in three cycles.(add a third of the flour, then half of the milk, next a third of the flour then the remaining milk and finally the last third of the flour). Ensure that each addition is well incorporated but be careful not to over -mix the batter.
(vi) Whisk the egg whites until frothy(not stiff please)
(vii) Finally, gently fold in the egg white into the batter. I love to do this step with a wooden spatula and not the mixer.
(viii) Turn the batter into the prepared pans and bake for about 20 minutes or until a toothpick inserted into the middle of the cake comes out clean.
(ix) Leave the cake to cool in the baking pan for 5 to 10 minutes then turn out on a cooling rack to cool completely.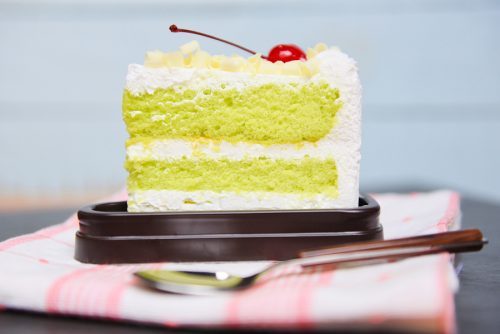 Notes
(i) This cake can be frosted with any frosting you like. It can also be served as is with any beverage of choice.
(ii) We decided to reduce the sugar in this recipe by half cup. You may decide to add half cup of sugar to the recipe. Try out both and see which you prefer. Also note that sugar is considered a wet ingredient in baking.
(iii) You can also decide to skip the step of separating the eggs. This means that you beat the eggs and mix with the milk. Then go ahead to execute step iv (first sentence) then on to step v using the egg and milk mixture.
(iv) If you do this, you would get a different texture or density of cake. I use both methods but for a lighter airier cake, I separate the eggs.  Again I advocate that you try both methods and decide which outcome you like better.
(v) All your ingredients must be at room temperature.
How To Make A Simple Cake At Home  – Conclusion 
In baking a simple cake ta home, remember the following:
(i) Always set out all your ingredients before you start mixing. This would ensure that you don't forget to add any ingredient.
(ii) Ensure that all your ingredients are at room temperature. So bring out your milk , butter and egg from the fridge to come to room temperature before you start mixing.
(iii) Always preheat your oven to the required temperature  so that your batter would go into the oven immediately you are done mixing.  It is not advisable that your batter sit out long before going into  the oven.
(iv) Mix all your dry ingredients well before adding to your mix. This helps ingredients such as salt and baking powder/soda to incorporate well with all the other ingredients.
(v) Your baking time may vary based on  your oven and the type and size of baking pans.
Finally, we  have a compilation of many more recipes that would show you how to make a simple cake at home. Click here to check them out. You'll also get great frosting recipes there.
The accompanying video is also a great visual aid on how to make a simple cake at home. The method used for preparation  is slightly different from the instructions for preparation given here but you'll get the general idea of how it all works.