The Kenwood KMM021Chef Titanium Stand Mixer is a powerhouse of commercial stand mixers. It showcases the expertise that has been associated with Kenwood since 1947.
This mixer is packed with optimal power and a wide range of attachments; it always delivers a satisfying cooking experience like none other. With this mixer, one feels a higher level of inspiration and confidence to experiment with new recipes
Before we go ahead to explore the many features and benefits of the Kenwood KMM021Chef Titanium Stand Mixer, let's take a peek at the Kenwood brand.
Brand Profile
The brand Kenwood has been in existence since 1947 and was established by Kenneth Maynard Wood. It is a manufacturer of kitchen appliances and is operational in 44 countries.
It was bought over in 2001 by De'Longhi Group which was once a small rival Italian company that makes appliances.
Kenwood products are noted for its top quality and durability. It takes pride in designing and making products that employ cutting edge technology. These products are often stylish and very efficient ensuring that the user experiences excellent results at all times.
Children have often inherited some of these appliances from their parents and have even passed them on to their own children.  This is what makes the Kenwood brand a beloved household name in kitchen appliances.
Some of these products include food processors, stand mixers, toasters, blenders and kettles. Let's now go on and explore the features of the Kenwood KMM021Chef Titanium Stand Mixer.
The features of this Kenwood Titanium Chef mixer include the following:-
7-Quart Mixing Bowl with Handles
The mixing bowl has a seven quart capacity and rugged handles that make it easy to lift and handle the mixing bowl.  This bowl is large enough to handle large batches of commercial baking and cooking recipes. Its large size saves the user time and energy because you can double or triple recipes.
Despite the large size of the mixing bowl, it is easy to attach and detach.  All you need to do is turn the bowl clockwise on the base to lock it in. Then when you are done mixing, turn it anti-clockwise to unlock and remove the bowl.
European Designed Motor with Dual Motor Ventilation
The motor of this stand mixer is a European design and it has double the power of a standard stand mixer.  It delivers just the appropriate measure of torque needed for the task at hand whether light or heavy.  Furthermore, the dual motor ventilation helps the motor to last for a long time.
Electronic Variable Speed Control with 10 Speed Settings
This is the feature that lets your ingredients blend gradually from slow start to mixing properly at high speed. All this is achieved without splattering the ingredients all over your working surface.
The ten speed settings also allow you set the unit to the appropriate speed required by each recipe. Another lovable aspect of the speed control is that it's in front of the mixer and not behind. This makes it easier and more convenient for the user to operate.
Suitably Sized Attachments
The attachments included with purchase of this mixer are: power whisk, dough hook and the unique K-Beater. These attachments are professional grade and designed to handle heavy duty tasks. They are big enough and well proportionate to the size of the mixing bowl.
Tilt Head Design
The Kenwood KMM021Chef Titanium Stand Mixer comes with a tilt head design. This design allows the user to tilt back the head of the mixer to attach the accessories.  There's a locking mechanism that helps to keep the mixer head in place when tilted.
You don't have to be afraid that the mixer head would fall off. It stays in place even with the attachments in so that you can access the mixing bowl.
Additional/Optional Attachments
In addition to the attachments that come with the mixer, there other attachments that are optional. That's the reason why the mixer has four additional power hubs for attaching these optional accessories. Most important is the fact that these power hubs have different speed settings.
These accessories can turn your Kenwood KMM021Chef Titanium into a one-stop food prep machine.
Dishwasher Safe Accessories
All the moving parts of this mixer are dishwasher safe; from the stainless steel mixing bowl to the attachments. This means you don't have to sweat over clean up; the dishwasher helps you get the job done.
Plastic Splash guard
This helps to keep your ingredients from splashing all over the place as you mix. Although it covers the entire top of the mixer, there is a compartment that allows you to add ingredients while mixing. This provides both protection for the ingredients and convenience for the user.
Spatula
Included is an average spatula that's useful for scrapping ingredients from the sides and bottom of the mixing bowl.
Wrench
Different recipes would require different heights of clearance between the mixing bowl and mixing tools for proper mixing. The wrench is included to make it easy for you to adjust the mixing tools to the appropriate height required,
Five Year Limited Warranty
The Kenwood KMM021 Chef Titanium Stand Mixer comes with a 5-year warranty on its motor.
User Guide/Manual
Also included in the package is an instruction booklet with diagrams. This is mainly a pictorial illustration to help the user get familiar with the parts and workings of the mixer.
Click here to buy the Kenwood KMM021Chef Titanium Stand Mixer now.
From the features we have discussed above, we can say that this would be one beneficial product.
Here are some of the benefits that one can expect to get from the Kenwood KMM021Chef Titanium Stand Mixer.
Durability
Fashioned after the Kenwood tradition, this mixer is guaranteed to serve its user for a long time.  The powerful motor, solid stainless steel and top quality aluminum all combine to give this unit its durability.
This is a machine that can outlive the owner because no corners were cut in the course of production.
Heavy Duty Performance
This unit is just right  for commercial chefs and bakers. It has the ability to withstand heavy duty and vigorous tasks. It can also work for long hours per day without breaking down.
With this unit you can churn out large batches of baked goods, confectionery or food with minimal effort.  For this reason, you can't go wrong with adjusting your budget to get this unit. This is especially if you plan to make money from baking/cooking.
Versatility
The extra power hubs for additional attachments make the Kenwood KMM021Chef Titanium Stand Mixer extra functional. It lends a high level of versatility to the unit. This is because it turns your stand mixer into a veritable culinary center.
You can confidently try out new recipes because you have the assistance required from this unit.
Ease of Use and Clean Up
Despite the fact that the Kenwood KMM021Chef Titanium Stand Mixer is a commercial and professional grade machine, it is quite easy to use.
You can get the hang of set up and use with the aid of the instruction booklet that's included. Furthermore, cleaning up is not difficult as a result of the fact that the attachments are dishwasher safe.
Quiet Operation
The Kenwood KMM021Chef Titanium Stand Mixer operates with a more  tolerable level of noise than most mixers of its caliber. This is a welcome development, considering that it is a commercial/ professional grade mixer with a powerful motor
Warranty
A manufacturer's warranty is one feature that makes a product attractive; especially an expensive product.
The five year warranty on the motor of this unit inspires confidence in the buyer. You are assured that you are covered for five years in case of any defects or malfunction.
Bulky and Cumbersome
This unit is quite bulky and cumbersome. However this is to be expected as it is a commercial grade stand mixer. But the truth of the matter is that some homemakers prefer this grade of mixers. This is due to the high volume of baked goods and food that they make.
The bulk would require considerable permanent space on the countertop. This is because you cannot haul it back and forth from storage if you are a frequent user.
Inadequate Handles on the Mixing Bowl
The handles on the mixing bowl are inadequate compared to the size of the bowl.  It seems that the handles were made for small hands. People with big hands find it difficult to use the handle as designed.
Some Parts are Not Readily Available in U.S
It might be difficult to get some parts in the U.S if you buy this product in Europe.  So it is preferable to check out the parts and be sure that it works in your region  before purchase.
This product has been endorsed by professional chefs and operators of small commercial kitchens. 95% of customer reviews had nothing but positive things to say about this Kenwood mixer. Considering the high percentage of positive reviews, we can conclude that the Kenwood KMM021Chef Titanium Stand Mixer is a winner.
Positive Reviews
We would give you a summary of the factors that made customers give this product a great review
The mixer is heavy and solid; it doesn't wobble around even when handling heavy dough recipes
The mixing bowl locks into place and the mixing tools can be adjusted to the required height.
The large capacity of the mixing bowl is a big plus and the plastic shield guard is of superior quality and design.
The tilt head design of the mixer makes it easy to attach and detach accessories. You can also leave the accessories on while you remove the mixing bowl.
When you operate a small commercial kitchen, you'll need many accessories for your food prep. This is why this Kenwood mixer is a great product. The additional power hub for optional attachments is just what's needed.
Although the initial cost of this mixer is substantial, it has surpassed the expectation of the buyer. This has made it a worthwhile investment.
We could go on to 20 reasons why customers love Kenwood KMM021Chef Titanium Stand Mixer but we would stop here for now.
Negative Reviews
The Kenwood KMM021Chef Titanium Stand Mixer has a high percentage of positive reviews; this is an undisputed fact.  But it is also a known fact that there is no man made product that is without fault.
Here are some of the factors that made customers to give this product a negative review:
The fact that customers who bought their products in Europe couldn't get some parts in America was disheartening. More annoying was the rigmarole the customer care service subjected the customers to. Therefore one has to be careful when buying this European product in America.
Getting the mixer out of the unlock and lock position was difficult and this didn't sit well with the customer.
The Kenwood KMM021Chef Titanium Stand Mixer comes only in a dull grey color. This is not an appliance that would add to the décor of the kitchen.
The power cord is not long enough and one may have to move things around on the countertop to connect it to power. On the other hand, you may have no choice but to add an extension box or cable to your purchase.
Many customers have confessed that they enjoyed the benefits of this mixer despite these negatives. Click here to buy the Kenwood KMM021Chef Titanium Stand Mixer and enjoy the benefits with them!
In this next segment of our review, we would show you some alternatives to the Kenwood KMM021Chef Titanium Stand Mixer. This is in case you are not sold on our featured product.
Gear Driven Commercial Stand Mixer
The KitchenAid KSMC895ER Stand Mixer is a commercial mixer in every ramification. It is powered by a very efficient 1.3 horse power DC motor with an all metal precise gear design.
This motor is the bedrock of this new line of mixers. It gives the mixing bowl .44HP which helps it to deliver steady power for mixing any quantity of ingredient without overheating. What this means is that the configuration of the motor and mixing operation ensures durability.
The KitchenAid KSMC895ER Stand Mixer comes with a number of useful accessories. They include an 8-Qt mixing bowl, an oblong 11-wire whip, flat beater made of burnished stainless steel and a spiral dough hook made of stainless steel.
This mixer is top quality and is certified by NSF; above all, it has a two year warranty from KitchenAid
KitchenAid proudly states that this stand mixer has its longest lasting and most efficient motor till date.
Click here to buy the KitchenAid KSMC895ER Stand Mixer so that you can get high performing  power whenever you need it.
Cheaper  Option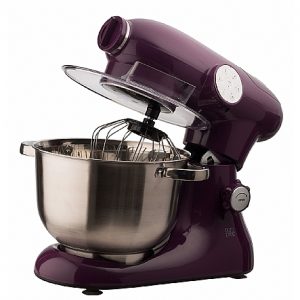 The Gourmia EP700 Stand Mixer operates on what is known as a PowerDrive motor of 650 watts.  This motor comes with thermal protection that keeps it from overheating.  The PowerDrive technology basically stops the loss of power that occurs between the motor and mixing bowl.
This stand mixer has all the basic features of any good stand mixer which include the attachments and a shield guard.  The six speed options are electronically controlled and its SmoothStart system reduces splatter when the mixer is in operation.
The tilt head design of the mixer makes adding ingredients and attaching the accessories or reaching the bowl easier.
Most important of all is that the Gourmia EP700 Stand Mixer is ETL certified. You can buy it with confidence that you'll get a product that's high quality, efficient and safe.
Click here to buy the Gourmia EP700 Stand Mixer now.
Lower Capacity Bowl with Strong Motor Power
This Bosch Stand Mixer is designed differently from other stand mixers but the design doesn't detract from its performance.  This unit operates with a powerful belt driven gear that provides the appropriate torque for any recipe.
You can use this mixer to whip up as little as one egg white and as much as fifteen pounds of whole grain bread dough.  No culinary task is too hard for this mixer.
The mixing bowl is lightweight and is made of BPA free plastic . It has a 6.5-quart capacity and handles that are easy to grip.  The bottom drive makes for ease of adding ingredients while the removable drive shaft makes for ease of cleaning.
There are also some optional or additional attachments that can be purchased separately. These attachments would enable you to make your own paste, fruit juice or minced meat.
The attachments that come with purchase are the dough hook, wire whips with plastic whip drive and shield guard with pouring spout.
Ready to buy the Bosch MUM6N10UC Universal Plus Stand Mixer? Click here to get one now.
Heavy Duty  Mixer with Two Bowls For Home Use
Are you an ardent baker or chef that cooks frequently? Do you need a mixer that has commercial brand power with professional results?  Do you not want to get these oversized mixers that would take up so much space on your countertop?
The Breville BEM825BAL the Bakery Chef Stand Mixer may just be what you've been looking for!
This mixer gives you commercial quality mixing by mimicking the planetary mixing action of commercial stand mixers.  Therefore you get full 360 degree coverage of the mixing bowl for the quality of result you want.
The beater of this mixer comes with a double sided scraper. This ensures that your ingredients are properly incorporated by scrapping the sides of the bowl with every turn.
The Breville BEM825BAL the Bakery Chef Stand Mixer comes with two mixing bowls; one 5-quart bowl and a 4-quart bowl.  Furthermore, these mixing bowls are transparent so that you can see the color and texture of your ingredients as you mix them.
This mixer has so many more cool features but time and space fail us to go further in discussing these features.
Click here to check out more features of the Breville BEM825BAL the Bakery Chef Stand Mixer and buy yours!
Table of Comparison
We cannot end this review without helping you to compare at a glance all the products mentioned in this review. So here goes…
Kenwood KMM021Chef Titanium Stand Mixer
KitchenAid KSMC895ER 8-Quart Commercial Stand Mixer

 

Gourmia EP700 Stand Mixer

 

Bosch MUM6N10UC Universal Plus Stand Mixer
Breville BEM825BAL the Bakery Chef Stand Mixer

 

Category
Professional Stand Mixer
Commercial Stand Mixer
Stand Mixer
Stand Mixer
Stand Mixer
Bowl Capacity  in Quarts
7
8
7
6.5
Double Mixing Bowls 5 and 4
Attachments
The unique K-Beater , dough hook , and power whisk
Whisk, dough hook, flat  beater
Traditional beaters, whisk, dough hooks and splash shield
Dough Hook, and  wire whips
chrome beaters, whisks, and dough hooks
Motor  Watt and Speed
 Wattage not specified, 10 Speed Options
1.3HP  , 10  Speed Options
650 Watts ,  6 Speed Settings
800Wats , 6 Speed Options
550Watts, 12 Speed settings
Color
Stainless Steel
5 Colors –Onyx Black, Dark Pewter, Nickel Pearl, White  and Empire Red
Silver
White
Brushed Aluminum
Material
Aluminum
Not specified
Not specified
BPA free plastic
Stainless steel
Extra Features
4 Power /speed Hub for additional attachments , Dual Motor ventilation
All metal gear design, bowl guard
Thermal protection
Two – piece cover (splash guard and pouring spout)   and open bowl design
Integrated timer, extra bowl and bowl illumination
Product Dimensions
17.7 x 8.9 x 11.7 in
13.3 x 16.5 x 14.6 inches
15.5 x 11 x 14 in
11 x 12 x 15 in
15 x 11 x 15 in
Manufacturer
Kenwood / DeLonghi
KitchenAid
Gourmia
Bosch Mixers
Breville
Conclusion
Thank you for taking out the time to read till the end of this review. We also took our time in carrying out extensive research on the product reviewed. It our sincere desire that you now have all the necessary information to make an informed decision.
One last thing we'll urge you to do is to objectively analyze how well the Kenwood KMM021Chef Titanium Stand Mixer would serve your purposes.  Do not let cost be the first or foremost factor that would determine the choice you make. Remember, oftentimes, you have to spend money to make money.
Click here now to buy the Kenwood KMM021Chef Titanium Stand Mixer and enjoy professional results always!
Topics
#7-quart bowl stand commercial mixers
#8- quart bowl stand mixer
#commercial stand mixer
#large bowl capacity stand mixer
#professional mixers
#stand mixer
#Titanium chef stand Mixer