The Litchi 5.3 Quart Stand Mixer is a high performance stand mixer. It is designed with style and sleek lines that hide a powerful engine.
One would think that to get a top quality kitchen appliance, you'd have to break the bank. But not so with this mixer! It is reasonably priced and offers good value for the money.
More so, the manufacturer put in considerable thought into giving its customers a product that is well worth it.
Before we discuss the features of this stand mixer, let's introduce you to this manufacturer/brand.
Brand Profile
Litchi is a fairly new manufacturer of kitchen appliances that's breaking grounds in the marketplace. Its singular commitment is to provide best value for money as far as kitchen appliances are concerned.
With that in mind, it works towards the goal of providing innovative solutions for whenever creativity strikes. Not only are these solutions innovative, they are also affordable.
Litchi endeavors to cut out the stress of middlemen by working directly with the suppliers that get the products to you. That's one of the reasons why you can get the products are budget friendly prices.
Another factor that is working in Litchi's favor is that the brand has a great customer service culture. It realizes that it's daunting for one to buy products from an "untested and unproven" brand. That is why it has dedicated customer service personnel that know the importance of winning your trust and loyalty.
To top off the excellent customer care service is the 30-day return policy. This "no question asked" policy gives customers the confidence that Litchi is prepared to offer them the best.
Now let us get back to reviewing the features of the Litchi 5.3 Quart Stand Mixer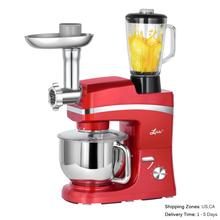 High Performance and Quiet Motor
The motor of the Litchi 5.3 Quart Stand Mixer has been rated as a high octane motor. The 650 watt motor offers maximum performance for all your mixing needs. It operates quietly compared to other stand mixers in the same category.
 6 Speed Setting
In addition to its high octane motor, the unit has 6 speed settings. This allows you to control the mixer for the appropriate speed required by each recipe. It also has a pulse function which is useful for light and fluffy recipes. With these speed settings, you are assured of optimal results with every use.
Large Capacity Mixing Bowl with Handle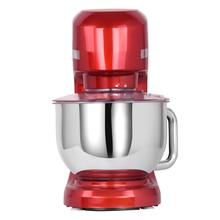 The mixing bowl is made of top quality stainless steel and has a 5.3 quart capacity. It also has a handle that's ergonomically designed to ensure ease of use.  If not for this handle, maneuvering a mixing bowl this large would have been cumbersome and dicey.
Also due to the large capacity of this bowl, you no longer have to mix batch after batch of your recipe. You can now double or even triple the recipe and mix at once. This saves you so much time and energy.
Transparent Shield Guard
Anyone who has used a mixer knows that one factor that can be very annoying when mixing is ingredients flying over the place. But thanks to the shield guard that comes with this mixer, you wouldn't experience that again.
The splatter guard is transparent and detachable. First of all, you can fix it when you need it and detach it when you don't.  Secondly, you can see the ingredients as they mix; this helps you to monitor the mixing process better. Thirdly, you can add ingredients while mixing without stopping the process.
Tilt Head Design
This innovative design allows you free and easy access to your mixing bowl. You can easily add your ingredients and also fix and detach the accessories. All you need to do is tilt back the head of the mixer.
Dishwasher Safe Mixing Bowl and Beaters
Cleanup is another hassle that most cooks/bakers dread. But with the dishwasher safe parts of the Litchi 5.3 Quart Stand Mixer that hassle is over!
No more need to spend time washing up; just throw the mixing bowl and the beaters into the dishwasher and you're done!
Regular Attachments
Included with the purchase of this mixer are the regular attachments. They are the flat beater, dough hook, egg whisk and flex edge beater.
Tips on the Use of These Attachments
Dough Hook
These function better from 1st to 3rd speed. They are used to mix and knead dough recipes saving you the time and energy you would have exerted by hand. It is suggested that you use these slower speeds because they provide the power that's needed for dense recipes.
Flex Edge Beater
The flex edge beater also works well with speed 1 to 3. It is designed with an outer edge that has a layer of silicon. This helps to scrape the sides of the bowl while mixing the ingredients.
Egg Whip
This attachment is used to incorporate air into ingredients to make them fluffy. It has been noted that higher speed introduces air faster into ingredients. That is why it is recommended that the egg whip be used from speed 4 to 6.
You can achieve fluffy perfection at all times with the egg whip.
Flat Beater
The flat beater is designed with unique corner shape and has a "Y" structure in the middle. This gives it the ability to mix cookie dough and cake batters, mash potatoes and other mixing needs that you may have.  It operates efficiently between speeds 1 to 4
Additional Attachments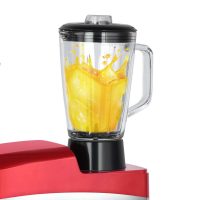 The Litchi 5.3 Quart Stand Mixer comes with additional attachments/accessories. They are the following: blender, pasta dies and sausage stuffer.
These additional attachments increase the functionality and versatility of this stand mixer.
Want to enjoy this functional and versatile stand mixer?  Click here to buy the Litchi 5.3 Quart Stand Mixer.
Is a Stand Mixer Really Important?
Before we go on to discuss the benefits of the Litchi 5.3 Quart Stand Mixer, let's digress a little bit.
We can feel some folks asking "what's all the fuss about a stand mixer and a multi function model at that?
Well, we do not have the time and space to go into a detailed explanation here. For this reason, we'll refer you to our articles on Hand Mixers and Mixers.
Concerning the reason why anyone should consider having a multi function stand mixer, please read on and you'll understand better.
Affordability
One major benefit that every user of the Litchi 5.3 Quart Stand Mixer enjoys is great quality at affordable price.
If we compare this mixer with other mixers in the same category, we would discover that it is a reasonably priced product.
Functionality and Versatility
Another benefit that users would get from the Litchi 5.3 Quart Stand Mixer is functionality and versatility. You can execute a wide variety of kitchen tasks with this single machine.  There's no need to break out several appliances; all you need for your food prep needs is right here!
Time and Energy Saved
Owing to the functionality and versatility of the Litchi 5.3 Quart Stand Mixer, the user gets to save time and money.
You no longer have to spend hours cutting up veggies by hand or kneading bread dough manually. Neither do you have to avoid making meals that require elaborate preparation. Just get the recipes and start experimenting to your heart's content.
Mess- Free Operation
The shield or splatter guard helps to protect your clothes and work area from splatter. You can now mix your ingredients without flour and sugar flying all over. Or even tomato stains and all those indelible food stains from roots and herbs.
The speed settings also allow you to start slow and then increase the speed as required by that task at hand.
Quiet Operation
The motor of this mixer works quieter than some other stand mixers. This means that you can use the mixer without irritating noise; a very useful feature if you need to use the mixer at night.
Disadvantages of the Litchi 5.3 Quart Stand Mixer
Ambiguous Instruction Manual
The user manual is not well written; the diagrams and explanations are not well arranged. So instead of educating the reader, it leaves the user more confused.  What this means is that you'll have to figure out how the machine works.
The Flex Edge Beater Doesn't Reach All the Sides of the Bowl
The flat edge beater is supposed to touch all the sides of the bowl and scrap the sides while mixing. Unfortunately it doesn't do what it's meant to do. One still has to scrap the sides of the mixing bowl while working. This can be very aggravating especially when you are in a hurry.
One Power Button for All The Functions
As with most multifunction stand mixers, the Litchi 5.3 Quart Stand Mixer is powered by one button. This means that once you put on the power for one function, they all start working.  This can be quite annoying but it has never been a deal breaker for any buyer.
The Litchi 5.3 Quart Stand Mixer is one product that has garnered a lot of positive reviews. However as with any product that's man-made, this mixer also has some negative reviews.
In this section, we'll bring you some of these positive and negative reviews:-
Positive Reviews
Strong Motor Doesn't Overheat
One of the positive reviews about this unit is that the motor is powerful and durable. A number of customers testify to the fact that the motor runs for a long time without getting overheated. Some of them have let the unit run for up to 15 minutes and haven't encountered any issues with the motor.
Great Customer Service
The general consensus among verified buyers of the Litchi 5.3 Quart Stand Mixer is that the brand has great customer service. Every complaint was met with satisfactory resolution of the issue.
Product Delivered on Its Promise
This multifunction stand mixer is well made and arrived well packaged and in one piece. The 650 watt motor is powerful enough to meet the mixing needs it was bought for. Similarly, the 6 speed settings allows user to control the speed at which each recipe mixes. Overall, Litchi 5.3 Quart Stand Mixer has met all expectations.
Quiet Operation, Ease of Use and Easy Cleanup
This Litchi 5.3 Quart Stand Mixer was bought as replacement for a high end stand mixer that finally packed up after long use. The customer bought the mixer just to have a mixer for a while until they could afford the high end product they were using. Surprisingly, they discovered that this mixer was easy to use and cleanup was never a problem.
Another factor that surprised this customer was the fact that the operation of this unit was quieter than the high end product. This and the functionality of the machine made this customer give the Litchi 5.3 Quart Stand Mixer a 5-star review.
Negative Reviews
The percentage of customers who gave this product below 3 star reviews is not high.  But it bears repeating that a review is not complete without exploring the negative experience of some customers with the product.
So here goes ….
Plastic Casing
The plastic casing of the unit does not inspire confidence. The customer that complained about the material of the casing felt that the machine is not sturdy. This is in comparison with other multifunction stand mixers.
However there are customers who feel that the mixer is sturdy enough despite the material used in construction. Well; we can say this is a case of different strokes for different folks.
 Seeming Missing Step in the Speed Settings
There seems to be a step missing between the third speed setting and the fourth. This customer feels this way because of the disparity between the speeds. Differences between speeds should be incremental but for the third and fourth speed it wasn't.
The third speed is too slow while the fourth speed is too high. Another point of aggravation with this buyer is that the unit goes off by itself and has to be restarted (could this be a safety measure against overheating?)
Well, since it wasn't clearly stated that the unit would shut itself off, it's seen as a negative.
Useless Instructions Manual
Many customers were frustrated with the fact that the user manual wasn't user friendly. The instructions were not well written and the diagrams and illustrations were not properly done.
What this means is that the user manual is virtually useless.  One has to figure out the workings of the machine by one's self.
Thankfully, there are many video reviews that would help users get a hang of how multifunction stand mixers work.
Think the odds are not stacked too high against the Litchi 5.3 Quart Stand Mixer? Click here to buy yours now!
We think we shouldn't just leave you at this point. If you are not sold on the Litchi 5.3 Quart Stand Mixer, there are so many alternatives out there.
Here are a few alternatives …
High End Product
This Kenwood mixer comes with an European designed motor that has double the power of other stand mixers. It delivers just the right level of torque needed for all kinds of culinary tasks. This motor also comes with a dual motor ventilation system that enhances its durability.
The 7quart mixing bowl has strong handles that make it easy to move and maneuver the bowl.  There are variable speed settings that allow you to mix your ingredients from a slow start to the fastest speed required.  The slow start prevents ingredients from splattering all over your work area.
Included with purchase are three attachments of professional quality. These attachments are the dough hook, power whisk and the K-beater.
Most interesting is the power hub for additional kenwood attachments. With the additional attachments, this mixer becomes a one-stop kitchen assistant for all your culinary tasks.
Click here to buy the Kenwood KMM021 7QT Chef Titanium Kitchen Machine.
Cheaper Option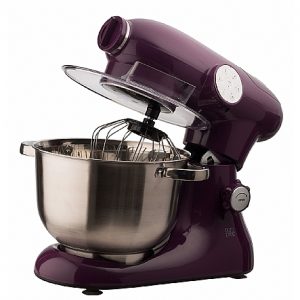 The Gourmia EP700 Stand Mixer is designed with a motor that has the PowerDrive technology. This technology removes almost all possibility of motor to bowl power loss. Additionally, the motor has thermal heat protection for the prevention of overheating.
With the six speed settings, you are sure of controlling the speed of the mixer. The SmoothStart system also ensures that your ingredients remain the bowl and not splattered all over your work area/counter top.
The unit comes with an extra large mixing bowl with a 7-quart capacity and a splash guard. The capacity of the mixing bowl eliminates the need for multiple mixing for large batches of ingredients. With the splash guard in place, you are sure of a mess free operation.
Finally, the tilt head design of the mixer head makes changing attachments and adding ingredients a lot easier.
Although this mixer is quite affordable, it offers great value. Click here to buy the Gourmia EP700 7-Quart 6 Speed Stand Mixer.
Stand Mixer Under $100
The Cheftronic 4.2qt Stand Mixer comes equipped with three types of beaters and one splash guard. These beaters are a dough hook, flat beater and wire whip; with these, you can whip up different batters and prepare mouthwatering delicacies. The splash guard ensures you have a mess free operation.
This size of this mixer makes it ideal for folks with little kitchen space and newbies.  However, the size of the mixer does not detract from its strength. The unit is powered by a 350 watt motor with 6 speed settings and a pulse function.
Ease of access to the mixing bowl and simplicity of attaching and detaching accessories is provided by the tilt head design. While the suction cups keeps the mixer firmly fixed to the working surface when in use.
The mixing bowl is made with 304/18-8 food grade stainless steel and has a 4.2quart capacity. This is just the right size for a regular family food prep needs and ingredients for most baked goods recipes.
Finally, the two year warranty that this mixer comes with makes it a good deal. Click here to buy the CHEFTRONIC Tilt-head 4.2qt Stand Mixer.
Table of Comparison
Before we call this review done, we would just give you a brief table of comparison of all the products discussed so far.
Litchi 5.3 Quart Stand Mixer
Kenwood KMM021Chef Titanium Stand Mixer
Gourmia EP700 7-Quart 6 Speed Stand Mixer

 

CHEFTRONIC Tilt-head 4.2qt Stand Mixer

 

Category
Multifunction Stand Mixer
Kitchen Machine
Stand Mixer
Tilt Head Stand Mixer
Bowl Capacity  in Quarts
5.3
7
7
4.2
Attachments
Dough Hook, Mixing Blade, Flat Beater, Whisk and Pouring Shield, Silver
The unique K-Beater , dough hook , and power whisk
Traditional beaters, whisk, dough hooks and splash shield
Dough Hook, flat beater and  wire whip
Motor  Watt and Speed
 650 watts with 6 Speed settings
Wattage not specified, 10 Speed Options
650 Watts ,  6 Speed Settings
350 Wats , 6 Speed Options
Color
Available in Silver and Red
Stainless Steel
Silver
Red
Material
Not specified
Aluminum
Not specified
Aluminum
Extra Features
Meat Grinder, Blender, Sausage Stuffer, Pasta Dies
4 Power /speed Hub for additional attachments , Dual Motor ventilation
Thermal protection
Anti slip Silicone suction cups
Product Dimensions
Not Specified
17.7 x 8.9 x 11.7 in
15.5 x 11 x 14 in
13.2x 9.3 x 12.4 inches
Manufacturer
Litchi
Kenwood / DeLonghi
Gourmia
Top Chef
Finally…
That's all we have to offer you on the Litchi 5.3 Quart Stand Mixer for now. We do hope that this review has given you enough information to be able to make a good decision.
Before we say goodbye, remember that the value of a product is not totally dependent on the price, brand or popularity. That said however, these things do have some bearing on the quality of the product.
Never forget that first of all, the best product for you is the one that adequately meets your specific needs. Secondly, that a high price tag is not always synonymous with great quality.
Finally, click here to buy the Litchi 5.3 Quart Stand Mixer now.
Topics
#multifunction stand mixer
#professional stand mixer
#stand mixer