The Master Airbrush Multipurpose Kit is an airbrush kit that can be used for a variety of art projects. It is a versatile kit and this makes it a handy kit for both professionals and amateurs.
This product is from the stables of Master Airbrush and bears its stamp of quality and high performance. Let's give you a brief insight into the profile of this brand. Before we go any further, you may want to refresh your memory on the uses and importance of airbrush kits. Click here to read our  article on the subject. 
Brand Profile
Master Airbrush is a brand owned by TCP Global.  TCP Global started over 40 years ago as a small store that specialized in home decorating products. It has grown over time to become the parent company of 7 companies which include U.S. Cake Supply. TCP global also owns 18 brands; one of which is Master Airbrush.
The Vision of TCP Global is to show its commitment to growth through the following: Provision of superior customer service, maximizing customer success and becoming one of the leaders in the manufacturing industry.
Its core values help to drive this vision and these cores values are integrity, customer satisfaction, responsibility and growth.
Through the years, TCP global has consistently through innovation, supplied its customers with the products needed to take their craft to the next level. One of such products is the Master Airbrush Multi-purpose Airbrush Kit.
Click here to check this out and buy on Amazon
The Master Airbrush Multi-purpose Airbrush Kit is a professional airbrush kit that's loaded with many features. These features include the following:
Model G22 Precision Airbrush
This a high performance airbrush system that comes with a 1/3 oz fluid cup that's gravity fed. It also has a 0.3mm nozzle. The airbrush system can be used for cake decoration in addition to several other craft projects.
Model TC-20 Air Compressor
The Master compressor is a premium 1/5 horsepower air compressor.  It has an air filter water trap and also a pressure regulator. The Model TC-20 air compressor functions at 59 decibel which makes it a quiet machine.
The pressure regulator provides the exact air adjustment needed. In addition to the water trap filter, the regulator ensures that you have clean dry air to work with.  Furthermore, the compressor is compact and lightweight with an in built carrying handle.
Airbrush Holder
The compressor also has an in-built airbrush holder for two airbrushes. This makes working with the kit more convenient as you can keep your airbrush handy.
Compatible With  Many Spray Paint Mediums
The airbrush system is compatible with many paint mediums. This makes it versatile and ideal to use for many kinds of craft projects.
Automatic Shutdown
The compressor automatically shuts itself off if it becomes too heated and this protects it from being easily damaged. It also has a system that shuts off air when it is not in use; this system is known as air on demand. This helps to ensure that compressor isn't working when you are on break from using the airbrush.
Airflow Adjustment of 0 – 57 PSI
The machine is preset to shut off when the air pressure gets to 57 psi and to come back on when the air pressure is 40 psi. This is a safety measure that helps to elongate the lifespan of the machine.
6 Foot Braided Air Hose with 1/8″ Fittings
This hose attaches the airbrush system to the compressor. The length ensures that you have ease of maneuver when working with the airbrush.
User Guide and Instruction Manual
Included with purchase is a manual that is designed to help the user get a hang of how the kit works.  The manual also provides tips and instructions on airbrushing.
Looking at the features that we have discussed above, we can deduce that the user would derive a lot of benefits from this product.  Some of these benefits include the following:
Quiet Operation
The design of the compressor and the decibel at which it operates makes the Master Airbrush Multipurpose  Kit a quiet machine. This is a big advantage for people who live in apartments and those who work at night. It is also beneficial for people who like to work in a quiet atmosphere.
Cost Effectiveness
The versatility of the kit makes it a cost effective product. Two people involved in different crafts can use the same kit but with different spray paint medium.
This is also a product that's suitable for a family of artists. It saves you the cost of buying different airbrush kits for everyone. One machine covers everyone's need.
Click here to check this out and buy on Amazon
Safety Features
The automatic shut down of the compressor and the air on demand system is beneficial for the safety of the kit.  This system in turn help to prolong the lifespan of the machine.
 Ease of Maintenance
The compressor is an oil less machine which requires little or no maintenance. The safety features already ensure that it doesn't overheat while the air on demand reduces wear and tear and moisture that accumulates from heat.
Portability
The compact design and lightweight of the compressor makes the kit portable. It also has an in-built handle for carrying it.  This means that you can conveniently carry it with you for onsite projects. You also have ease of storage when the kit is not in use.
One major con of this product is that it doesn't have readily available parts for replacement. You may have to order replacement from the manufacturer and then wait a while for your shipment. It may also cost a pretty penny to get the replacement in addition to the hassle of waiting.
Secondly, a number of customers didn't find the instructions very useful.  So if you purchase this product, be prepared to watch some tutorials on YouTube on how to use it.
Finally, there are complaints that it can't be used for detailed work and that it works best with thin paint.
The Master Airbrush Multi-purpose Airbrush Kit has received hundreds of reviews from customers. Some of these reviews are positive while others are not. We'll give you a summary of both the positive and the negative reviews.
Positive Reviews
The most prevalent opinion from the positive reviews is that the kit is worth the price. A lot of people believe that the number one reason why anyone would rate the kit poorly is a lack of understanding of usage. They believe that if one fully understands how to use the kit, they would enjoy it for a long time.
These set of people testify that they have used the kit for a long time and it has delivered on its promise.
Another set of customers are wowed by the fact that the kit is low maintenance. It is easy to use and clean; but one thing they all attest to is that you have to look for and use an online guide.
There are customers who say they have consistently enjoyed professional results from the kit. Furthermore, they are glad that even though it doesn't require a high skill level, your final product would still look professional.
Finally, the portability and the quiet operation is a big plus for many buyers.
Negative Reviews
While over 50 percent of customers are happy with the purchase of the Master Airbrush Multipurpose Airbrush Kit, a fewer percentage are disappointed.
The disappointment of these customers stem from the following:
(i) Malfunctioning Compressor – These customers complained that they didn't use the machine for long before the compressor packed up and they had to buy another compressor.
(ii) Flimsy Nozzle Tip – The tip of the nozzle is flimsy and so requires that one has to be extra careful when attaching it.
(iii) Clogs Easily – The airbrush clogs easily and requires that one has to stop work and unclog it. It doesn't work well with thick paint. The spray paint has to be thin to minimize the clogging.
From a wide range of reviews and our research on this product, here's our verdict:
The Master Airbrush Multipurpose Airbrush Kit is a well accepted product from the Master Airbrush brand.  It is well priced and offers commensurate value for the money. However as with all electrical or mechanical products, there are some that are defective.
Some customers claim that this kit it is easy to use; this claim may be true. But in the course of our research, we noted that you require a little above basic airbrushing knowledge to use this kit.
That said therefore, before you go ahead to purchase the Master Airbrush Multi-purpose Airbrush Kit, consider these tips:-
Additional Tips 
(i) If you are new to airbrushing, take a little time to watch tutorials on airbrushing. If possible you can take a few classes. A good understanding of airbrushing would help you enjoy the product better.
(ii) Verify whether the product you are buying is new or refurbished. A number of people have been sold used products as new;  this brings us to the third point
(iii) Buy from reputable merchants or if possible from the manufacturer. This eliminates or greatly reduces the risk of getting a defective product.
Note that there are many models of Master Airbrush Kits. Read the product description well before placing your order. This would help you be sure that you are buying the model that best suits your need.
Click here to check this out and buy on Amazon
However, if you still want to consider a few alternatives before making up your mind, here are some options:-
Click here to check this out and buy on Amazon
This airbrush kit is also a multipurpose machine that is useful for diverse craft projects. The only difference between this and the feature product is that this kit comes with a mini air compressor.
The features of this kit include a Master Airbrush Model G22 Airbrush Set with a 1/3 oz color cup with a 0.3mm needle and nozzle. A Master Airbrush mini compressor (model C16-B) that functions at 12 volt DC with a 11o volt AC plug in Adapter.
This compressor delivers as much as 10.5 ltrs of air per minute and a high air pressure of 0.4 cfm.  The airbrush kit is a dual action, gravity feed system.
It is a high performance airbrush kit that has most of the features of the product we reviewed.
Click here to check this out and buy on Amazon
The Cake Boss Airbrush Kit is made solely for cake decoration. This kit is chrome-plated and powered by an 18 PSI compressor which has three adjustable levels, 9W power and DC voltage,
Included in this kit is a rubber hose, nozzle wrench, plastic dropper and A/C 12V 50Hz/60Hz adaptor. There's also a case and an instruction manual.
The kit doesn't have many moving parts and is easy to use. All you need to do is to pour in the color, switch on the compressor and start airbrushing.
High End Airbrush Kit
Click here to check this out and buy on Amazon
The Kopykake Airmaster Airbrush Set is ideal for high volume and large scale projects. Though compact and portable, it is a high performance kit.
This kit has a 1/16 oz precision airbrush that's gravity fed and chrome plated. The air compressor features a bleed control valve which enables user to adjust airflow. A designed crown cap helps to reduce clogging and control the spray; this means that you won't have uncontrollable spray as you work.
With the airflow control you can  adjust the airflow for different kinds of designs. You can have light airflow for thin lines and intricate patterns and heavy flow for larger coverage and more detailed work.
Click here to check out more of the features of the Kopykake Airmaster Airbrush Set.
Simple Airbrush Gun Kit Without Compressor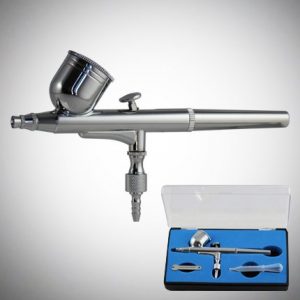 Click here to check this out and buy on Amazon
The GotHobby Airbrush Paint Spray Gun Kit is an airbrush kit that is ideal for all kinds of art projects.  It is a dual action airbrush with a 0.3mm needle and nozzle. The 7 cc color cup comes with a lid.
Furthermore, the airbrush has a back handle cover that enables the user to adjust the thin spraying line. This kit is made with long lasting stainless steel and is easy to clean and refill with whatever fluid you want to work with.
The distance between this airbrush and the surface you are working on, determines what kind of pattern you'll get.
This airbrush kit is ideal for those who already have an air compressor and need a backup or extra airbrush.
The GotHobby Airbrush Paint Spray Gun Kit might just be what you need,  click here to make a purchase now.
Table of Comparison
Before we wrap up this review, let's have a quick comparison of all the products that we have mentioned: –
Master Airbrush Multi-purpose Airbrush Kit 

 

Master Airbrush Multi-Purpose Kit with Portable Mini Air Compressor

 Cake Boss Decorating Tools Airbrushing Kit

 

 

You can buy this by clicking on this link 

Kopykake Airmaster Airbrush Set

 

 

GotHobby Airbrush Paint Spray Gun Kit

 

 

Category

Featured Product
Cheaper Option By The Same Brand
Cheaper Option From Another Brand
High End Kit
Simple Airbrushing Gun Without Compressor

Source of Power

Electric
Electricity
Powered By Electricity
Electrically powered
Electrical appliance

Number of Airbrushes

1
one
Single
Only one airbrush included
1

Type of Airbrush

Dual action
Double action
Single action
Not specified
Dual Action

Design of Color Cup

Gravity Feed
Color cup is gravity fed
Designed for gravity feed
Gravity feed
Gravity Feed

Attachment  Hose and Length of Hose

One  6 Foot Braided Air Hose with 1/8″ Fittings

 

1  x 6 foot hose with 1/8' fittings
1 hose
A 6'' rubberized hose.
None

No and capacity  of Color Cups

1 x 1/3 oz cup
One  1/3 oz cup
1 cup
1 x 1/16 oz cup
A 7 cc cup

No of Nozzles and Sizes

 One 0.3mm
1 x 0.3mm nozzle
1  Needle/Nozzle
A single nozzle, size not specified
1 0.3mm nozzle

Compressor

1/5 HP and can produce up to 57 PSI air pressure
15 psi Air Pressure on demand with a maximum of 25 psi Air Pressure
 One 18 PSI Unit
110v. AC
None

Storage Case

 

No
No
Yes
No
Yes

Extra Features

Automatic on/off Shut off , Air brush holder attached to compressor
How-to-Airbrush Manual
1 Nozzle cleaner, 1 Nozzle wrench and  I Plastic  dropper
No
2 cc Eye Dropper and Nozzle spanner
Conclusion
As with everything in life, what is good for one person might not be the best for another. This means that your personal preferences, budget and need would play a big role in determining your choices.
But before you make a final decision on which airbrush kit to buy, please note and remember the merits and demerits of the product. Do not just hurry off to make a purchase; endeavor to do a thorough research
That's what this review has been all about and we hope that we have  provided you with adequate information to make an informed decision.
Click here to check this out and buy on Amazon