The Ninja Smart Screen Food Processor (CT672V) is a versatile machine that has one base and three attachments. It helps you cover a lot of bases in your daily culinary endeavors. This machine employs cutting edge technology to bring you ease and efficiency in your daily routine in the kitchen. It comes loaded with many features that are of great benefits to the user.
Click here to check this out and buy on Amazon
Why Do I Need A Food Processor?
A food processor is used to chop, dice, slice, puree, mix and knead ingredient among other functions. Similarly, there are many cake or baked goods recipes that call for ingredients that need to be chopped, sliced, diced, pureed or kneaded.
Therefore we can deduce from the above,  the relevance of a food processor to a baker or cake decorator. However, for more clarification, we crave your indulgence to head over and read our article on Food Processors here.
Now back to our feature product! Before we examine the features of this Ninja Smart Screen Food Processor, let's first  introduce the brand behind the product.
Brand Profile
Ninja is one of the many home care brands that's made by SharkNinja Operating LLC. SharkNinja is one of the pioneers in small household appliances and home care solutions. Its products are tailored to suit the schedule of busy individuals.
Right from its inception, SharkNinja has always endeavored to provide its customers with innovative and highly functional and versatile products.
it has carved out a niche for itself with this drive and focus to provide top quality products. And for this reason, it can be reckoned as one of the leading corporations in the industry.
Mark Rosenzweig is currently the CEO of SharkNinja and he has a passion for developing innovative products. These products are designed to add value and enhance the lives of its customers.
Some of these products are the chemical-free mops, top of the range blenders and food processors.
Features of the Ninja Smart Screen Food Processor (CT672V)
The following are the features of the Ninja Smart Screen Food Processor (CT672V):-
Strong Motor Base with Touchscreen Display
Click here to check this out and buy on Amazon
The motor of the Ninja Smartscreen Food processor is a powerful 1200 peak watt motor. This motor powers the unit through a wide variety of culinary tasks with ease.  The touchscreen display allows you to choose whether you want to operate the unit automatically or manually.
Furthermore, this touch screen display is built for daily use and can withstand wear and tear. Not only that but it's also easy to clean.
FreshVac™ Technology
The FreshVac pump is easy to use and is designed to remove oxygen from your ingredients and preserve the color, taste and vitamins.  It delivers smoothies and drinks that have less foam and separation. This is in contrast to the result you get from traditional blending.
Click here to check this out and buy on Amazon
 9 Pre-Set Auto-iQ® Programs/Smart Vessel Recognition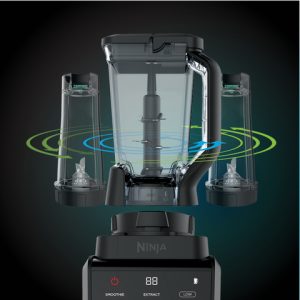 First the Smart Vessel Recognition identifies the attachment that's on the base. Then the Touchscreen  shows you the pre set menu for the attachment. Furthermore, there are precisely graduated patterns for processing different ingredients In addition to these features.  These programs that have been designed by seasoned chefs help you achieve optimum results.
Blades
This Ninja Food Processor comes with different blades for a variety of tasks.  The quad blade design allows you to either chop your ingredients fine or rough.  With the stacked blades you can chop, mix and puree with precision.
All the blades have exact functions and each delivers this with the precision required for optimum results.
 72 oz. FreshVac Pitcher, 20 oz. Single-Serve FreshVac Cup & 40 oz. Precision Processor
(i) The 72 oz. FreshVac Pitcher works with the Ninja TotalCrushing Blades to churn out great dips, smoothies and much more.
(ii) Working with the powerful Pro extractor Blades Assembly, you can use the20 oz. Single-Serve FreshVac Cup for smoothies and drinks. These blades help to extract the vitamins and nutrients from vegetables and fruits.
(iii) The food processor works with a 40 oz. bowl and stacked blades to chop, mix, puree and knead dough.
Touchscreen Blender
The Blender functions with the touchscreen and is intuitive, durable and easy to clean.
Click here to check this out and buy on Amazon
Benefits of the Ninja Smart Screen Food Processor (CT672V)
These features of the Ninja Smart Screen Food Processor(CT672V) as discussed above has many benefits. They include the following:-
Versatility
The Ninja Smart Screen Food Processor is a multifunctional kitchen appliance that offers a wide range of versatility to the user.
It's a three in one appliance. You can blend ingredients with the blender, make smoothie with the FreshVac and prep ingredients with the food processor.
What this means is that if you have this appliance you may not necessarily need to buy any other food prep appliance.
Space Saving Device
You get to save space on your countertop because of the fact that this is a three in one machine. So instead of  placing a blender, smoothie maker and a food processor on the countertop, you  now  have just one unit.
This is a space saving device that works well for people with small kitchen space.
Energy and Time Saving
With the Ninja Smartscreen Food Processor, you save a lot of time in food preparation. Not only do you save time but you also save energy.
You can now channel the time and energy saved into other endeavors around the home or kitchen.
Freedom to Explore A Wide Range of Recipes
Many folks both homemakers and bakers often shy away from some recipes because of the prep time and ingredients required. But thanks to this Ninja Smart Screen Food Processor , that would not be the case again.
You can now experiment with a wide plethora of recipes involving fruits and veggies. The Ninja Food Processor is equal to the task of chopping, dicing, slicing and pureeing within minutes. This cuts your prep time considerably shorter.
Click here to check this out and buy on Amazon
Demerits of the Ninja Smart Screen Food Processor  (CT672V)
There are some flaws in this food processor that made it a less than perfect product. These factors include the following:-
Small Feeder Chute
The tube and disc through which food is passed into the cup or bowl is small. What this means therefore is that you would have to cut up the fruits and veggies into smaller sizes before feeding the processor.
Design Flaw in the Cup
The rubber seal at the bottom of the cup doesn't seem like a good idea. This is because you cannot use the cup again once the rubber seal is weakened.
Loud Operation
The motor of this unit is very loud so this means that you cannot have a decent conversation when it's in use.
Another issue with the volume of this unit is that you may not be able to conveniently use it in the night. This is especially true for people who live in apartments.
What Customers Have To Say About The Ninja Smart Screen Food Processor (CT672V)
A lot of customers have many good things to say about this Ninja Smart Screen Food Processor.  However, there are some other customers who aren't too happy with it. Below are some positive and negative reviews:-
Positive Reviews
Programmed for Convenience
The Touchscreen and programmed menu is a great feature that makes the Ninja Smart Screen Food Processor convenient to use.  Many users are happy with this feature and rated this product highly because of that.
Three-in-One Product
Another factor that earned this Ninja food processor a 5-star review is that fact that it is a three-in-one product. A couple was thrilled with the fact that they could make their baby food with it. Not only that; they also love the powerful motor of the unit.
Finally, the fact that they get a food processor, blender and smoothie maker in one product is an added bonus.
FreshVac Technology
The FreshVac Technology earned this food processor a lot of positive reviews.  Having smoothies and fruit/food drinks without foam or separation is a great deal that many customers are enjoying.
 Cabinet/Countertop Space Saver
The Ninja Smart Screen Food Processor is ideal for folks that have small kitchen space. This is because it's one product that performs three functions. With this product, you don't have need for a separate blender or smoothie maker and food processor.
In addition to it being a multifunctional appliance, it is compactly designed and has small countertop footprint.  This feature also earned the Ninja Smart Screen Food Processor and Blender a positive review.
Click here to check this out and buy on Amazon
Negative Reviews
Despite the fact that this Ninja food processor has garnered a lot of positive reviews, there are still some customers that aren't happy with it.  Here's a bullet list of features that earned this product the negative reviews:-
(i) Loud motor
(ii) Design flaw of the cup – The rubber seal is not durable.
(iii) Some of the attachments are not really necessary as they don't add extra value to the product.
(iv) The dough function is not strong enough to thoroughly knead dough; all it does is to mix the recipe.
We recommend that you check out some of our previous articles and product reviews:-
We know that this featured product is a great bargain but we would give you some alternatives for consideration.  This would give you options to choose from.
Alternatives to the Ninja Smart Screen Food Processor (CT672V)
Food Processor From The Same Brand at Cheaper Rate

Click here to check this out and buy on Amazon
The Ninja NN310 Food Processor is a simple yet high performance and easy to use kitchen appliance. This machine has one base that works with two attachments that enable user to perform varied meal prep tasks.
A multi functional and versatile machine, the Ninja NN310 comes with many great features. Some of these features are as follows:-
400 Watt Motor
The 400 watt base of the unit is built to enable the food processor power through most  food prep tasks.
Processing Bowl
This is a 3.5 capacity bowl that's useful for mixing, chopping, dicing, pureeing and even making dough.  The bowl is made with BPA free plastic and is dishwasher safe. It also has a drizzle hole for additional convenience to the user.
Auto-Spiralizer and Blades
This includes two spiralizer discs (fettuccine and Spaghetti blades).  The dough blade is useful for making dough for pies, cookie, pizza and similar recipes.  Working with the bowl and chopping blade, you get to chop, dice, slice and puree your ingredients.
Plain Functional Food Processor At a Cheaper Rate from another brand
Click here to check this out and buy on Amazon
The Cuisinart DFP-14BCNY Food Processor is designed to make cooking on a large scale easier and faster.  It is made from top quality brushed stainless steel. The seven food preparation functions make it a workhorse in the kitchen. Do not be deceived by its sleek design and look; it is easy to use and delivers speed and ease to meal preparation tasks.
Powered by a 720 watt motor, the large 14-cup capacity work bowl would chop whole veggies and fruits, shred cheese and even knead dough.
The extra large feed tubes and the small and large pushers ensure that you don't have to cut up your ingredients before processing.
Included in this package are slicing disc, chopping blade and shredding disc. Please note that the slicing and shredding blades are not adjustable.  Therefore before you start using the blades please  consult your user manual.
Click here to check this out and buy on Amazon
High End Food Processor
Click here to check this out and buy on Amazon
The Breville Sous Chef Food Processor is a high end kitchen appliance that delivers professional  results at all times.
This versatile machine comes with five multi functional discs and three blades.  Each of these blades and discs give you precise cuts that enable your food to cook evenly. What's more? You get attractive meals that taste as good as they look.
The 5.5 inch extra large feed chute removes the need to cut your fruit and veggies into smaller sizes before processing.
This Breville Sous Chef Food Processor features two work bowls; one 16-cup bowl and a 2.5cup bowl.  These two bowls are made from BPA free materials and are food safe.
The LCD blue lights display the auto timer that counts both up and down. You can preset the unit to count down to the time required for your recipe and when that time is up the unit goes off.
The unit also comes with an accessory storage box that can be placed either vertically or horizontally based on available space. This makes the food processor easy to store.
Click here to check this out and buy on Amazon
Mini Food Processor
Click here to check this out and buy on Amazon
The Cuisinart Mini-Prep Plus is designed specifically for small food prep tasks. Some tasks such as making bread crumbs, chopping herbs or grating hard cheese. Things you'd rather do manually than break out your multi function high end food processor.
One feature that makes this machine versatile is its Auto Reversing Smart Blade that makes it easy to handle both hard and soft ingredients. These blades are made of stainless steel and have both sharp and blunt edges
Following in Cuisinart's tradition of great designs, the touch pad controls of this unit is sleek yet easy to clean. Furthermore, do not be deceived by its compact design and space efficient size. This unit is more powerful than many of its competition.
This mini food processor has a 24 ounce work bowl that has a handle and is powered by a 250 watt motor. The parts are made with BPA free materials and are dishwasher safe.
Click here to check this out and buy on Amazon
Before we sign off, here's a quick comparison table of all the products  discussed in this review.
Table of Comparison 
Ninja Smart Screen Food Processor  (CT672V)

 

 

You can click here to buy this appliance on Amazon 

 

 

Click here to check this out or buy 

 

 

Category
Multi Function Food   Processor &Blender
Electric Food Processor
Food Processor
Sous Chef Food Processor
 Mini Food  Processor
Attachments
Different Attachments and vessels for blending, processing and making smoothie
Auto spiralizer and accessories and food processor and accessories
chopping blade, shredding disc  and slicing disc
8 Attachments
Stainless Steel blade
Motor  Watt
1,400 watt
400 watt
720 watt
1,200 watt
Motor watt not specified
Color
Not specified
Black
Silver
Stainless steel
Available in 4 colors
Material
Metal, Plastic and rubber
Plastic
Stainless Steel
Durable Stainless Steel
Good Quality Stainless  steel
Capacity
20 oz. Single-Serve FreshVac Cup ,40 oz. work bowl and  72 oz. FreshVac Pitcher
3.5 cup work bowl
14-Cup bowl

 

16 cup bowl and 2.5 cup bowl
3 cup bowl
Extra Features
Smart Touchscreen,   9 Pre-Set Auto-iQ Programs
Auto spiralizer, work bowl with drizzle hole
 Large Feed Chute, Spatula, instruction and recipe booklet
Heavy Duty Induction Motor , Multidirectional Timer, Multiple Chute Options

 

Auto-reversing Smart Power blade
Product Dimensions
8.86 x 10.82 x 17.32 in
9.5 x 6.25 x 12 in
16.6 x 12.6 x 9.3 in
10.25 x 8.43 x 15.47 in
7 x 5 x 9.25 in
Manufacturer
SharkNinja
SharkNinja
Cuisinart
Breville
Cuisinart
Conclusion
Now that you've come to the end of this review, we believe that you have enough information to make an informed decision.
Remember that whenever you are shopping for a product, there are many factors that'll affect your choice.  One major criterion for a product to be right for you is that it meets your specific needs. So bear that in mind as you consider buying the Ninja Smart Screen Food Processor and Blender (CT672V).
Click here to check this out and buy on Amazon
Ninja Smart Screen Food Processor CT672V)-FAQs
Is There A Food Processor Attachment For Ninja?
The Ninja Blender 64oz Food Processor Bowl Attachment Kit is a food processor attachment and blade for Ninja blenders but they are for only for BL771, BL780, BL770 models.
So whenever you are looking to buy a food processor attachment bowl for your Ninja bowl, ensure that it is compatible with the model that you have.
Can I Use My Ninja Blender As A Food Processor?
A blender is different from a food processor because of the different ways they execute certain culinary tasks.  Blenders need liquid for whatever ingredient they are processing while food processors do not.
The reason why you shouldn't use a blender as a food processor is all about the mode of operation and not necessarily the power of the blender. That is why you can for example chop onions in a blender but cannot make salsa with a blender; the blender would chop the onions but puree the tomatoes. But if you place onions and tomatoes in a food processor, it would chop both ingredients.
So while you can attempt to use your Ninja blender as a food processor, the end product would not be satisfactory. So if you have a Ninja blender without food processor bowl, check the model; there might be a food processor bowl attachment bowl kit for it.
Click here to check this out and buy on Amazon
What Is The Best Ninja Blender?
Ninja has many good quality blenders and they come in handy for various kitchen tasks. Here's a list blenders or a combination of blender and food processor:-
Ninja Professional 72 Oz Countertop Blender with 1000-Watt Base and Total Crushing Technology for Smoothies, Ice and Frozen Fruit (BL610)
Combination of blender and food processor with extra accessories – Ninja Mega Kitchen System (BL770) Blender/Food Processor
Best for vegetable and fruit diets –  Nutri Ninja Blender with FreshVac Technology (BL580)
Ninja Professional Countertop Blender with 1100-Watt Base, 72 Oz Total Crushing Pitcher and (2) 16 Oz Cups for Frozen Drinks and Smoothies (BL660)
Ninja BL685 Professional Kitchen System with Auto-iQ and Powerful Blending, with 64 oz. Food Processor Bowl and 72 oz. Total Crushing Pitcher
Ninja BN801 Professional Plus Kitchen System with Auto-iQ, and 64 oz. max liquid capacity Total Crushing Pitcher
Click here to check this out and buy on Amazon