Specialty icing tools are cake or cookie decorating equipment that help you to take your cake decoration to the next level. There are basic cake decorating tools that every cake decorator must have but specialty icing tools are not compulsory. However, if you are a professional/commercial cake decorator, then you must of necessity consider having them. This is because specialty icing tools produce results/effects on cakes that the basic tools cannot.
We shall endeavor to explain the use of some of these specialty icing tools, the kind of designs they produce and how to use them. We hope this would help you take your cake decorating to the next level. Here goes…
Click here to check this out and buy on Amazon
This tool set consists of an etching tool, a comb tool with three pin head and a silicone scraper. Although it's called a cookie tool set, it's useful for royal icing projects. The same technique used for cookies can be used on cakes and other baked goods.
Comb Tool with 3 Pin Head – This tool is used to space out straight lines and even out the edges of dry royal icing. It is also very useful for pulling colors in wet royal icing.
Etching Tool – The etching tool is used to add details, create the marble and feathering effect. The cap of this tool is used to create the same effects but with  a wider edge. It can also be used to smooth out air bubbles in royal icing.
Silicone Scraper – This tool is just like an icing smoother but a smaller version. It is used to remove excess icing creating smooth and precise icing edges.
Click here to check this out and buy on Amazon
Are you a cake decorator with cookie cutters that you use for cookies only? Then you are not maximizing those tools. You can use them to cut out fondant and gum paste shapes. You can also use them as templates for royal icing transfers.
Your imagination is the most important factor in the use of specialty icing tools. These tools can be used in so many ways; even producing effects beyond what the manufacturer had in mind.
Click here to check this out and buy on Amazon
Sometimes you don't have time to bake a cake from scratch, whip up a batch of icing and then fill piping bags for decorating. You are left with no choice but to pick up your cake, cupcakes or cookies from the store. You don't have to leave them bare or humdrum; pick up an icing pouch and add lettering, color and designs to your store bought baked goods.
An icing pouch is a ready to use pouch filled with icing. They are flexible just like the regular piping bags and they fit into the hands as well. The end of the pouch is sealed to prevent icing from spilling out of the back. The tip is fitted with a piping nozzle but can also work with other piping nozzles that are not included in the package.
Icing pouches come equipped with couplers and two tips. A round tip similar to Wilton's no 5 round tip and a star tip similar to Wilton star tip 22. All you need to do is uncap the pouch and use the round tip.
When you want to use the star tip, just detach the round tip and reveal the star tip. You can create stunning designs on your cakes and other baked good with these two tips. You can also attach other tips of similar size to the coupler of the icing pouch for different designs.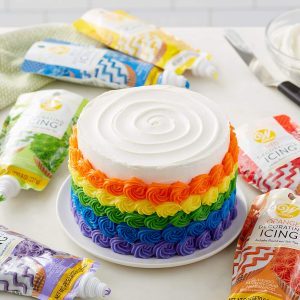 These pouches come in different colors so you don't have to bother about coloring the icing; like we said the icing pouch is ready to use. They come in handy in case of emergencies.
Apart from the different colors, these icing pouches come filled with icing of different flavors.
Click here to check this out and buy on Amazon
Russian tips are specialty icing tools that have become increasingly popular in the world of cake decoration. If you are a cake decorator and you haven't started using Russian tips, you are missing out on a lot of fun. Yep, fun and lots of amazingly stunning designs!
When you see cupcakes, cakes and baked goods decorated with Russian tips they appear quite complicated. In reality, Russian tips are not complicated to use however, you need practice to get the hang of using them.
Russian piping tips come in different designs and they are larger than regular piping tips.  They produce large flowers in one fell swoop and also create other special effects on cakes, cupcakes and other baked goods. There are close to or over seventy different types of Russian piping tips and they come in packs of some odd numbers. Tips from different brands may seem similar but there are slight differences that create different effects.
Tips for Buying and Using Russian Tips
You need to pay close attention to some facts when buying or learning to use Russian tips because they are specialty tips,  Here are some of these facts:-
Remember to look out for the most popular and regularly used tip when shopping for Russian tips. Check the product description to be sure that the pack includes those tips. One of these tips is the rose flower tip.
Most Russian tips don't come labelled or marked so you have to carefully check to be sure that the designs you want are included.
Ensure you note the brand of Russian tips used if you are buying any tip based on a tutorial you have seen.  If you can't get the exact brand, then note the size of the opening of the tips. The instructors in these tutorials would most often clearly show you the opening of the tips.
Match the Tips with the Right Piping Bags
One major issue may arise if you just buy Russian tips without considering the size of the piping bags you have. These piping tips are not the regular size so they won't match any type of piping bag. You need to buy the right piping bags that would match the tips.
If you have the clear plastic disposable piping bags, they would do just right. Cut off the tip of the piping bag just to accommodate the end of tip of the Russian tips and insert the tips into the bags. Ensure that you don't cut off too much from the tip of the piping bag. If you do, the pressure from the icing would push the tip out of the bag.
Consistency of Your Icing
The consistency of icing needed for Russian tips is stiffer than that used for regular piping tips. The designs on your cake  would not hold their shapes if you use a light consistency of icing for Russian tips.
Some veteran cake decorators have advised that you  add one cup of icing sugar to one and a half pound of buttercream. This would give you the right consistency to pipe with your Russian tips.
Techniques for Piping
Russian tips require some kind of techniques to get the right effect you want. The same tips would provide different effects at different heights. Some effects are more beautiful if they are piped to about an inch high. There are  others that  are better piped a shorter height or with shorter flowers and edges.
A number of  Russian flower tips come with leaves but for some  others, you have to pipe in the leaves separately. Watching tutorials is the surest way to get the hang of using Russian tips so avail yourself of the myriads of tutorials available online.
check out this video …
Russian tips afford the cake decorator a lot of benefits; here are some of them…
(i)  Russian tips are easy to use and don't need specialized training. This means that with little practice any one can use them  to easily produce stunning effects.
(ii) Russian tips works well with butter cream ; all you need to do is add some icing sugar to get a stiffer consistency than the one used to cover your cake.
(iii) Russian tips are easy to assemble, use and clean. When you are done decorating your cake, you squeeze out the remaining icing from the piping bag (if there's any), detach the piping tip and wash with warm soapy water. Since they are made with stainless steel metal, they are dishwasher safe. This further simplifies the cleaning process.
(iv) Most Russian tips are durable; that's if you get the ones made with top quality material.
Further Tips and Reminders
Here is a summary of things to bear in mind so that you can get the best results from your Russian piping tips:
(i) Designs would keep their shape when you use stiff consistency butter cream.
(ii) Gently squeeze out some icing after filling your piping bag.  This would help you get a feel of how best to hold the piping bag. It would also help to remove air bubbles from the icing which can spoil your design.
(iii) Pipe out some practice designs on parchment paper before moving on to piping on cake.
(iv) You have to carefully note which tip produces a particular design because most Russian tips are not marked.
(v) When piping with Russian tips, you would definitely have gaps between your flowers. You can fill these flowers with leaves; this even makes the flowers look more realistic.

Click here to check this out and buy on Amazon
Specialty  couplers are larger than the regular ones and they come in different sizes. Some of them have three holes that make it possible for you to use three colors of icing at the same time.

There are brands of these couplers with three holes that can be used with one piping bag. Some others have to be fitted into separated piping bags before being fused to a tip.These types of couplers are the ones that are mostly used with Russian tips.
Most brands of Russian tips do not come with instructions. However, there are many tutorials that would show you how to use Russian Tips. Some of them  would also show you how to use the specialty coupler.
Specialty Piping Tips
Click here to check this out and buy on Amazon
These are usually large sized tips with irregular openings. Some may have multiple openings, while others produce shapes such as heart shapes. Some manufacturers also advertise these specialty piping tips as Russian tips.
Most times they are used without  couplers because of the large size but they can also be used with jumbo sized couplers. These specialty tips are great for piping intricate designs that are bolder than what the regular piping tips would produce.
These types of tips are becoming increasingly popular and enable decorators to whip up breathtaking desserts.
Click here to check this out and buy on Amazon
This is a variation of piping bag but it is much easier to use. Some  silicone decorating bottles are  designed with  wide open end that tapers off to an opening where you can affix your coupler and piping tip.  Others are designed like baby formula bottles.
These decorating bottles are more suited for decorating cookies and baked goods that
require minimal amount of continuous piping.
The wide opening at the end makes it easy to fill the bottle with icing. And the design is easy and comfortable to grip. They are also easier to wash than the regular piping bags. They come in handy for the times when you want an icing tool that you can quickly use, wash and put away.
Conclusion
All these specialty icing tools that we have discussed are great tools to have; especially if you are a professional/commercial cake decorator.
You have to continually upgrade to remain relevant because cake decorating evolves with each passing day.
We know that you may get confused by all the wonderful products that are available when shopping for specialty icing tools that would enhance your skills. No need to fret or worry; there are many free tutorials that can help you make good choices.
You would have a fair understanding of tools to buy as you take advantage of these free online tutorials.  Not only that but you'll constantly be informed of what's trending in the world of cake decoration.
We also recommend that you check out some of our other articles for more cake decorating ideas and product reviews:-
Click here to check this out and buy on Amazon