The Breville BFP800XL Sous Chef Food Processor is a workhorse that delivers professional results in food preparation.  Every good chef/cook knows that excellent meals start with consistent size of ingredients. Consistent sizes of ingredients makes for even cooking which results in great presentation and taste.
The Breville Sous Chef Pro helps you to slice, dice shred, chop, knead and blend your ingredients. It gives you the freedom to experiment with a thousand and one recipes with minimal effort.
You might be wondering what a cake maker wants with a food processor; read our article on Food processors here. You'll find out how useful this kitchen appliance would be in your baking endeavors.
Before we go ahead to analyze the features of the Breville BFP800XL Sous Chef Food Processor, let's take a peek at the brand behind the product.
Brand Profile
Breville was established in Sidney in the year 1932 and since then has grown to global proportions.  Its thoughtful designs and innovative products help to enhance the lives of its customers and users. These products are delivered to over 70 nations across the world making Breville a household name.
The Breville brand is one that gets its inspiration from consumer needs and feedback. It delivers just the right products to help people attain their full potentials in the kitchen with more ease and even pleasure.
These products span a wide range of tasks and culinary genre. In addition the products help users to churn out perfect results at all times. Most important of all is the fact that these products are made with top quality materials.
Breville ensures that all its products meet the highest standard and performs as advertised. One of such products is the Breville BFP800XL Sous Chef Food Processor that we are reviewing today.
This great product comes loaded with a lot of wonderful features; we'll discuss some of these features below.
High Performance Induction Motor
The Breville Sous Chef Pro is powered by a heavy duty induction motor. This motor has a high torque of 1,200W that delivers the power needed for even the toughest of culinary tasks.
Large Capacity Bowl and Smaller Bowl
This delightful food processor comes with a large capacity bowl; an extra large 3.6 liter capacity. This measure is an equivalent of 16 cups of dry ingredients and 12 cups of wet ingredients.  Also included in the package is a 600ml capacity cup for smaller tasks/ingredients.
The large capacity bowl of this processor is one of the main reasons why it needs a high torque engine. Therefore the combination of the heavy duty induction motor and the large capacity bowl equals large scale cooking made easy!
What about small scale processing? No sweat! The small bowl has you covered.
LCD Display Multi Directional Timer
The Breville Sous Chef Pro has a multi directional timer; this means that the timer can either count up or down.  It is used to set the time required for a particular processing task. When it is set to count down, the machine stops once it gets to the time set.
8 Attachments/Accessories
There are 8 attachments included with this product. Each attachment makes specific tasks easy and precise. These attachments include the following:-
Blades
The blades included in this package are the dough blade, micro-saw edged S blade and the mini blade. The micro-saw edged S-Blade helps you to chop up a wide variety of ingredients to consistent proportions.  The dough blade comes in handy for combining and kneading ingredients while the mini blade works with the smaller bowl.
More important is the fact that these blades perform each task in record time!
 Slicing Discs
The discs in the set are a julienne disc, a whisking disc, a French fry cutting disc, a reversible shredding disc and a variable slicing disc.
The variable slicing disc can be set to 24 slicing settings which helps you determine the thickness or thinness of your slices. You can set it to cut as thin as 0.33mm or as thick as 8.0mm
Large and Small Food Pusher
The large food is for pushing food down the feed chute of the processor. It is an important part because the machine won't start unless it is put correctly in place.
In contrast, the small food pusher does not affect the functioning of the food processor. The machine would run whether this pusher is in place or not. However, the small food pusher helps to improve the control of processing smaller ingredients. Additionally, it serves as a measuring cup that can be used to measure and add ingredients.
Feed Chute Safety System and Direct Drive Motor
This safety system helps to protect the food processor from damage /malfunctioning. It stops the motor from starting unless the large food pusher, the bowl and the cover are properly locked in place. Furthermore, the direct drive motor also has a safety braking system which adds extra safety measures to this machine.
Extra Wide Feed Chute
This feature allows you to feed in large ingredients into the food processor without cutting them up first.
Silicone Seal
The parts of the Breville Soucs Chef Pro are silicone sealed. This helps to reduce the likelihood of spillage when large volume of liquid ingredients is being processed.
 Solid Metal Base
The base of the food processor is made of solid Die Cast Metal. This makes for stability, strength and durability of the machine.
Non Slip Rubber Feet
These give the base of the food processor a firm grip on the working surface/countertop.  This in addition to the solid metal base of the machine ensures that it stays put when in use. it wouldn't walk or wobble all over the countertop.
BPA Free Materials
Every part of this food processor that comes in contact with food is made with BPA free materials.
Storage Box
The storage box of this food processor makes it easier to store. It also provides the convenience of having all the parts and accessories in one safe place.
Do these features look like what you have been looking for in a food processor? Click here to purchase the Breville BFP800XL Sous Chef Food Processor.
It goes without saying that a product that comes loaded with the features we have enumerated above would have many benefits. Let us go further in this review by discussing these benefits in this segment:-
Precision
The different blades and discs of Breville BFP800XL Sous Chef Food Processor provide precision in food preparation at all times. With each blade or disc, you know the end result of each ingredient you process.  This removes the guess work from your cooking and presentation.
Even Cooking of Ingredients
Following from the precise cuts of your ingredients, you would always have evenly cooked meals. This helps to improve the flavor of your food and also the presentation.
With this Breville Food Processor, you can always whip up meals that look and taste as good as your favorite restaurant recipes.
Save Time and Energy
We all know that two of the greatest hurdles to preparing healthy meals are time and energy. Imagine the time one would have to spend daily chopping up fruits and veggies by hand for three square meals? Even for stay at home moms or dads that would be almost all day, every day!
Thanks to the Breville BFP800XL Sous Chef Food Processor, you don't have to go through all that stress anymore. Not only do you gain the freedom to experiment with various recipes, but you get free time for other tasks too!
Convenience
The storage box of the Breville Sous Chef Pro provides great convenience for the user. It allows you to store all the moving parts of the machine in one spot. No more scrambling around looking for the blades, discs or other parts when you need them.
Mess Free Operation
It can be quite annoying to have some liquids spilling all over when you are preparing your ingredients. But with this food processor, you are assured of a reduced risk of spillage when you are mixing large volume of liquid ingredients. The silicone seal of the bowl makes for a mess free operation.
Ease of Use and Cleaning
The attachments of this food processor are easy to attach and detach from the base.  This is because the design of the food processor allows you to remove the attachments from the top. You don't have to dig them out from the ingredients or have them fall out when you are pouring out the ingredients.
In addition to the ease of use, this machine is easy to ash. All you have to do is wash the parts in warm soapy water, rinse out and wipe dry.
Ease of Large Scale Meal Preparation
The heavy duty induction motor in combination with the large bowl capacity allows you to prepare meals in large quantity.  This makes the Breville BFP800XL Sous Chef Food Processor ideal for a large family or a small scale commercial kitchen.
Any baker or cake maker that uses a lot of fruits and veggies would find this food processor very useful. Overall, this food processor removes the stress from preparing large scale ingredients.
Do you want to enjoy the benefits of these features? Click here to buy the Breville BFP800XL Sous Chef Food Processor.
Much as we laud the features of the Breville BFP800XL Sous Chef Food Processor, we must acknowledge that it has some disadvantages.  These disadvantages may not be a deal breaker for some folks but would be for others. That's the reason why we must present them to you for due consideration.
Overall Size of the Product
The Breville BFP800XL Sous Chef Food Processor is a big kitchen appliance. In fact it always comes as a surprise to most buyers upon receipt of the product.
This makes the Breville Sous Chef Pro overkill for folks who have little kitchen space. Due to the fact that the appliance takes up a lot of counter space, some folks have had to leave it in storage and look for smaller product.
The Speed Of The Pulse Is Too Fast
Most  first time users have had to find out the hard way that the pulse button is too fast. This means that you have to be careful when using this function.
The Power Cable Is Short
The power cable of this appliance is short; one would have to move things around on the countertop o get to the power source. It's either that or get an extension box to add more length to the cord.
Mini Bowl is Not Too Functional
The mini bowl that comes with this package is not as functional as it is touted to be.  The fact is that when you need to use it, you still end up lugging out the whole machine. And for most people this is not a very convenient move.
Similarly,  even those that keep the food processor out on the countertop do not find using the mini bowl convenient.  This is because the ingredients spill into the large bowl so you still have to clean both bowls after use.
Customers who have bought and used this food processor have a lot to say about it. A higher percentage of users have great reviews of the product while fewer have negative reviews.
We'll give you a summary of the positive and negative reviews; here goes:-
Positive Reviews
Great Customer Service
Some customers have had good experiences with customer service at Breville. These customers gave great reviews because customer care quickly resolved their issues and favorably too.
Ideal for Large Scale Food Preparation
Many customers gave the Breville BFP800XL Sous Chef Food Processor a 5-star review because of the capacity. These chefs/cooks who have to prepare ingredients on a large scale frequently really appreciate this product.
Convenience and Ease of Use
The convenience of using this food processor made a high percentage of users to rate it between a 5 and 3 star.  Additionally, the fact that one can easily attach and detach the accessories also earned the product more stars.
Excellent Product Experience
This customer rated the Breville BFP800XL Sous Chef Food Processor positively because they've been having a great experience with it. They are thrilled with the ease of use, cleaning and storage.
One other great experience is the daily use of the food processor that produced excellent results constantly.
The crowning glory of these experiences was the staying power of the machine all through the heavy thanksgiving season cooking.
Slicing Discs Does Excellent Job
The fact that you can use the slicing discs to achieve different widths of ingredients is highly appreciated. This makes dehydrating fruits and veggies very easy.  The machine does not waste your ingredients by leaving a large chunk in the unit after processing.
This customer has gained a lot of creative license with this product and gave the product a four star review.
Negative Reviews
Too Large To Be Move Around
The Breville BFP800XL Sous Chef Food Processor is a huge machine.  The fact that it was bigger than anticipated made a number of customers to be disgruntled with the product.
It's Not Dishwasher Safe
This food processor is recommended not be put into the dishwasher.  A few customers were not happy that they had to wash the parts by hand. This cost the Breville BFP800XL Sous Chef Food Processor some points off.
Min Bowl and Blade is Not Functional
Some customers believe that the mini bowl and blade that's included in the package may be a marketing gimmick.  They complained that the mini bowl and blade dint work as well as advertised. For this reasons they gave the product below 3 stars.
Summary
These negatives have not been a deal breaker for some customers. They insist that they would buy this product again. This however is not the case with every buyer; there are folks who swear they wouldn't buy this product again.
If you love what you've learnt of this product regardless, click here to buy the Breville BFP800XL Sous Chef Food Processor.
For those who want to check out alternatives to this product before making a choice here are four options to consider.
High End Product From Another Brand
The Cuisinart FP-14DCN Food Processor is a great assistant to have in any kitchen. It comes loaded with many wonderful features and they include the following:-
Two Bowls
There are two bowls; a 14 cup large bowl and a 41/2 cup small bowl. These two bowls have pouring spouts and measurement markings.  Those two features make the bowls very functional and versatile. You can use them to measure your ingredients directly and also conveniently pour the ingredients out when you're done.
Electronic Touchpad Controls
The Electronic touchpad controls are blue LED lights. This enables you to see all the control buttons clearly even if you are working at night.
Powerful Motor
This food processor is powered by a 1,300 watt motor. The strength of the motor enables the food processor to handle a wide variety of culinary tasks.
Safety Features
The Cuisinart FP-14DCN Food Processor also comes with some safety features. These safety features are found in the SealTight Advantage System which seals the bowls and locks the blade in place.
There are many more features to be enjoyed in this food processor. Click here to check out and purchase the Cuisinart FP-14DCN Food Processor.
Cheaper Option
The Braun FP3020 Food Processor comes with many features which we would summarize below:
Compact yet Efficient
The Braun FP3020 Food Processor is compactly designed for ease of handling and storage. Its design is eco friendly and cost efficient because of the motor that has low power consumption.
Power Yet Quiet Operation
The power and voltage of this food processor is high. It has a motor power of 600 watts (110V for USA). Despite this power, it functions quietly which makes it convenient to use at any time of the day or night.
 Pre-Set Speed and Variable Speed Settings
The pre-set speed function allows you to have immediate result without moving up through all the speed settings. You can start the unit at any speed you have pre-set and have better control over the entire process.
With the variable speed setting, you can move from one speed to another as desired.
Are you ready to enjoy the ease and convenience that this food processor brings? Click here to buy the Braun FP3020 12 Cup Food Processor
Food Processor Under  $50
One of the most annoying things when using a food processor is having to stop and scrape the sides of the bowl. Removing the lid and reassembling it is a big hassle and wastes a lot of time.
The major selling point of the Hamilton Beach (70730) Food Processor is the bowl scraper that comes with the unit.  This bowl scraper is inbuilt and saves user the hassle of having to scrape down the bowl while working. Furthermore, it works both while the processor is on and while it's off.
In addition to the inbuilt bowl scraper, this Hamilton Beach Food Processor has the following features:-
450 watts motor that runs on two speed settings with a pulse function.
Large capacity 10 cup bowl that's easy to handle and store.
Assorted Attachments for shredding, dicing and slicing.
Every part that comes in contact with food is made with BPA free materials. The bowls, blades and lid are dishwasher safe.
There's more to this food processor; click here to check out and buy the Hamilton Beach (70730) Food Processor.
Mini Size/Lower Capacity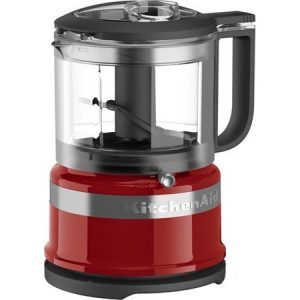 The KitchenAid KFC3516ER Food Chopper is a compact and lightweight mini processor that's ideal for daily use.  It's just the right size for small families and folks who cook in small quantities.
The bowl is a 3.5 cup that comes with a handle and pour spout that makes for ease of handling and serving.  In addition the bowl has a locking blade that ensures that the blades stay in place. Finally, the work bowl is BPA free.
The motor has 2 speeds and a pulse function that allows you to control how the ingredients would turn out.  The assorted blades give you the freedom to slice, dice and shred your ingredients precisely
If you prepare small quantities of ingredients and need a food processor that's not cumbersome, this is the product for you. Click here to buy the KitchenAid KFC3516ER Food Chopper.
Before wrapping up this review, we'll do a quick recap of the products discussed with a table of comparison.
Table of Comparison
Breville BFP800XL Sous Chef Food Processor
Cuisinart FP-14DCN Elite Collection 2.0 14 Cup Food Processor
Braun FP3020 12 Cup Food Processor

 

Hamilton Beach (70730) Food Processor

 

KitchenAid KFC3516ER 3.5 Cup Food Chopper

 

Category
Sous Chef Food   Processor
Electric Food Processor
Food Processor
Food Processor
 Mini Food  Chopper
Attachments
8 Attachments
Slicing disc, shredding disc, large and small chopping/mixing blade
7 Attachment Blades, Chopper and Citrus Juicer
Chopping, slicing and pureeing attachments
Stainless Steel blade
Motor  Watt
1,200 watt
1,300 watt
600 watt/ 110V for USA
450 watts and 2 speeds with a pulse function
Motor watt not specified, 2 speeds and a pulse function
Color
Stainless Steel
Die Cast
White
Black and Silver
Available in 16 colors
Material
Stainless Steel
Aluminum
18/8 Steel
Plastic
Plastic
Capacity
16 cup bowl and 2.5 cup bowl
14- cup bowl  and 41/2 cup – bowl
12-Cup bowl (dry ingredients)

9-Cup bowl ( Wet ingredients)

10-cup bowl
3.5cup bowl
Extra Features
Multi directional Timer and Multiple Chute Options
Electronic Touchpad Controls with blue LED lights
Low Power Consumption(Energy efficiency)
Bowl Scrapper
Locking blade
Product Dimensions
11 x 8 x 18 in
7.75 x 10.25 x 17 in
14.9 x 11.3 x 15.4 in
10.25 x 8.43 x 15.47 in
5.6 x 7 x 8.7 in
Manufacturer
Breville
Cuisinart
Braun
Hamilton Beach
KitchenAid
Final Words
The Breville BFP800XL Sous Chef Food Processor is a high end kitchen appliance that delivers a high level of convenience in the kitchen. Although it is a product that's well worth the price, it may not be for everyone.
So how would one determine whether this is the right product to buy?  Here are a few questions  and issues to consider:-
Are you a chef that cooks on a large scale?
Do you have a large family and love to cook for them daily?
Constant preparation of  large quantities of fruits and veggies frequently
Do you work a 9 – 5 and also have to cook daily for a large family?
If your answer to all these questions is yes, then you need this machine. Click here to buy the Breville BFP800XL Sous Chef Food Processor.
Topics
#Food processor
#food processor and vegetable chopper
#professional food processor
#sous food processor
#vegetable chopper