Wedding cakes and wedding cake toppers have always been sort of like fashion. Just like fashion,one trend tumbles over another from one season to the other. From the puritan all white cakes with multiple tiers to the more daring colorful ones.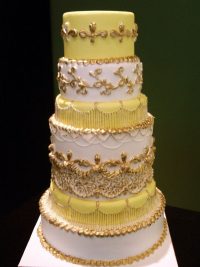 In recent times, the changing trends have become even more dizzying. There's a whole plethora of designs and fads to keep up with. From the nude cakes,to the semi nude cakes and also gravity defying cakes. 
Even the  drizzle cakes and unusual desserts are not left out. All these represent the options that would-be couples have to choose from.
Whatever wedding cake fad you choose to go with, there's a wedding cake topper that's a match.
Furthermore, remember that the wedding cake topper puts a finishing touch to your cake that reflects your passion.  This also helps to  infuse "you" in the midst of all the fad.
Your guest would be wowed by the appearance of your  wedding cake and topper.  Some would probably form an opinion even before they take a bite.
Above all, wedding cake toppers can either be show stoppers or downers. You can get your guests salivating for a slice of cake just by looking at the wedding cake topper.
Helping You Along in Your Search  for  Wedding Cake Toppers
It goes without saying that there are myriads of options to choose from when it comes to wedding cake toppers. One would think that after agonizing about the wedding cake (designs, flavors, colors et al) choosing the wedding cake topper should be a breeze. But no! You still have to go through hours or maybe days of looking and comparing before making a choice.
Well, let's make it easy for you. We'll show you different cake styles and trends and the wedding cake toppers that work best for them.
All White Cake Designs with Simple Classic Look
For these kinds of cake you should consider the following:
1. Bride and Groom Figurine – Before you tune off, hear this; your figurine doesn't need to be corny or cheesy. There are different ways to jazz it up and still make it fit with the classic design of your cake.
There are  also bride and groom figurines that depict the hobbies or quirks of the couple. Some others  even tell pictorial stories of how the couple met while others show their humorous side. 
It is said that pictures speak louder than a thousand words so a figurine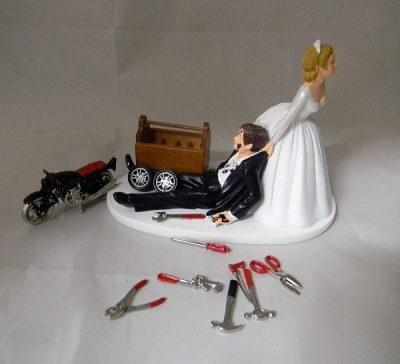 can tell a lot about the couple.
2. Antique Jewelry – There's so much you can do with a family heirloom. You could redesign it, add it some other sets of jewelry or just set it in a place of honor; the top tier of your cake!
If you don't have a family heirloom that you can use, you can always get vintage antique jewelry. This can make up for the "something old" tradition.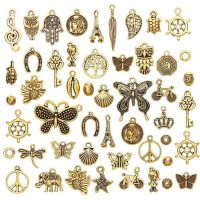 A good cake designer would know how to incorporate your antique jewelry and make it a beautiful wedding cake topper.
3. Wedding Monogram or Motif – You can get your cake designer to mold a motif or monogram that features on your invitation card. You can also have it designed by an artist of a sculptor.
4. Metallic Wedding Cake  Toppers – These comes in gold or silver or even vibrant colors with a metallic sheen. It adds touch elegance to your cake and also makes it pop. You can certainly jazz up motifs and monograms with edible shimmers and glitters!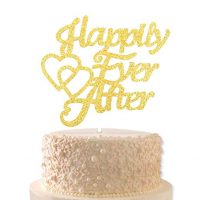 5. Traditional Love Symbols – There are a lot of designs that are inspired by traditional love symbols. Some of them include intertwined hearts, tilted champagne hearts, kissing doves or the sign of cupid (two hearts and arrow). Some couples have had two doves in a cage which they release when they cut the cake.
Similarly, you can create your own love symbols using objects that have sentimental value to both of you.
6. Acrylic Wedding Cake Toppers – These are designed in different forms and shapes. Some are silhouettes of a bride and groom in different poses. Some others incorporate silhouettes of animals. These are for animal lovers who want their pets to be part of their happy day.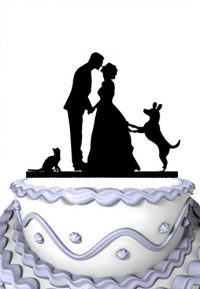 Other acrylic toppers are write ups like Mr. & Mrs. "God gave you to me" "Happily ever after" "Forever Yours" and many more. 
Some couples even go as far as making silhouettes of a man, woman,child and pet.
The great thing about acrylic is that it is a versatile material. You can always adapt it to any shape, size or design. It is one of the most adaptable materials for cake toppers. This  gives you the freedom to customize your wedding cake topper to fit the theme of the day.
Naked Wedding Cakes
Naked cakes started trending like two or three years ago. They have only  filling between layers just to add more flavor to the cake.This trend is gaining popularity because many  "health conscious" people have decided to forego the sugar overload of frostings.
These cakes usually feature best in evening weddings, garden wedding or highly informal or casual weddings.
If you have decided to have a naked wedding cake, you might want to consider the following wedding cake toppers.
1. Wooden  Wedding Cake Toppers – These toppers  are made from different types of timber and carved into different designs. This is a wedding cake topper that you can either buy already made or customize. You can also DIY if you are the artsy type.
There is no limit to what you can make with timber for a wedding cake topper.  You can even go as far as scripting an ode or carving a picture of the bride and groom.
2. Fresh or Artificial Flower Bouquet– Naked cakes are usually decorated with flowers and fruits. This is so that the design would be deliberate and not appear like an incomplete cake project.
Remember that fresh flowers on cake have to be treated; your cake decorator or florist probably  knows this. But there's no harm in your double checking to be sure and safe.
3. Fresh Fruits – When using fresh fruits (especially berries), ensure that they are properly prepared before placing them on the cake.  First of all, wash them then pat dry with a clean dish towel.  This is so that they'll be as dry as possible.
However, from experience we have learnt that fresh fruits should be placed on the cake at the last minute.This should be as close to consumption time as possible. This is because fresh fruit would bleed on the cake once it comes in contact with sugar. This might ruin the aesthetics of your cake.
4. Mix and Match – This is a combination of fresh fruits and flowers and sometimes some drizzles. You could top off your naked wedding cake with cascades of flowers, ferns and fruits. This is after it has been drizzled with either some caramel or chocolaty goodness.
You can also decide to forego the drizzles and go with only a cascade of fruity goodness interspersed with flowers and ferns. 
Semi Naked Wedding Cakes
The semi naked cake is a compromise between a naked cake and the fully frosted one. The cake is usually made with fillings between layers and frosted lightly with parts of the cake showing through.
That's where the difference ends; your cake topper for this is the same as for the naked cake.
Wait… you can actually add this
Rustic  Wedding Cake Toppers – Synonyms of the word rustic include pastoral, country, homey, rural, simple, picturesque verdant. It would be safe to assume that one of these words sum up your taste. Why? Because you chose a semi naked cake!
What better way to show forth this personality or taste than a rustic wedding cake topper?
The great thing about this type of wedding cake topper is that it gives you creative license. You can create anything your mind conceives; either by commissioning an artist or DIY.
Bold and Colorful Wedding Cakes
This is a broad category of cakes because it covers so many of the wedding cake trends not yet mentioned.
It is normal these days for many couples to use their wedding cakes as a showcase of their cake decorator's expertise. At other times, the grandeur of the wedding cake might be a status symbol.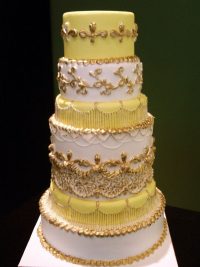 For cakes that are already making a statement, the wedding cake topper should be simple. This is not to say that the wedding cake topper would be any less elegant or pretty. But the essence is that it shouldn't compete with the cake.
This is what combining elaborate wedding cake toppers with over the top wedding cake designs would do. It would make your cake table dizzying and leave the guests with the feeling of a tacky display of "class"
Ideas for Inspiration
Here are some ideas that would help you choose an appropriate topper for a wedding cake with bold designs or colors:
1. Acrylic Monograms – Yes we mentioned acrylic toppers as appropriate for simple and classic all white cakes. However the acrylic toppers for those cakes would be more dramatic than the ones we are suggesting here.
For cakes with bold and colorful designs, a simple Mr. & Mrs. Would do.
There are also other designs that wouldn't detract from the overall aesthetics of the cake or look tacky. Check out these pictures.
2. Single flower – This could be a large rose, carnation or peony (or any flower the couple love). This work well for cakes with floral designs. A single large flower placed on the top tier.
And who said the cake topper can't be by the side of the cake? This single flower can also be placed on the side between two tiers.
Sugar craft flowers works best for this kind of arrangement.
3. Porcelain or Simple Ornaments – There are many beautiful porcelain figurines or ornaments that wont clash with the bold design of your cake. Some can even be knick knacks that would serve as mementos. The aim here is to place something that would top off the overall design and not compete with it.
4. Nothing – Huh! Yep! Nothing! A cake already loaded with intricate designs and patterns all in bold colors may not need a cake topper. You might decide to leave out the wedding cake topper entirely. This is especially if you're having issues choosing one that doesn't clash with the overall design.
Retro/Vintage Wedding Cakes
There is a saying that there is nothing new under the sun. This so true about weddings; fads tend to come and go.
These days we find couples to want to celebrate their wedding the good old way. Either by trying to replicate mum and dad's wedding or grandpa and grandma's.
There are so many wedding cake toppers that depicts this era. Some specialty shops online even specialize in retro accessories.
If you want to use authentic vintage wedding cake toppers, you should start your search early. Though there are many authentic retro wedding cake toppers. However, what you want may take time to track.
In the event that you cannot get authentic retro wedding cake toppers, you can get imitation. Whether authentic antique or an imitation, your retro wedding cake topper would fit right in with your theme.
Summary
Before we sign off let's leave you with  a recap.
This would give you a quick overview of The appropriate your wedding cake topper to use.
1.Wedding Theme  – Formal/Traditional, Southern Charm
Type of Wedding Cake – All White Cake Designs
Wedding Cake Topper – Bride and groom figurines, antique jewelry, acrylic toppers, wedding monograms and motifs, Metallic toppers, traditional love symbols.
Wedding Theme- Garden, Beach, Bohemian
Type of  Wedding Cake – Naked/ Semi Naked Cakes
Wedding cake Topper –  Wooden toppers, fresh or artificial flowers, fresh fruits, mix and match, rustic toppers
Wedding Theme – Modern, Chic, Alternative
Type of Wedding Cake – Bold and Colorful Cake Designs
Wedding Cake Topper – Acrylic monograms, single flower, porcelain or simple ornaments, Nothing
Wedding Theme – Old school, Vintage, Retro
Type of Wedding Cake –   Retro/Vintage Cake Designs , Recipes of yester years
Wedding Cake Topper –  Parents/grandparent's wedding cake topper, retro accessories, antique jewelry
 Tips
There are things to consider before choosing a wedding cake topper. First of all, you have to ascertain the food safety of the topper.
Inedible toppers must be made with food grade /safe materials. Fresh flowers must be treated accordingly before placing on the cake. Fresh fruits should be handled hygienically to avoid food poisoning.
Another thing to consider is your budget. Wedding cake toppers should not cost an arm and a leg; there's a topper for every budget.
Do not be coerced into buying a wedding cake topper. If you see a wedding cake topper that you like but can't afford, you can DIY. You mustn't replicate it in the same material as the original; get creative!
You can get more tips from our previous post on wedding cake toppers
Conclusion
These categories we have discussed are not by any means exhaustive. There are other types of wedding cakes and themes that would require different wedding cake toppers.
We have just drawn from a pool of most popular and trending wedding cake styles and themes. However, we believe that with these sample and pictures, your search would be faster and less stressful.
Finally,  as you prepare for your happy day, we wish you all the best.
Have fun!
Topics
#acrylic wedding cake toppers
#figurine wedding cake toppers
#porcelain wedding cake topper
#unique wedding cake toppers
#wedding cake topper
#wedding cake toppers