The KitchenAid 7-Speed  Hand Mixer offers you the power and control to prepare your favorite meals and baked goods. It is a strong appliance that helps you power through heavy and thick ingredients. You can also whip up egg whites and fluffy treats with the whisk attachment.
Click here to check this out and buy on Amazon
Gone are the days when you had to mix all your ingredients by hand. You no longer have to spend so much time and energy any time you want to bake. The KitchenAid 7-Speed Hand Mixer does all the work for you!
This handy appliance comes equipped with so many features which we shall discuss.  But first of all, let's check out the manufacturer's profile.
Brand Profile
KitchenAid is an American brand owned by Whirlpool Corporation. KitchenAid is a manufacturer of home appliances established in 1919 by The Hobart Corporation. It was commissioned to produce stand mixers but has since evolved to a wide variety of products.
The brand's tagline is "For the way it's made" This was derived from the ideology that "Food may feed the body, but making feeds the soul".  For this reason KItchenAid makes a wide variety of products with passion and excellence.
The single purpose of this brand is to give customers what they deserve and more. This it does by making top quality products that are always evolving with innovative technology to meet the demands of the day.
One of such products is the KitchenAid 7-Speed Hand Mixer.
The features of this product include the following:
Stainless Steel Turbo Beater II Accessories
Click here to check this out and buy on Amazon
The Stainless Steel Turbo Beater II Accessories are adequate for mixing thick recipes. With the whisk attachment included you can whip egg whites to fluffy peaks and make the creamiest of frostings. There are other attachments that would work with this mixer. However, they are not included but have to be bought separately.
Lockable Revolving Cord
The cord can be locked into right or left corner of the mixer. This allows you to work on your mixing from any angle or side of the bowl/mixer. The cord of mixer would not get in the way or into the ingredients you are mixing.
Beater Ejector Button
This button allows you to quickly and easily remove any attachment from the mixer. It only requires a press of the button; you do not even have to put down the mixer. This single handed operation makes for great convenience.
Click here to check this out and buy on Amazon
Soft Start Feature
With this feature, the mixer starts up slowly and then graduates in speed. This helps to stop ingredient from splattering and spilling all over your space
7 Speed Function
The mixer has seven speed options for various recipes and ingredients. Check out the guide/instruction manual to see the appropriate speed for different ingredients.
One Year Manufacturer's Warranty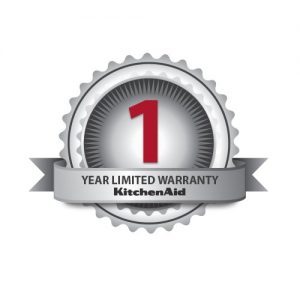 Click here to check this out and buy on Amazon
This hand mixer has the desirable features of a good hand mixer as detailed in our article on Hand Mixers. If you haven't read that article, you can check  it out here
The KitchenAid 7-Speed Hand Mixer has many advantages due to these features we have discussed. These advantages include the following:
Easy to Assemble
The KitchenAid 7-Speed Hand Mixer is easy to set up. it doesn't have too many moving parts and the parts that there are, are not complicated. The instruction manual or chart also makes it easier to assemble.
Easy to Use and Clean
In line with the above thought, this hand mixer is an uncomplicated appliance. All you need to do is set it up and get to mixing your ingredients. After mixing, eject the attachment and wash.
You can use a dishwasher for the attachment but wipe down the machine. Remember, you should never submerge the machine in water.
Lightweight and Easy to Handle
The machine is lightweight and designed in such way that it's easy to handle. The straightforward design makes it appropriate for people with arthritis or related issued.
Electronic Speed Adjustment
The electronic speed adjustment is a great feature that helps automatically adjust the speed as you work. This helps to regulate the speed without you having to change the speed.
Noiseless Operation
The machine operates with minimal level of noise. This allows you to use it at anytime without "disturbing the peace" lol.
Top Quality Material and Durable
The mixer is made with top quality materials which allow it to handle heavy duty task. Unlike other flimsy hand mixers out there, the quality of this mixer makes it durable.
The KitchenAid 7-Speed Digital Hand Mixer is a great product but there are some things customers are displeased about.  Some of these cons include the following:
Button Switch Instead of Toggle
Although this is a matter of personal preference, some customers argue that toggle switches are easier to navigate than button switches. They claim that a toggle switch would have made the appliance easier to use.
Slowness of the Speeds
Just like the above point, some customers find the speed not as fast as other designs of hand mixers. Although the graduation of speed is a wonderful feature, some folks still wish for an additional speed option that would be super fast.
The above issues are situational and may not really be deal breakers if you consider other advantages. That said however, the final say on what constitutes a deal breaker or not lies with the customer.
Click here to check this out and buy on Amazon
Uses of Hand Mixer and Why You Need One
Hand mixers are basically appliances that make the creaming, beating and mixing process of ingredients easier and faster. Most of us who bake or cook can testify to the tedium and stress of mixing or whipping up recipes by hand. That's why a mixer comes in handy.
With a hand mixer, you can mix your ingredients to the right consistency required. You wouldn't also have to cut corners when preparing your food or deserts.  Furthermore, it is adaptable to different sizes of recipes unlike a stand mixer.
So even if you have a stand mixer, a hand mixer ensures that you don't have to drag out the big guns every time you work.  For home bakers who do not make large batches of dough or batters frequently, you may not even need a stand mixer.
You can even leave the beaters in the hand mixer and place them on your counter top; the footprints are small enough for that! All you need to do is grab your hand mixer when you need them.
So we went to town to sample what customers had to say about the KitchenAid 7-Speed Digital Hand Mixer. Some were effusive in their praise of the product while others were not.
Two things that stood out among those who are happy with the product are these:
Durability
Many customers asserted that the KitchenAid 7-Speed  Hand Mixer is well made. They also said that the quality of the materials used for manufacturing the mixer ensures that it lasts for a long time.
Ease of Use
This includes the ease with which the beaters can be inserted and detached, the ease of cleanup and the combination of power and control of the motor.
Those who weren't too pleased with the product also had two things that were consistently mentioned. They are:
Price
Some customers felt that the product was more expensive than the value it brings.
Speed
Those who complained about the speed wished that the high speeds went faster. They felt that if the product had one higher speed level it would have been perfect.
If this review has convinced you that the KitchenAid 7-Speed Digital Hand Mixer is for you, you can buy it here.
In case you are still hesitant about the product and you want to check out other alternatives, we'll help you.
Low Cost Option
Click here to check this out and buy on Amazon
The Hamilton Beach Hand Mixer offers a mix of comfort, power and convenience. With it you can whip up decadent cakes and airy meringues. It comes with an inbuilt bowl rest that makes it easy for you to set the mixer down as you work.
The snap on case stores all your attachments in one place where you can easily access them as required.
You can mix your ingredients at varying speeds starting from slow to high; there are 6 speed options with a quick burst function. The quick burst function provides additional power for any speed option.
If you need a simple hand mixer that's not too expensive, you're in luck with this product.
Click here to check this out and buy on Amazon
Higher Speed and Power Option With Extra Attachments
Click here to check this out and buy on Amazon
The Cuisinart HM-90S Handheld Mixer comes equipped with a 220-watt motor and automatic feedback. It has a one touch speed control with 9 speed options with the first three speed options as the slow start speeds. These speeds stop ingredients from splattering all around when you are mixing.
Included in the transparent snap on storage case are the following: Chef's whisk, beaters, spatula, dough hooks and instruction booklet.
If you are looking for a high end hand mixer like the featured product but with more power and attachments, look no further.  The Cuisinart HM-90S Handheld Mixer is available; click here to get yours now.
Extra High End Option
Click here to check this out and buy on Amazon
The Breville Hand mixer comes with an intuitive interface that has beater IQ. This allows the machine to detect the type of attachment being use and adjust it to the best speed range for it.
Although the motor is a powerful 240-watt DC motor, it operates with minimal noise. It also has high torque even at low speeds.
The beaters come with rubber scraper that helps them mix to the edges of the bowl without clanging. This minimizes the beater's contact with the mixing bowl and also saves time. You don't have to stop mixing to scrape ingredients from the side of your mixing bowl.
Additional features that make this hand mixer desirable include: Mixing light and Count up timer.
Click here to check this out and buy on Amazon
In rounding up this product review, here's a brief table of comparison of all the products.
Table of Comparison
Final Thoughts
We have enumerated the features of the KitchenAid 7-Speed Digital Hand Mixer. At the end of all our findings, we are fully convinced that this mixer is a good buy.  From all that we have discussed we are sure that you have also come to the same conclusion.
As much as we extolled the features and benefits of this mixer, we have also pointed out some cons about it. It is now your responsibility to do your due diligence to confirm that all we've stated is true.
If you have read our article on hand mixers, you would remember the factors to look out for when buying a hand mixer. The KitchenAid 7-Speed Digital Hand Mixer has the essential qualities and some extras.
Click here to check this out and buy on Amazon