The Aleeza Cake Wonders Decorating Set is a great set both for beginners and professionals. It is a wonderful kit because it has all the essentials that are needed for decorating a cake and then some extra. This Aleeza Cake Wonders Set is affordable and delivers great value for your money; with it you are sure to churn out beautifully decorated cakes and baked goods.
Most times when folks want to get serious with baking and cake decoration, they find that there are too many tools and kits to buy. Well, you can't get everything at once. Building your cake decorating arsenal takes time; one cake piping set at a time.
However, it is imperative that you get the most basic kits first! In looking for that kit you need, you'll want a product that's not too expensive. But in addition, you'll need a kit that would not stifle your imagination and creativity.
Click here to check this out and buy on Amazon
The Aleeza Cake Wonders Decorating Set is that kit. Wait! Before you think that this is just a kit for starters, veteran cake decorators can also enjoy using this kit.
This wonderful decorating kit comes loaded with many features. We'll discuss these features in a bit but before that, let's discuss the brand behind the product.
Brand Profile
The Aleeza Cake Wonders Brand was founded by a family in 2017. It was established with the main purpose of delivering top quality products and service to its customers.
There are so many cake decorating and baking products and tools out there. Some of these products are substandard while others are too expensive. For these reasons, top quality products that wouldn't break the bank are much appreciated.
That's exactly why Aleeza Cake Wonders went into business. It partners with top suppliers in the confection and cake industry to provide the much needed quality of tools and products at the right price. This task of providing top quality cake decorating products is one that Aleeza does not take lightly. So whether you just enjoy baking and cake decoration or you are a professional, this brand has you covered.
All Aleeza Cake Wonders' products are made with Food Grade Silicone, BPA free and dishwasher safe materials. In addition to this, the 30-Day Money Back Guarantee covers every product purchased.
With Aleeza Cake Wonder you are assured of getting all the necessary tools that would liberate your creative juices and give wings to your imagination.
This cake decorating tool set that we are reviewing here is one of the many great products provided by Aleeza Cake Wonders.
Now back to the features of this cake decorating set.
Features of the Aleeza Cake Wonders Decorating Set
In this cake decorating set is an 11 inch revolving cake stand/turntable. Icing and decorating a cake is made much easier with a cake turntable. This stand gives you the freedom to decorate all sides of your cake without constantly turning around. The turntable revolves and turns the cake for you.
There are two icing spatulas in this set. one is straight and the other is angled(some people call the angled one an offset spatula). We all know that you can't effectively  apply icing on  a cake and decorate without a spatula.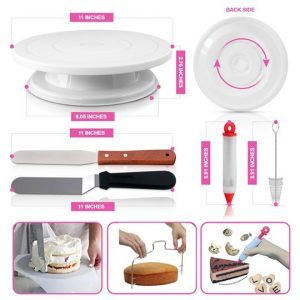 A decorating pen works just like a regular pen/marker. All you need to do is put the medium (icing, chocolate,honey, fruit sauce etc)you want to use  into the pen and use. It's ideal for writing on cakes or other fine details.
You can't get a perfectly decorated cake without an even cake. So you need a cake slicer/leveler to torte your cakes or even out any dome on the cake.
Cleaning a piping tip with your fingers can be difficult. There's also the risk of distorting the shape of your piping tips.  A cleaning brush solves the problem; you can conveniently use the brush to clean out your piping tip after  use.
The Aleeza Cake Wonders Decorating Set comes with 48 piping tips. This wide variety of tips enables you to churn out stunning cakes and baked goods.  The tips are also numbered for easy identification.
Included in this set are 30 disposable piping bags (Note that though these bags are designated as disposable, some of us have been known to reuse them. 😉😉😉).
The 3 silicone piping bags in this set are in three different sizes. This means you have different bags for different quantities of icing/frosting.  The bags are also reusable.
When you have such varied quantities of piping bags and tips, one coupler won't cut it. You need to have many couplers to make for ease of use of multiple piping bags. This set provides 3 couplers so that you can use as many as three piping bags at once and also easily interchange piping tips.
Click here to check this out and buy on Amazon
These items make working with piping bags less messy. It helps to keep your frosting/icing from spilling out of the other end of the bag.  This is a very helpful feature especially for beginners.
This set also has two flower nails and 1 flower scissors. These tools make creating icing flowers easier.  Just  pipe your flowers on the flower nail and lift the flower from the nail with the flower scissors.
After you have applied icing on your cake, you need to smooth it out. An icing scraper helps you to do that conveniently.  One of the scrappers has two serrated edges with which you can add patterns to your cakes.
1 Storage Case For The Piping Tips
Piping tips are pesky little decorating tools that can easily get missing. But with the storage case in this set, that can be avoided. You can safely store the tips in the container.
Piping Chart
A bonus piping chart is added to help user know the design that each piping tip produces.
Benefits of the Aleeza Cake Wonders Decorating Set
Click here to check this out and buy on Amazon
Versatility
With the this kit, you get a wide variety of piping tips. These would enable you to try out your hands on myriads of decorating techniques and designs. The 40 plus piping bags gives you the freedom to work with many colors of icing at once.
Food Safe Product
All the items in the Aleeza Cake Wonders Decorating Set are made with non toxic materials. This means that you are assured of tools that are safe to come in contact with food.
Ease of Use
The piping chart that's included in this kit makes for ease of use. When in doubt of what to do with the tips, just check the chart for inspiration. This would help you anytime you are stumped for ideas for your cake decoration.
The disposable piping bags also make the kit easy to use; you don't have to wash piping bags after use. What's more, the reusable items are dishwasher safe.
Great Value For Money
The Aleeza Cake Wonders Decorating Set is a great set for the price it is sold. You have plenty of pieces for practice or experiments. And this way you learn without spending too much money.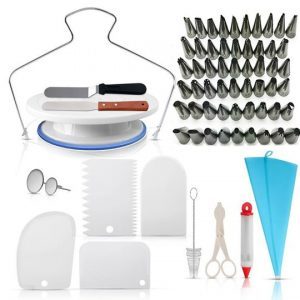 Click here to check this out and buy on Amazon
Demerit of the Aleeza Cake Wonders Decorating Set
One major demerit that stands out about this cake decoration set is the piping chart. The pictures and descriptions are so tiny that they are difficult to decipher. This renders the chart almost useless unless you can find a way of enlarging the pictures.
A second issue is that this set is best suited for beginners. Yes it can be used by professionals but would not cut it for complicated/specialty cake decoration.
These demerits may not be deal breakers for some folks but they are for others. If you are one of those who don't mind these demerits, click here to buy now.
Customers' Opinions About The Aleeza Cake Wonders Decorating Set
The Aleeza Cake Wonders Decorating Set is a product that has received a lot of reviews. It is currently rated a 4.8 star product and has many positive reviews. However, there are customers who weren't pleased with their purchase for some reasons.
We would present a summary of some of the positive and negative reviews from verified buyers of this product.
Positive Reviews
Affordable Functional Product
Although this product is not high end, it is quite functional,good quality and also affordable. It is a simple kit not made with high end materials but the materials used  are of good quality. The fact that the kit is affordable earned it many 5-star reviews. A lot of customers were pleased that they could get such quality of tools at the price they did.
No Risk Beginner Kit
Many newbies who wanted to experiment with cake decoration were pleased with this kit. It is a set that comes in handy both in the experimentation stage and even beyond. A customer described it as a no-risk set for a learner and rated it 5-star for this reason.  Many others agree that this is a set they would comfortably buy for their kids, wards or students.
Great Customer Service
This product was rated highly also because of the great customer service offered by the brand. Every customer who had issues either with their products or delivery were happy with the response they got from the brand. So the factor of great customer service earned the Aleeza Cake Wonders Decorating Set positive ratings/reviews.
Negative Reviews
Unmet Expectation
Some customers expected a higher quality of product than what they got. They felt that the product description and adverts led them to expect something higher. Customers that felt this way gave the product a 2 to 3-star review.
Damaged on Delivery
This complaint showed up on a few negative reviews. The customers affected were not pleased that their products arrived damaged. For this reason they rated the product poorly. They felt the brand/seller should have put in more care into packaging the product for delivery.
Now that you have seen samples of positive and negative reviews of this product, go ahead and make your decision.
Click here to check this out and buy on Amazon
We also recommend that you read some of our other articles and reviews of cake decorating products:- 
However, if you want to consider some options before making a choice on which cake decorating kit to buy, we have some alternatives for you to consider.
Alternatives to Aleeza Cake Wonders Decorating Set
Cheaper Option But With Less Tools
Click here to check this out and buy on Amazon
The Kootek 32-Piece Cake Decorating Supplies is a simple but adequate kit for cake decoration. It comprises of the basics that's needed to decorate cakes, cupcakes and other baked goods.
Included in this kit are 24 piping tips, 3 icing smoothers/comb, 1 flower nail, 2 piping bags and 2 plastic couplers. In addition to these is a durable storage case that helps you organize your piping tips.
The metal items are made with sturdy long lasting stainless steel that's also rust resistant. Other items are also made with food safe, non stick, non taste/odor retaining materials which are dishwasher safe or easy to clean.
This set is ideal for people who are on a budget, those who want to teach their kids cake decoration or learners. It is also great for people who want multiple cake decorating sets. Though simple and uncomplicated, you can get a lot of decoration done with this set.
Click here to check this out and buy on Amazon
Updated Cake Decorating Set
Click here to check this out and buy on Amazon
The Shpebs UPDATED Ultimate Cake Decorating Supplies comprises of all that any baker or cake decorator would need in a day's job. It has a wide plethora of cake decorating tools that would enable you to achieve great feats in your decorating endeavors.
Although an updated kit with over 200 pieces, it is easy to use for the beginner and adequate for the professional.
This ultimate kit contains many items with a lot of features that make it a great kit to own.
These pieces include the following:-
(i) 1 Non stick Revolving Cake Turntable
(ii) 1 Cake leveler , 3 cake scrappers/combs
(iii) 1 cake decorating pen
(iv) 1 flower nail and 1 flower lifter
(v) 1 silicone reusable piping bag
(vi) 2 icing  spatulas (one straight and one angled)
(vii) 50 baking cups
(viii)100 Disposable piping bags and 3 couplers
(ix) 48 piping tips and three Russian tips
(x)3 piping bag ties
(xi) 1 Egg whisk
Storage case for piping tips and chart for the piping tips
With all these tools, you basic decoration needs are met. This set would make a great addition to your kitchen and also a great gift for any cake decorator.
Click here to check this out and buy on Amazon
Simple Set That's Suitable For A Beginner
Click here to check this out and buy on Amazon
The Cake Decorating Tip Set by Chefast  is just the right set you need when you want something for kids or learners. Sometimes also, the chef's kit maybe unavailable and he has to pipe some quick borders on a cake or quickly fill in a cupcake.  One beautiful fact about this decorating set is that it can also come in handy for professional use.
This simple to use kit has enough tips to help you experiment with piping on and decorating your cakes and baked goods.  It is ideal for decorating lessons in commercial kitchens or at home with your kids or friends.
The contents of this kit are displayed in the image above and they are of good quality.
Click here to check this out and buy on Amazon
Professional Kit
Click here to check this out and buy on Amazon
This RFAQK Set is a professional piping tip set that has so many tips for any level of professional task.
There are 30 piping tips and they are all numbered for easy identification. These 30 tips are in 4 categories; 21 Russian tips, 6 regular piping tips, 2 leaf tips and 1 Russian ball tip.
Also included in the set are 35 disposable piping bags, 1 reusable silicone piping bag, 1 single bag coupler and 1 triple color coupler.  Additionally, this set comes with a cleaning brush (for the tips), an eBook and flower chart.
The flower chart is a guide to help user quickly find the pattern that each tip produces. There are also three tested and proven icing recipes that are ideal for designs made by Russian tips. And finally, the cleaning brush helps you clean the tips without distorting their shapes.
All the items in this set come packaged in a storage box that helps you keep them properly organized.
Click here to check this out and buy on Amazon
In rounding off this review, we'll like to do a quick recap of all the products with this table of comparison:-
Table of Comparison
Aleeza Cake Wonders Decorating Set

 

 

 

 

Follow this link to buy now on Amazon 

 

 

 

Category
Piping Tips Set
Cake Decoration Kit
Decorating Piping Tool Set
Beginner Piping Tip Kit
Professional Cake Piping Set
No in Set
100
32
100
50
90
Items in Set
48 piping tips,3 couplers, 3 different sizes of reusable silicone piping bags, 40 disposable piping bags, 5 piping bag ties 1 Storage box for piping tips
24 piping tips, 1 flower nail, 2 plastic couplers, 3 icing smoothers/comb and 2 piping bags

 

48 piping tips, 5 Russian tips, 25 disposable piping bags, 2 reusable silicone piping bags, 2 couplers, 1  flower lifter(scissors), 1 cleaning brush, 1 cake smoother, 3 cake scrappers, 1 cake decoration pen,  2 spatulas(1 straight and 1 angled), 1 revolving cake stand, 6 silicone cupcake cups and 1 cake leveler
36 piping tips, 10 disposable piping bags, 1 silicone reusable piping bag ,2 couplers and storage box for piping tips
28 Russian tips, 25 regular piping tips,1 ball Russian tip,30 disposable piping bags, 1 reusable silicone piping bag, 1 tri-color coupler, 1 single bag coupler and 1 cleaning brush
Material
High quality stainless steel and BPA free silicone
Stainless Steel /plastic
Plastic and  stainless steel
Not specified
Stainless steel
Extra Features
Piping chart on top of storage box
Cake decorating comb
Printed piping chart booklet and storage box
eBook
eBook and Flower chart
Product Dimensions
7.8 x 5.4 x 1.5 inches
3 x 12.8 x 18 inches
11 x 10.9 x 2.8 inches
7.4 x 5.1 x 1.8 inches
6.7 x 3.9 x 2.8 inches
Manufacturer
Aleeza Cake Wonders
Kootek
Shpebs
Baker's Dozen
RFAQK
Conclusion
Thanks for reading to the end of this review. We believe you have enough information to make the right choice for you.
Remember that there is no right or wrong product. There's only the product that best fits your need and when you get it, that's the right product for you!
Click here to check this out and buy on Amazon