The Cuisinart DFP-14BCNY Food Processor is a kitchen master designed to make large scale cooking easier and less stressful.  This appliance is ideal for the homemaker that has to cook daily for a large family or a small commercial bakery or kitchen.
This machine powers through a wide variety of culinary tasks in a matter of minutes.  From kneading dough to chopping whole vegetables and fruits; this machine is capable. What about nuts, cheese and such ingredients? You've got nothing to worry about; it would also do the job.
Why Should I Buy A Food Processor?
We can imagine a baker or cake maker thinking of the reasons why they need a food processor.  One major reason is because it is in the class of cake mixing tools.  Since this is not a buying guide, you might have to consult our article on Cake Mixing Tools to find out more; click here to read it.
This Cuisinart Food processor is loaded with many great features which we would discuss after we introduce the brand behind the product.
Brand Profile
Cuisinart is a company that brags on being a "full-service culinary resource "with products to cover all you need in the kitchen.  Its mission is to help all its customers savor the good life.
This mission is accomplished by churning out appliances that make food prep and cooking  enjoyable tasks. Although the food processor was the first kitchen appliance that made Cuisinart popular, its products are not limited to food processors.
Cuisinart has been under the management of Conair Corporation since 1998. Despite its new management, Cuisinart still maintained its culture of excellence.
Culinary education is also one strong suit of Cuisinart as a brand. It believes that in addition to making kitchen appliances, it should also educate both home cooks and chef. It achieves this goal by including cooking tips and goals that add more value to the purchase of any of its kitchen appliances.
This therefore means that with every Cuisinart product you buy, you are sure to get some culinary education.
Let's get back to examining the features of one these products; the Cuisinart DFP-14BCNY Food Processor.
Click here to check this out and buy on Amazon
Powerful Motor
The 720 watt motor is strong enough to handle a wide range of culinary tasks.  This motor comes with an intuitive ON and OFF button. What this means is that the buttons are not complicated to use. All you have to do is touch the buttons and it fires up the motor.
14-Cup Work Bowl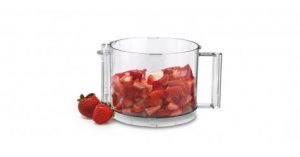 The work bowl that comes with this processor has the capacity for 14 cups of dry ingredients.  It is made of polycarbonate resin thermoplastic which means that it's strong enough to withstand wear and tear. This work bowl is big enough for large scale food preparation.
Extra Large Feed Chute
The feeding chute is large enough for whole onions and potatoes to pass through. This makes your work faster and less stressful as it eliminates the need to precut your fruits and veggies.
7 Food Preparation Features
The motor has speeds that can take you through seven food preparation features. These functions are mixing, chopping, slicing, shredding, emulsifying, pureeing and kneading.
Stainless Steel Blades
Each of the tasks enumerated above are accomplished by various stainless steel blades that come with this unit.  These stainless steel blades are durable and deliver consistent results always.
Large and Small Food Pushers
The small pusher fits into the large feeder and is for uninterrupted feeding of small ingredients like garlic and hard cheese. It is also used to process food such as cucumbers or single carrots and to add liquid while the unit is in use.
Extra Features
Some other features that this food processor has includes: –
(i) A spatula
(ii) Detachable stem disc
(iii) Instruction /recipe manual
Click here to check this out and buy on Amazon
These features that we have enumerated above offer a lot of benefits to the user.  Some of these benefits include the following:-
Value for Money
This food processor offers the user a lot of value for their money. The tasks that you can accomplish with this food processor are so many that it's worth its price tag.
Time and Energy Saving
Part of the value that this food processor adds is helping you save time and energy. Imagine the time and energy that you'll have to expend prepping fruits and veggies by hand. Thanks to the Cuisinart DFP-14BCNY Food Processor you have more time and energy saved.
Creative License
In urban culinary parlance, this means that you can develop fresh recipes and rework old ones. A lot of cooks/chefs/bakers don't have the time, patience or energy to prep fruits and veggies. For this reason they stick to recipes that are quick and stress free. This really makes their meals and baked goods boring.
However, with the Cuisinart DFP-14BCNY Food Processor that's not the case anymore.  No matter the ingredients that have to be prepared for any recipe, you'll be game to try them out.
Ease of Use and Cleaning
This Cuisnart food processor is easy to use with buttons that are intuitive and uncomplicated. In addition you can easily clean the parts and accessories because they are dishwasher safe.
Smooth and Quiet Operation
Although the motor of this unit is powerful, it operates smoothly and quietly.  Not that it doesn't make any sound while in use but it is quiet in comparison to some other food processors of the same category. This means that you can use your Cuisinart food processor at anytime and anywhere without disturbing anyone.
More interestingly, you can even listen to your audio book while preparing your ingredients.
The Cuisinart DFP-14BCNY Food Processor has some features that we would have loved to be better. Here are some of the disadvantages of this food processor.
Unnecessary Dough Blade
The dough blade is not included in the purchase but is sold different. It would have been better that Cuisinart didn't advertise the dough blade because it's unnecessary.  The regular blade that comes with the food processor works just fine for kneading dough.
User Manual is not Very Useful
The Cuisinart DFP-14BCNY Food Processor is a more recent and different model than some customers have used. Most customers have had to watch YouTube videos to understand how to set up the machine and use it.  The user manual isn't helpful in that regard.
Not Very Useful For Liquid Ingredients
If you fill this processor to the measurement that reads maximum liquid fill, you'll have the contents spilling all over the kitchen. This is because the lid is not airtight; you might want to reconsider if you are thinking of using it to make liquid recipes.
Click here to check this out and buy on Amazon
In this segment, we'll give you a summary of some of the opinions of verified buyers of the Cuisinart DFP-14BCNY Food Processor.
Positive Reviews
Great Customer Service
The first 5-star review that caught our eyes was from a customer who got great customer service from Cuisinart. This customer had some issues with assembling the unit. When they called Cuisinart's customer care line, the personnel walked them through the whole process in a professional manner.  The encounter pleased the customer which earned the product the 5-star review.
Improved Design/Model
A second 5-star review was based on the improvement that was made to this machine. Some  of the improvements highlighted were the following:-
(i) The unit was now in stainless steel and dishwasher safe which makes it easier to clean without it discoloring.
(ii) Although the motor of this model is more powerful than that of the old model, it is smooth and quiet.
(iii) There is more functionality to the bowl than the old model.
(iv) The blades have been upgraded for higher performance
Safety Features
The safety features of this food processor also earned it many positive reviews.  All the parts have to be fixed properly before the unit would start.
Ability to Make Dough
The Cuisinart DFP-14BCNY Food Processor has many positive raves also because of its ability to make bread dough easily. There's no sign of any strain on the motor from the start to finish of making the bread dough. This is unlike what happens with some other brands and models of food processors that show signs of strain when making bread dough.
Click here to check this out and buy on Amazon
Negative Reviews
Backward Assembly/Set Up
The set up of the Cuisinart DFP-14BCNY Food Processor seems to be backwards. This especially true for those who have owned previous models of Cuisinart food processors. Some of these customers were not pleased with the hassle they had to go through to figure out the set up.
Not only that, the fact that the user manual was not helpful was quite frustrating; this earned the product a negative review from the unhappy customers.
Wrong Advertisement
The fact that Cuisinart advertised that the food processor came with dough blade and DVD when it didn't was disappointing.  Customers who had this experience weren't happy; and though they said the machine performed well, they still deducted some points from the product for the false advert.
Lid and Bowl Not Airtight
The bowl and lid of this food processor are not airtight; this makes it spill liquid ingredients. While this is not a smoothie maker, some customers are disgruntled that they can't mix liquid ingredients in them. This sore point cost the Cuisinart DFP-14BCNY Food Processor some stars.
We feel that the demerits of this product are not really deal breakers; you can always work around them (personal opinion though). If you agree with us, please click here to buy the Cuisinart DFP-14BCNY Food Processor.
However, if you want to check out other options before making a choice, here are three alternatives to consider.
Cheaper Option

Click here to check this out and buy on Amazon
The Hamilton Beach 70725A Food Processor is a kitchen appliance that offers the user multiple functions for different ingredients. It has two speeds and a pulse option that allows you to choose how your ingredients would turn out.
This unit is easy to assembly due to its stack and snap design. All you have to do is stack the top on the base and snap shut. Furthermore, the motor operates quietly without the harsh noise that some food processors make.
The work bowl of this food processor is made with BPA free material. It has an 12-cup capacity and is sealed to stop leakage of liquid ingredients. Included with this working bowl is an inbuilt and removable scraper. This means that you don't have to stop and scrape your bowl as you process your ingredients. In addition to this, the large feed chute allows you to process whole fruits and vegetables without cutting them up first.
Finally the 5 attachments of this unit come in a case. This makes it super convenient to store and easy to access.
Click here to check this out and buy on Amazon
Food Processor under $100
Click here to check this out and buy on Amazon
The KitchenAid KFP0718CU 7-Cup Food Processor is an easy to use kitchen appliance that makes life easier in the kitchen.  It has uncomplicated controls that have three speed options. This makes it easy for the machine to carry put a wide variety of culinary prep tasks with precision.
The simplicity of the control is enhanced by the easy to press paddles and the bright LED controls.
This KitchenAid Food Processor is easy to store because of its design. The design is compact, it has a convenient cord wrap and the accessories are stored in the bowl.
Due to the fact that the work bowl is sealed and leak resistant, it is easy to clean. This is because food doesn't leak into unwanted parts.  What's more? The bowl, cover and attachments are dishwasher safe.
With this food processor you can chop, shred, puree and slice any ingredient with precision. Equally important is the 8-cup capacity of the work bowl; this is adequate for an average family meal preparation.
Click here to check this out and buy on Amazon
Compact Design and Lower Capacity
Click here to check this out and buy on Amazon
The BLACK+DECKER One-Touch Chopper is designed to help you prepare those small ingredients needed for your recipes.  You can add a dash of herbs, nuts or fruits to your favorite cake recipes for a twist.
With this food processor, you don't have to always break out the big gun. Imagine having to bring out your 10-cup or 14-cup food processor just because you want to add fresh pistachio nuts to your recipe?  This 1.5 cup food processor saves you the hassle.
It has a 70 watt motor that's just adequate to power the unit through the required task.  Not only is the motor strong enough for its purpose, the removable parts are easy to wash. They are dishwasher safe which makes for added convenience.
The blade is made of top quality stainless steel that stays sharp ensuring that you have long lasting performance.
This BLACK+DECKER 1.5-Cup Electric Food Chopper is a great addition to have with your stand mixer.
Click here to check this out and buy on Amazon
Before we round up this review, we'll give you a table of comparison of the products
Table of Comparison
Conclusion
Thank you for reading till the end of this review of the Cuisinart DFP-14BCNY Food Processor.
We hope we have provided enough information for you to make an informed decision.  Remember that there are many factors that affect the price of any product.
Things like the material of construction, the manufacturing brand and the features factors that affect the price tag of a product. Therefore when deciding on what product to buy consider these factors.
We say that to encourage you not to let price be the primary factor that determines whether you would buy a product or not.  We believe you deserve a product that meets your specific needs and give you value for your money.
Click here to check this out and buy on Amazon
Topics
#14-cup food processor
#8-cup food processor
#Food processor
#mini food processor