The Braun HM5100 MultiMix Hand Mixer has been argued to function as good as some stand mixers. This sturdy mixer is a product of German technology and has served a considerable number of satisfied customers over the years.
This mixer went through testing by a German institution (ipi Institute für Produkt-Markt-Forschung) before it was introduced into the market. The reason for this testing was to ensure that it met the standard requirement of the institute.
In this review we would take you through a candid journey. We hope that this would help you make an informed decision.
Before we go any further, let's introduce you to the brand behind this product.
P.S. You might want to take a detour and read our article on  Hand Mixers; click here
Brand Profile
In 1921,a German Mechanic and Engineer named Max Braun established the company we now know as the Braun brand. He started out the business as a construction firm where they made mechanical appliances.
Right from its inception, the company was known for its ability to think outside the box and produce innovative solutions. Rather than follow the current trend, it used the latest technology to transform its ideas into profitable merchandise. This has remained the ethos of the company till date.
Braun started making radio detectors and graduated to complete radio set before the war. However, when the war started, it was forced to discontinue production.
After the war however, Braun discovered the profitability of personal grooming and hygiene products and kitchen appliances.  This led to the production of the multimix kitchen blender and the first dry foil shaver.
Consequently Braun became known for its kitchen appliances and personal grooming and hygiene products. These have remained the two main product divisions of the company.
It has remained consistent in the quality of its product and has the reputation of making high performance  products.  One of such products is the Braun HM5100 MultiMix Hand Mixer that we are reviewing today.
The Braun HM5100 MultiMix Hand Mixer comes with many useful features and they include the following:
SmartMix Technology
The SmarMix technology refers to the design of the motor of the mixer.  The design of the motor is such that most of the weight rests more in the bowl than on the hand of the user.  This motor design is an in-line vertical motor design.
Closed Casing System
The casing of the mixer is sealed in such a way that debris doesn't get into the unit. This makes the unit easy to clean and also protects it from being damaged by food particles.
Ergonomic Handle
The design of the mixer handle is such that offers a comfortable and non slip grip. There are some rubber inserts in the top and bottom part of the handle that makes this possible.
Dishwasher Safe Attachments
The attachments that come with the Braun HM5100 MultiMix Hand Mixer are dishwasher safe.
Top Quality Food Grade materials
The attachments and other parts of the mixer that comes in contact with food are made with top quality materials. Most noteworthy is the fact that these materials are certified BPA free and food grade.
350 Watt Motor
The unit has a powerful 350 watt motor that provides 50% more mixing power than most hand mixers.Even more noteworthy is the fact that this motor is not too loud.
9 Speeds with Turbo and VarioControl Speed Dial
The Braun HM5100 MultiMix Hand Mixer has 9 speeds including turbo that makes mixing different recipes easy. You can start off your mixing with the slow speed and power the turbo for tough or thick recipes. With just a turn with your thumb, the VarioControl dial takes you from one speed to another as required by your recipe.
Attachments
The attachments included are a Multiwhisk and Dough hooks.
The two Multiwhisks work both as beater and whisk. This dual action comes in handy for adding volume to your light and airy recipes.
For dough and every other thick recipes, break out the dough hooks for effortless mixing!
Long Power Cord
The power cord of this unit is over 5 feet long. This gives the user enough room to maneuver when using the mixer. There's also a cord storage that ensures that the cord does not crack neither is it easily detached from the unit.
The power cord of this mixer has a swivel design which is in contrast to some other cord designs. This design allows it to either float or be snapped into whatever position is desired.
Extra Features
Drawstring Storage Pouch – Included with purchase is a drawstring pouch for storage of the attachments.
Food Chopper – This is an additional attachment that is useful for processing some ingredients/foods.
Optional Attachments – There are also other optional attachments that are powered by this unit. These are not included in the package; they are sold separately.
Safety Feature – The ON button would not move into position if any of the attachments is wrongly fixed. This helps to alert the user whenever the attachment is not properly affixed.
These features of the Braun HM5100 MultiMix Hand Mixer that we've discussed above afford the user a number of benefits.  Below are some of these benefits:
Good Value for Money
This hand mixer adds value to your kitchen and makes culinary tasks less onerous.  The price it is sold for is well worth the stress and time it saves users.
Versatility
Prior to the days when one had gadgets to assist in kitchen chores, homemakers had to do everything manually. That was good enough reason for most chefs and cooks to have a limited repertoire of recipes. Who wouldn't look for ways to simplify their kitchen chores?
Contrast that with the wide range and even mind boggling recipes that chefs are experimenting with these days. The Braun HM5100 MultiMix Hand Mixer is one of those appliances that give the user creative license to play around with a lot of recipes.
Easy Clean up
The closed system design of the unit makes it easy to clean. This is due to the fact that there are no vent holes or any other kind of space in the casing of the unit. There's no place for debris or food pieces to hide.
Easy and Comfortable to Use
This high performing hand mixer is quite easy and comfortable to use. The user doesn't experience so much stress to the wrist mostly because of the design of the motor and the handle.  The handle is ergonomically designed with some rubber inset that makes it non slip and comfortable to grip.
There are no complicated parts to the mixer; just the mixer head and the attachments.  The safety feature is in place to help you know when the attachment is not properly fixed.
Compact and Easy to Store
The mixer is compact and does not take up much space; you can easily stash them in a drawer.   In addition it comes with a drawstring pouch for storing the attachments. This makes it easy for you to store the attachments in one spot and have easy access to them when you need them.
While folks that don't t have much space in their homes  might not consider  a stand mixer, they can make do with this mixer. And what's more? It would serve as much as some stand mixers (Unless you are a commercial chef or baker).
Would you like to experience the goodness of these features yourself? Click here to buy the Braun HM5100 MultiMix Hand Mixer
Although we can say that this is one champ of an appliance, there are some things that could have been better. Listed below are some of them:
Some customers assume that the ON/OFF button is the eject because of its odd placement on the unit.
The VarioControl speed dial is not that easy for some folks to use without switching off the machine.
Compared to other hand mixers, the price point of this mixer is too high.

 

This means that some folks have to save for long or break the bank to buy it.

The dual action of the Multiwhisk doesn't work for some recipes.
This is one product has a high percentage of positive reviews. A lot of customers trust the brand that produced this mixer and bought it with high hopes and were not disappointed.
Here's what a number of them have to say…
Positives
The Braun HM5100 Hand Mixer  is solidly built and promises to last for a long time. The balance of the mixer when one holds it is so good! Works well for folks with issues in their wrist and would ensure that those without issues wouldn't develop any using the mixer.
The easy grip and comfortable non slip handle makes it convenient to hold the mixer even with wet or slippery hands.
This mixer is surprisingly quiet considering the power of the motor. It goes through all kinds of recipes without bogging down.The attachments are easy to insert, detach and clean up after use because of the design.
The upgraded motor of this model is great. Compared to the motor of the older model, this mixer can work for a longer time without getting hot. While the older model got hot if kept on for a long time. Furthermore, one doesn't need to get to the highest speed to get the same result as with the highest speed of other models.
The  Braun HM5100 MultiMix Hand Mixer actually gets the work done in less time than other hand mixers. This is despite the fact that it doesn't go as fast as they do.

Another source of satisfaction from this mixer is the beaters; they are longer than most and have a plastic guard.
Even more important is the fact that the plastic guard  doesn't allow debris to get into the casing of the mixer.
Negatives
While many customers were pleased with their purchase, a few experienced some disappointments.
Here are some of them:
The fact that the Braun HM5100 MultiMix Hand Mixer is pricier than most hand mixers didn't sit well with a few customers. They felt they didn't enjoy the full value of the mixer because some additional attachments weren't available in the U.S.
A customer wasn't happy with the dual action of the Multiwhisk because it spoilt her banana bread. She complained that the attachments should have been separated properly like the traditional beaters and whisks.
Another customer complained that the odd placement of the ON/OFF button made her eject the attachments instead of putting the unit off or on. This made her omit one star from the product rating. The odd placement of the ON/OFF button wasn't a deal breaker for any customer. It was just an annoying little detail.
Think you can deal with some of the cons of this mixer and still enjoy its benefits? Click here to buy the Braun HM5100 MultiMix Hand Mixer.
We know there are folks that like to explore a number of options before making a decision. For your sake we shall put out a few alternatives.
Hand Mixer Under $50
This Hamilton Beach hand mixer is powered by a 275 watt motor and has six speed settings with QuickBurst™ button.  With this mixer you can start up your recipes on slow speed and then power it up as the need arises.
The QuickBurst™ button provides you with a burst of power when you need a quick boost to the speed. Included in the package are five attachments and they are two dough hooks, tow regular beaters and one whisk.
The Hamilton Beach (62633R) Electric Hand Mixer has a Bowl Rest™ feature. This allows you to rest the mixer head when there's a lull in operation.
Most convenient feature for the user is a snap on storage case. This makes storage easy and also makes for ease of access to the attachments.
Click here to get the Hamilton Beach (62633R) Electric Hand Mixer.
Simple Hand Mixer Under $20
Ovente believes that top quality products don't need to cost an arm and a leg. That's why It brings you this Ovente Electric Hand Mixer (HM151R) at a budget friendly price.
A 150 watt motor that has five speed settings powers this mixer. The speed settings allow user to choose whatever speed is appropriate for the task at hand.  You just slide over the speed dial with a touch to get to the required speed.
The Ovente Electric Hand Mixer is ergonomically designed with a shape that makes it comfortable to grip and work with.  it come with two beaters and a snap on case that makes storage easy.
This is an ideal hand mixer for the occasional cook or baker; nothing fancy but simple and functional enough to handle basic mixing tasks.
Need a simple inexpensive hand mixer? Click here to buy the Ovente Electric Hand Mixer (HM151R).
Stand Up Mixer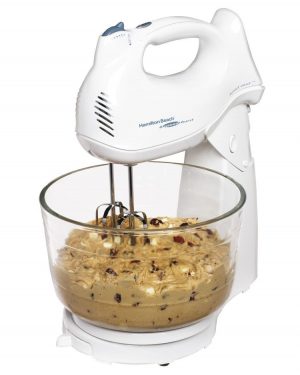 The term stand up mixer is used by some sites to describe mixers that are designed as stand mixers but can also double as hand mixers.
This Hamilton Beach mixer comes with a 4-quart mixing bowl and unlocks from the stand to double as a hand mixer.  It also delivers a double planetary mixing action that ensures the thorough mixing of your ingredients when used as a stand mixer.
Furthermore the unit is a tilt head design that makes for ease of access to the mixing bowl and the attachments.  These attachments are the whisk, dough hooks and traditional beaters.
The Hamilton Beach 64695N Deluxe Hand/Stand Mixer is certainly a versatile appliance that is worth having. Unlike the hand mixer that doesn't offer hands free operation, this mixer gives you options.
Click here to buy the Hamilton Beach 64695N Deluxe Hand/Stand Mixer and enjoy the versatility of its features.
Table of Comparison
In rounding up this review, we would just run through a quick comparison of the products reviewed.
| | | | | |
| --- | --- | --- | --- | --- |
| | Braun HM5100 MultiMix Hand Mixer | Hamilton Beach (62633R) Electric Hand Mixer | Ovente Electric Hand Mixer (HM151R) | Hamilton Beach 64695N Deluxe Hand/Stand Mixer |
| Category | Hand Mixer | Hand  Mixer | Hand Mixer |  Stand  Up Mixer |
| Attachments | Balloon Whisk, dough hooks and beaters | Whisk, dough hooks and traditional    beaters | Two chrome beaters | Dough Hooks, Traditional  Beaters and  Whisk |
| Motor  Watt and Speed | 350 watt , 9 Speed settings | 275Watts   ,6  Speed settings | 150Watts ,  5  Speed Settings | 225 Watts , 6 Speed Options |
| Color | Black | Red | Red | Available in different colors |
| Material | Plastic | Plastic  and metal | Stainless steel | Plastic with Glass mixing bowl |
| Extra Features | Drawstring storage pouch, Safety feature   and SmartMix Technology | Snap on storage case | Snap on storage case | 4-Quart Mixing Bowl and Bowl Rest |
| Product Dimensions | 8.3 x 3 x 8.7 in | 10.3 x 5 x 9.1 inches | 7.6 x 6 x 3.3 in | 14.8 x 12 x 11.9 in |
| Manufacturer | Braun | Hamilton Beach | Ovente | Hamilton Beach |
Finally
The Braun HM5100 MultiMix Hand Mixer is one of those products that are backed by a solid reputation. However you have to be fully convinced that it is the best mixer for you before making a purchase.
We hope that this review has provided you with enough information to make the right choice for you.
What are you waiting for? Click here to buy the Braun HM5100 MultiMix Hand Mixer now.
Topics
#5 speed hand mixer
#hand and stand mixer
#hand mixer
#stand up mixer