The Murenking MK36 Stand Mixer is a professional grade stand mixer that offers a wide range of functionality and versatility. It is an appliance that provides convenience and a tool for exploration of different types of recipes. Anyone who loves to bake and cook would find this a handy tool.
This great appliance is not only affordable but comes loaded with features that make it worth your while.
Before we go further discussing these features, we would pause and look at the brand that made this mixer.
Brand Profile
Murenking is a Chinese manufacturer that's been in existence for the past 12 years.  It is a well known brand in China that's just gaining recognition in America.
Its products span a wide range of kitchen appliances and accessories. With its factory in China it has the enabling environment to manufacture these products at a cheaper rate. This means that the finished products get to the consumer at affordable prices.
While some folks may be skeptical about the quality of these products, Murenking has endeavored to maintain a high standard. All its products meet the required standard for products that are sold in the U.S.  Some of the certification includes the FDA and ETL certification.
Its products afford the user value for their money. One of such products is the Murenking MK36 Stand Mixer.
Let's get back to the features of the Murenking MK6 Stand Mixer.
The features of this stand mixer include the following:-
Powerful yet Quiet Motor
The Murenking MK36 Stand Mixer comes with a 500 watt motor. Surprisingly, the motor is not as noisy as some other mixers with the same motor power. It has a noise volume of 800 decibel; allowing you to work without irritating noise.
Food Grade and Approved Materials
All the materials used in the manufacturing of this mixer are food grade and FDA and ETL certified. The stainless mixing bowl is made of food grade materials. So also are all the attachments that come in contact with food.
Large Capacity Mixing Bowl
The stainless steel mixing bowl has a 5 –quart capacity. This is large enough to mix many recipes without having to reduce or cut down the recipe. With this mixing bowl you can make up to 0.44 to 3.3 pounds of ingredients.
Planetary Mixing Action 
The planetary trajectory design of the mixer and its attachments ensure that you get between 360 and 398 mixing action. This gives you wide coverage of the ingredients you are mixing.
Attachments
The Murenking MK36 Stand Mixer comes with four functional attachments. They are the following:
Wire Whip which we also know as a whisk –  Comes in handy for whipping egg whites and other frothy and creamy confections. You can work with this whisk for 4 minutes continuously to get that frothy peak desired in your egg whites.
C-Shaped Dough hook – You are advised to use this for a maximum of 600g of dough, with a flour to water ratio of 5 to 3. Also start with speed one for thirty seconds, then move to speed two for another thirty second then continue for three minutes on speed three.
Y-Shaped Flat beater – Works perfectly for whipping up cake batter, mixing your cooking dough and mashing potatoes.
Plastic Shield Guard with Pouring Spout – This ensures that you can mix your ingredients without splatters. You can also add ingredients without stopping the unit and pour out ingredients with ease. This is thanks to the pouring spout.
6 Speed Settings
These speed settings allow you to start off slow and get to the speed required by your recipe. You can also set the speed of the unit to any pace you want with just a turn of the dial.
Tilt Head Design
This design makes it easy for you to attach the accessories and also detach them when you are done. All you have to do is tilt the head of the mixer and attach the desired accessory. You can also easily reach and place the mixing bowl due to this design.
Suction Cups at the Bottom of The Unit
There are suction cups at the bottom of the unit. This helps to keep the unit firmly on the countertop when in use. It wouldn't allow the unit to wobble when in use even at high speed.
 Note from Manufacturer
Here are some tips or instructions from the manufacturer as an addendum to the features
The attachments should not be washed with hot water of any form. They are not dishwasher safe neither should any steel ball, wire brush or bleaching agent be used to wash them.
This unit comes with an overheating protector. The unit would shutdown automatically when overheated until it cools off.
The unit requires that you use only standard accessories/parts or the optional ones offered by manufacturer. This is to avoid ill fitting parts, defects or injuries to user.
If you follow the instructions of the manufacturer, you'll enjoy the benefits of this unit. Click here to buy the Murenking Mk36 Stand Mixer now.
The Murenking MK36 Stand Mixer has many benefits some of them are:-
Time and Energy Saving
For most homemakers or ardent cooks and bakers, one reoccurring issue is that of food prep. Every day, there are ingredients to process and prepare; this takes up a lot of time and energy. Thankfully there are gadgets that can make the process less stressful.  The Murenking Stand Mixer is one of such gadgets.
With this stand mixer you can get a lot done; rather than spend half your day preparing ingredients, the mixer cuts down your prep time. Not only that, it also saves you a lot of energy.
Versatility
The Murenking Stand Mixer is a versatile tool that comes with different attachments.
Some folks have been confined to working with a few recipes because of the stress of preparing ingredients.  These attachments however allow you to experiment with a wide range of recipes. You can now make different recipes without breaking a sweat unlike when you had to prepare everything by hand.
Quiet Operation
With a unit as powerful as the Murenking MK6 Stand Mixer; one would expect a high level of noise.  However, compared with other machines of its caliber, the noise level is tolerable.
It would not be remiss to say that it operates quietly in contrast to some other stand mixers.
Compact Design
Although it is a powerful machine, it is not too bulky or cumbersome. Even more interesting is the fact that it doesn't take up much space on your work surface. You can leave it out on your countertop when not in use.
Aesthetic Value
In addition to its compact design, the Murenking MK36 Stand Mixer is aesthetically appealing. It comes in colors that would not detract from the overall décor of your kitchen.
This means that even if its left out on the countertop, it only adds elegance to your kitchen.
Ease of Setup , Use and Clean Up
The design of the Murenking Mk36 Stand Mixer makes setup  easy. Furthermore the attachments are easy to use and the dials are not difficult to understand. Although the accessories are not dishwasher safe, they are not complicated. Just wash them in warm (not hot) soapy water and rinse out after each use.
Value for Money
The Murenking MK36 Stand Mixer cost nothing in contrast with its American counterparts. But the value of the unit is not diminished because of it; rather you get good value or your money.
Disadvantages of The Murenking MK36 Stand Mixer
Not Made In America
One major disadvantage of the Murenking Mk36 Stand Mixer is that it is a Chinese product. While this doesn't sound practical, a lot of customers have a mind block against any product that's not made in America.
That said however, there are folks that do not really care about the country of manufacture of a product. All they want is a product that works and provides values for their money.
Improperly Written User Manual
One other disadvantage is that the user manual is not well articulated. This we can surmise stems from the fact that English is not the first language of the manufacturers.  But it would have been more considerate of them to have made an effort at putting out a manual that's easy to understand.
Thankfully, the unit is not difficult to use if one is already familiar with a stand mixer.
 No Scrapper Blade
Unlike other stand mixers of its power and caliber, the attachments of the Murenking Stand Mixer don't have scrapper blades on the side. What this means is that you would have to stop and scrap the sides of the mixing bowl in the process of mixing.
This can be inconvenient for some folks and if one is in a hurry it would affect the time spent in the process.
It is not For Commercial or High Frequency Use
This is not a mixer for a commercial baker or one that cooks high volume recipes frequently. Although it is a high performance mixer, it doesn't look like a unit that would last for decades.
In the course of our research, we read through hundreds of reviews. It is interesting to note that for a brand that's not so popular in the U.S, it got 2/3rd positive reviews. Let's not be preemptive however ; here are an equal number of positive and negative reviews:-
Positive Reviews
When compared with some well known brands, the Murenking Mk36 Stand Mixer performed well. It does all that the high end brands do with ease and minimal noise. The unit has been used to make bread recipes of up to six cups without issues. This is the testimony of a satisfied customer.
Another customer testifies that he has made a good investment in purchasing the Murenking Mk36 Stand Mixer. The reason for this assessment is that the aesthetic value is pleasing and the noise level of the motor is low. Even more pleasing is the fact that it performs with minimal noise even when operating at the highest speed.
The features that one other customer loves most about this unit is the following: (a) the tilting head that can be removed and lowered; this makes cleaning the unit easy (b) the encasing part of the unit is not fragile; it gives you a solid buzz when you knock on it (c) the suction cups that keeps the unit firmly attached to the work surface when in use.
The fact that the mixer can easily be taken apart for cleaning is a plus for a number of customers. Furthermore also is the fact one can easily get the hang of using the mixer without a user manual.
Negative Reviews
Some customers washed the attachments in the dishwasher based on what they deciphered from the user manual. The attachments came out of the dishwasher covered in grayish black dust. Although this did not impact on the performance of the attachments, it earned the product negative points,The user manual should have been properly written so that customers would understand the instructions well. This is not an acceptable standard in any way.
"The Murenking MK36 Stand Mixer is a satisfactory product for the price I paid for it but I wouldn't buy it for frequent and high volume use" This is the verdict of a customer who has bought and used this mixer. Although he is not unhappy with the product, he is not confident that it would last for very long.
Another complaint from customers is that although it works well, the paddle doesn't reach ingredients at the bottom of bowl. One would have to stop frequently to scrap the bottom and sides of the bowl. This is to ensure that all the ingredients are properly incorporated while mixing. It is quite inconveniencing.
"Maybe I got a defective product but the mixer just up and stopped working after a few uses" This was the complaint of a customer who had to return the unit after giving it a 2 star review.
Phew! We believe we have been fair enough to give you a comprehensive review so far. If you are sold on this product, click here to buy the Murenking MK6 Stand Mixer now.
However for those who want to explore further before making a choice, here are some alternatives:-
High End Made In America Product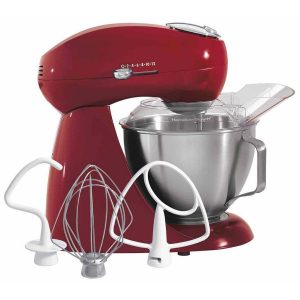 The Hamilton Beach Eclectrics® Sterling All-Metal Stand Mixer is a powerful and useful aide to have in the kitchen. It combines metal materials that are durable with a history of high performance to produce a stand mixer that's awe inspiring.
This unit comes with a 400 watt motor that can handle both the little mixing tasks as well as the hardest dough recipes. The mixing head is designed in such a way that it reaches all sides of the bowl in what is called a planetary mixing action. This ensures that you don't have to stop constantly to scrape ingredients from the sides of the bowl as you work.
The Hamilton Beach Eclectrics® Stand Mixer has twelve speed settings that allow you to control your mixing speed.   The tilt head design makes for easy bowl access and also makes attaching the accessories easy.  The ease of use is further enhanced by a mixing bowl and attachments that are dishwasher safe.
This unit has many more great features but let's stop for now. Click here to buy the Hamilton Beach Eclectrics® Sterling All-Metal Stand Mixer and enjoy all the features.
Large Capacity Professional Grade Mixer
This KitchenAid 7-Quart Stand Mixer is the residential bowl lift stand mixer with the largest capacity that KitchenAid has at the moment.  It comes equipped with its trade mark Powerknead™ attachments.
These attachments include the flat beater, wire whip or whisk and the spiral dough hook. The 7-quart stainless steel mixing bowl has the capacity for 16 cups of flour.
This stand mixer is made to give you professional results at all times. It has been voted the best performing, most powerful and durable mixer  from the stable of KitchenAid. Additionally, it is  the quietest of the Pro- Line  mixers.
You can make 14 dozens of cookies and more than 8 pounds of dough with this mixer without issues.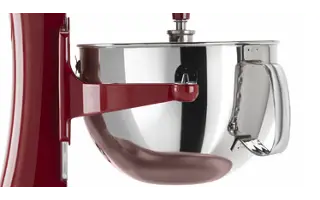 The bowl lift design lifts the mixing bowl into position for mixing; it also ensures that the mixer is firmly in place for mixing.
These in addition to other great features make the KitchenAid KSM7586PCA 7-Quart Pro Line Stand Mixer a good deal. Click here to buy this KitchenAid Pro-Line Stand Mixer now.
Family Size/ Home Use Stand Mixer
The Sunbeam 2594 MixMaster Stand Mixer is perfectly suitable for your home needs. You can prepare mouth watering meals and scrumptious desserts with this unit.
It comes equipped with 350 watts motor that has twelve speed settings. With the soft start technology, you can start mixing your ingredients without splatter. The burst of power feature gives the unit the extra push when needed.
The Sunbeam 2594 MixMaster Stand Mixer also has a synchronized three way mixing function. This ensures that all the ingredients are well incorporated with ease. Additionally, the mixing bowl is positioned off-center so that you can easily add your ingredients.
Even more convenient is the fact that there's no build of ingredients on the sides of the bowl. What this means is that you don't have to stop every so often to scrap the sides of the bowl while working.
The attachments included with this mixer are two dough hooks, two chrome beaters and a four- quart stainless steel mixing bowl.
Click here to buy the Sunbeam 2594 MixMaster Stand Mixer now.
High End Heavy Duty Hand Mixer
The Braun HM5100 MultiMix Hand Mixer employs a SmartMix technology to provide an operation that requires half the effort. This is made possible by the in-line vertical motor design that moves the weight of the mixer from the user's hand to the mixing bowl.
The 350 watt motor provides 50% more mixing power than other hand mixers.  The unit is designed with a completely sealed system that doesn't allow any debris into the casing. This and the fact that its attachments are dishwasher safe make cleaning this mixer easy.
The Braun Hand Mixer has a VarioControl that can be managed with one hand. The ease of turning the speed dial makes it easy to adjust the speed when the unit is in use. It also has a button that allows you to attach and detach the accessories.  These accessories include a sturdy dough hook and a whisk and beater in one.
With the soft grip handle that's ergonomically designed, you can keep a firm grip on the mixer without stress to the hands and wrist.
Click here to get the Braun HM5100 MultiMix Hand Mixer now.
Let's do a quick comparison of the products before we round up this review. Here goes…
Table of Comparison
Murenking Mk36 Stand Mixer
Hamilton Beach Eclectrics® Sterling All-Metal Stand Mixer
KitchenAid KSM7586PCA 7-Quart Pro Line Stand Mixer

 

Sunbeam 2594 350-Watt MixMaster Stand Mixer
Braun HM5100 MultiMix Hand Mixer
Category
Stand Mixer
Stand Mixer
Stand Mixer
Stand Mixer
 Hand Mixer
Bowl Capacity  in Quarts
5
4.5
7
4
No Bowl
Mixer Head Design
Tilt Head Design
Tilt Head
Bowl Lift design
Tilt head
N/A
Motor  Watt and Speed
 500 watts and 6 speed options
400Watts   , 12  Speed Options
Wattage not specified  , 10 Speed Settings
350 Watts , 12 Speed Options
350 watt , 9 Speed settings
Color
Available in 3  Colors – Black, Grey Blue and Champagne
4Colors – Licorice , red, Sugar white  and Sterling
Red
Black and Red
Black
Material
Plastic, Stainless Steel, Aluminum Alloy
Stainless Steel and Die cast metal finish
Not specified
Die-cast Base, Rubber Feet and Stainless Steel Bowl
Plastic
Extra Features
Plastic shield guard
Planetary Mixing Action  , Locking Bowl
Pouring shield, Mixing bowl with handles and power hub for additional attachments
Burst of power button and Offset Bowl positioning
SmartMix Technology , One handed VarioControl and Storage Pouch for attachments
Product Dimensions
14.17 x 9.05 x 12.2 in
9 x 14 x 14 inches
17 x 20 x 13 in
13.8 x 12.1 x 15 inches
8.3 x 3 x 8.7 in
Manufacturer
Murenking
Hamilton Beach
KitchenAid
Sunbeam
Braun
Conclusion
Now that you have read to the end of this review, we believed you are better informed about the Murenking MK36 Stand Mixer.
Click here to purchase the Murenking Mk36 Stand Mixer and start enjoying great value at affordable cost.
You might also  like to read our articles on Hand Mixers and Mixers for additional information
Topics
#hand mixer
#heavy duty mixer
#powerful motor stand mixer
#pro-line mixer
#stand mixer