Cake piping bags with tip can be used to decorate cakes and fill pastries. Although some decorators can use piping bags without a tip/nozzle, that's not the norm. Piping bags are actually more efficient with piping tips.
Click here to check this out and buy on Amazon
Cake piping bags are made from different materials while piping tips are made from either metal or plastic. Cake piping bags work better with metal piping tip while the plastic piping tips work better with piping guns/syringes.
There are several types and sizes of cake piping bags as there are also several sizes of piping tips. For you to get the best from your cake piping bags with tips, you have to match them correctly.
Every piping tip that's made is stamped with a number; for some brands this shows the size of the opening of the tip. However for others, the number is just a product identification number.
Click here to check this out and buy on Amazon
For this reason you shouldn't just make assumption concerning the size of a piping tip. If you are not familiar with a particular brand of piping nozzles, it  might not be a good idea to buy it online. This is because you won't be able to get the right size without measurement.
You may wonder why all the fuss about the size of a piping nozzle. It's because not all piping nozzles would work accurately with a piping bag. There are specialty piping nozzles or extra large piping nozzles that require large size piping bags.
One of the most effective ways of matching cake piping bags with tip is to buy them as a set. In addition, when you buy specialty tips,  be sure that you have the right piping bag for it.
How important is it to have a piping bags with tip? Can you not have one without the other? Well, you can have a piping bag without a tip, but you can't have a tip without a piping bag.
Some decorators can use a piping bag without tips but further research show that this works mostly for small projects. There are several tutorials on how to use a piping bag without tips and they come in handy for emergencies.
You might be in a situation where you do not have proper cake piping kits; with this knowledge you can still whip up something nice.
That said, piping bags with tip is an important tool for every cake decorator to have handy at all times.
You can execute large cake decorating projects efficiently and faster with complete kits.
Some cake shops even have their piping bags with tip always filled with icing and frosting of different colors. This saves time and enables them to attend to customer orders fast.
These piping bags with tip can also be used to store the remains of your projects. You don't need to empty out the piping bags into containers; you can just store the icing in the bag. Note however, that this is only an option if you decorate quite often.
For those who use their frosting or icing occasionally, you have to empty out the remains into storage containers.
To use your piping bags with tip, you first of all insert the coupler into the piping bag (this is for the tips that require couplers). Then you mark off the point where the narrow end stops and snip off the tip of the piping bag. After this you use the coupler ring to attach the tip of your choice. Finally, you fill the piping bag with frosting or icing.
Two Methods of Filling Your Piping Bag
You can hold it tip side down and wrap the wider opening over your hand like a cuff. Then go ahead and scoop your frosting in with a spatula.
You can also place the empty piping bag over a tall drinking glass(tip side down too) . Wrap the wider opening over the edges of the glass about 1/3rd of the bag. Then scoop in the icing.
Whatever method you choose to use, remember not to fill your piping bag more than 1/3rd full. If the bag is too full, your icing would spill out the end. You'll also have difficulty holding the bag properly.
Tips for Proper Usage of Cake Piping Bags with Tips
The tip on the piping bag allows you to create different shapes and designs as you please. However, the angle at which you hold your piping bag with tip determines the effect you get. The pressure you exert on pressing out the icing from the bag also affects your result.
Proper Hand Posture
Put the part of the piping bag that you've twisted between your thumb and forefinger. Keep the bag constantly twisted by wrapping your thumb over it. Then wrap your fingers around the piping bag in a firm hold. You use your fingers to exert pressure to push out the icing from the bag.
Finally, you use two fingers from the other hand to guide your piping bag as you move it.
Get the right angle for the desired design- As you decorate your cake, you can either hold your piping bag at an angle of 45 degrees or 90 degrees. Each angle gives you different effects.
At angle 90 degrees, the piping bag is upright from the surface of the cake. This angle is generally used when you don't need to move the piping bag so much. You just lift off the piping bag away from the design piped. This is the angle used for rosettes, dots and stars.
An angle of 45 degrees is like halfway of 90 degrees and allows more flexibility of the piping bag. This enables you to pipe designs on borders, write and make flower petals.
With constant practice, you'll be able to find out more designs that these two angles would produce.
This also affects the result or design that your piping would produce.
Most tutorials would tell you which direction by the numerals on a clock face. The instruction would be to let the back of your piping bag point to a certain number of the clock. For example; "hold your piping bag with tip at an angle of 45 degrees with the back facing 12 o'clock"
When you are done decorating and want to clean the piping bags with tip, do the following:
Squeeze out the remaining icing in the piping bag into a storage container. Remember we said earlier that you can also store your icing in the piping bag with tip. But that is if you'll use the icing soon.
After squeezing out the icing, detach the piping tip and turn the bag inside out. Scrap out whatever is still remaining on the bag. Wipe the bag with tissue paper or paper napkin and then wash in hot soapy water.
Note that the water has to be hot to melt away all residue of icing. Wash the tips and coupler carefully in hot soapy water with a tip brush or any other small brush. You need to be careful with the washing so that you won't distort the shape of the piping tip.
After washing the piping bag, dry it as much as you can. Then stuff lightly with some tissue paper and stand it upright till it dries.
Even for dishwasher safe piping bags, do not dry them in the washer. The heat from the dryer can damage the plastic coating of the piping bag and ruin it.
Always air dry your piping bags with tip and store only when totally dry. Putting away damp piping bags can make them moldy and damp piping tips can rust.
It is commonly said that a workman is only as good as his tools. Getting the right piping bags with tip is the first step to great decorations.
Though some of the things we'll discuss may seem like emphasizing the obvious, they still bear repetition. It's best for us to assume that you won't think of these factors when you go shopping. That way you won't repeat the common mistakes that some cake decorators make.
So here are the things to pay close attention to when shopping for best piping bags with tip:
Since you are in the food business you need to ensure that any tool you use is made with food grade materials. Products that are made with truly food grade materials would surely indicate in their product description. So this shouldn't be difficult to ascertain.
Furthermore, the piping bags and tips should be made of top quality material; cheaply made tools don't last long.
Functionality and Versatility of the  Cake Piping Bags with Tip Set
Check out the range of capabilities of the piping bags with tip you desire to have. Can it handle a wide range of recipes? If you have that brand of piping bags with tip can you do most of your decorations? If you are just starting out in the cake decorating business, you don't want to start off by buying multiple tools.
Though disposable bags are less stressful to use, they may not handle some recipes well. From experience we've found out that the piping bags with tip that handles a wide variety of recipes are the reusable ones.
You don't want to tie yourself down to tools that won't help you accomplish much. Some piping bags with tip are fancy but not very functional and versatile.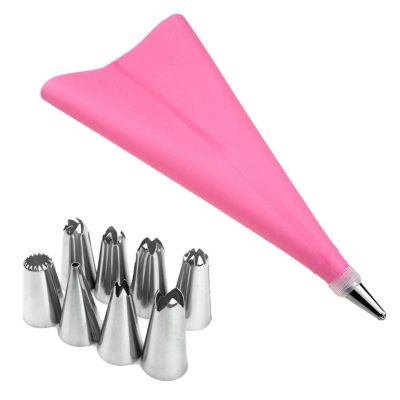 Click here to check this out and buy on Amazon
Look out for piping bags that match with the piping tips. There are different sizes of piping bags; same goes for piping tips. The regular piping tips would work well with many piping bags depending on how you cut them. However some specialty tips like the Russian tips would require a particular size of piping bag.
The above was just to let you know that ease of use depends on how well matched the piping bag is with the tip. Though not the only factor that affects ease of use, it is an important factor to consider.
Some piping bags make piping some designs more difficult than it should be. Delicate scroll work is usually best done with a small piping bag with small tip. For designs that stand out more you can use bigger piping bags and bigger tips.
Knowing which combination of piping bag and tip that works best gives you an idea of what to buy.
The frequency of use of your piping bags with tip should be part of your consideration factors before making a purchase.
If you are a homemaker that uses piping bags with tip occasionally, you don't need anything fancy. You can buy a pack of disposable piping bags and a few tips. This is a viable option because (a) you are not looking to make money from your purchase (b) that disposable pack would last a while since it won't be used frequently.
If however you are a commercial cake decorator, you sure expect to use your piping bags with tip quite often. Disposable piping bags while convenient to use are not economically viable for frequent use. Reusable piping bags would require clean up and care but they are a more viable economic option.
Cost of the Cake Piping Bags with Tip and Your Budget
We know that as you prepare to go shopping for your cake decorating tools, you'd have a budget. That's a good thing that would help provide guidance on how/what to spend.
That said however, you shouldn't let the budget have a stranglehold on you. Yes you have a guide on what to spend but please be flexible.
You might come across  cake piping bags with tip that's just what you need; look beyond the present and envisage what you'll gain from the purchase. You might need to shift some priorities aside and juggle some balls but it pays to make worthwhile purchases.
Cheap piping bags with tip would only end up costing you more in future. Be prepared to pay a bit more for good quality tools so that your finished products would be excellent.
In Conclusion…
Your piping bags with tip are actually one of your best friends as a cake decorator. Treat them as you should treat good friends and they would serve you well.
You can also click here to read one of our archived articles on this subject for more information.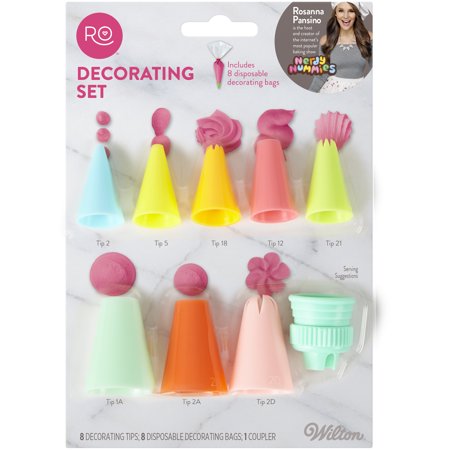 Click here to check this out and buy on Amazon