Baking and decorating cupcakes can either be fun or tedious. The decoration especially is what would determine the reaction your finished product would get. Cupcake toppers are embellishments that turn a "bla" cupcake to a "wow" creation.
People have to be attracted to your cake before they even take a bite to know how delicious it tastes. Cupcake toppers can either be edible or not; but they must always be food safe. They come in different sizes and shapes.
There are a lot of cupcake toppers to choose from in specialty stores and even online. However if you are a really creative person or have enough time, you can make your unique cupcake toppers.
In this post, we'll show you some samples and share some tips that would stir your imagination.
Cupcake Toppers Made From Fondant
You can make beautiful cupcake toppers from fondant. For toppers that would be upright on the cake, use gum paste or add tylose powder or CMC to your fondant. But if it would be flat on the cupcake, you don't need stiffer dough than the regular fondant.
All you need for creating awesome cupcake toppers from fondant are:
 Food coloring if your fondant is white. 
You might also want to use some extras like:  Luster dust, Edible pearls and sequins  or cake decorating accents.
There are many tutorials online that would help you make amazing designs in no time. Some of these resources are free while others are very affordable. You would do well to buy the some of these videos so that you'll have something to refer to whenever the need arises.
Four Steps to Making Simple Fondant Cupcake Toppers
Let's just share a quick 4- step technique to a simple fondant cupcake topper
Roll out your fondant with a rolling pin with the pink guide ring; this would help you roll the fondant to 1/16 inches.
Use any cutter you prefer to cut out shapes from the rolled out fondant.
Decorate with any accent of your choice.
Place on the cupcakes.


Royal Icing Cupcake toppers
Some people might find these more difficult to make than the fondant toppers; it all depends on the skill level of the decorator. Usually royal icing cupcake toppers are made on templates and then transferred to the cupcake.
Always bear in mind royal icing cupcake toppers have to be prepared at least 24 hours before the day they'll be used.
Just like with fondant cupcake toppers, you can make myriads of characters and designs with royal icing.
You'll need the following ingredients and tools:
Royal icing; a pre- mix or your own recipe.
Piping bag(s) and nozzle(s).
 Food coloring.
Template
There are a number of resources that would help you create beautiful cupcake toppers with royal icing. For more inspiration, you also can buy these resources on Amazon.
Three Steps to Making Royal Icing Cupcake Toppers
Here's a quick 3-step guide to a simple royal icing topper.
Choose whatever design or picture you want to use. Get a template; you can either print it out yourself or buy a template.
 24 hours to D-day, pipe out the designs or picture on the template and leave to dry.
 On D-day, remove the piped design or pictures and place on the cupcakes.


Topping Your Cupcakes with Butter Icing and Edible Treats

This works best for those days when you don't have time to prepare any topper ahead of time. You can just pipe beautiful designs directly on the cupcakes and top off with edible treats.
There are many edible treats you can use.  Most of them are already in your pantry or fridge; candy, chocolate chips, sprinkles, strawberries or fruit wedges.
Note that if you are using fresh fruits, you have to place them as close to time of consumption as possible. This is because most cut fresh fruits (especially berries) would bleed on the icing.
As far as edible cupcake toppers go, your options are limitless; as far as you can conceive it, it's doable.
Create Fun Cupcake Toppers from Art Supplies
Whenever you make cupcakes, there certainly is something worth celebrating. It could be a birthday, wedding, christening, graduation, prom etc; the list is endless.
There are fun artsy things you could place on your cupcakes to portray the theme of the celebration.
We went searching online and we saw loads of stuff that would inspire you.
Check out some of them below:
Cupcake Toppers for Baby Shower
Traditionally, most baby showers are celebrated with cakes that are either baked with pink or blue recipes or decorated in  pink or blue. Sometimes it can be used to reveal the sex of the baby to the parents or by the parents to family and friends.
These days there are a lot more cool things that are done in bridal showers. One of them is making cupcakes with whimsical baby stuff as topper.
Check these out…
You can either buy these on Amazon or make them yourself.
They can be made from fondant or craft supplies. If you'd be using craft supplies, ensure you ask for food grade supplies. Although no one would eat the toppers, it's safer you make them with food grade materials.
Also remember that it's safest to use toothpicks to stick these toppers into the cupcakes.
Christening Cupcake Toppers
The baby is finally here and you want to celebrate big time or low key. These cupcake toppers would add some flair to your cupcakes whichever way you go.
They are quite affordable and made with food grade materials. What more they could also serve as party favors for your guest. You can make these toppers with sugar paste or craft supplies.
Bridal Shower Cupcake Toppers
What's a bridal shower without fun and beautiful ornaments and accents? Though people would generally make a bridal shower cake, cupcakes are all the rage these days.
Cupcake toppers for bridal shower ranges from the raunchy to naughty, whimsical and fun! The cupcake topper for a bridal shower could be used for fun games in the course of the event. They could also be designed like fortune cookies with question hidden in them.
These are just samples of some of the designs that are available on Amazon. They are quite affordable but if you want personalized toppers, there are craft shops that can make them for you.
You can also design poems or one-liners that describe the relationship of the couple, print them out and use as cupcake toppers. This would give your guests something  fun to do as they nibble on the cupcakes.
The cupcake toppers can also serve as conversation starters and help break the ice at your event.
Wedding Cupcake Toppers
It is almost a norm these days for the bride and groom to give out party favors at their wedding reception. What better way of killing two birds with one stone (saving money) than making your wedding cupcake toppers the party favor?
Imagine how innovative it would be if you can get your cake decorator to use your party favor as a cupcake topper. Please bear in mind that this would only work if your party favors is a lightweight item.
You can also have wedding cupcake toppers that reflect the personalities of the bride and groom. The toppers can tell a story; with a bit of creativity and some crafts supplies, your options are limitless.
You can also order already made wedding cupcake toppers from Amazon and they don't cost an arm and a leg.
Valentine's Day Cupcake Toppers
This is one day where many people expect to get gifts from their loved ones. Cupcakes have slowly but surely made their way into the list of intimate things to send to a loved one.
These cup cake toppers can send a clear message without words
If you choose to make the cupcake toppers yourself, you can make something that would be a keepsake.
A little browsing online would yield results that would help you along in making something that comes from your heart.
Children's Birthday Cupcake Toppers
Making cupcakes toppers for children is one of the most delightful things that one can do. This is because most times the inner child in you comes out and there is a sort of artistic release. This gives you freedom to create whatever comes to mind.
You can also get the kids to join in the fun; prepare to be pleasantly surprised at the cute decorations they come up with.
For children's birthday cupcake toppers, there are many ideas you can run with. From creating scenes from the celebrant's favorite cartoons to making his/her favorite cartoon characters.
You can also print out the child's face on edible paper and put on the cupcakes. Furthermore you can use toys as cupcake toppers and they'll also double as party favors.
If you do not have enough time to DIY, there are many products that you can buy. You can get them from cake supply stores or even craft stores.
Graduation Cupcake Toppers
Graduation is milestone in the life of any student no matter the level. Add some fun to the day by making cupcakes and decorating with these cupcake toppers.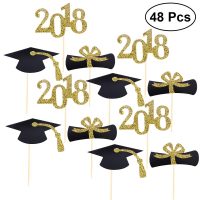 Character Cupcake Toppers
Children are visual learners and whatever they see sticks more than what they hear. Make every moment a teachable moment by using character cupcake toppers.
Whether it's a birthday party, a show and tell in class, nature study or sleepover parties; you can always incorporate fun into learning. Your kids won't forget lessons learnt about animals from the wild if they had one as a cupcake topper.
Cupcake Toppers for Formal Occasions
You may have a formal occasion where you want to have cupcakes with toppers. While you'll want your cupcakes to be wow and fun, you don't want anything that would trivialize the occasion.
Here's what we consider a perfect product that you can use.
These plaques come blank so that you can customize them to fit the occasion.
If you have some time on your hands, you can do this yourself.
All you need is sugar paste/gum paste, fondant shape cutter and an edible marker.
Roll out your fondant and cut out to desirable shapes and sizes. Moisten a toothpick and insert into the cutouts. Inscribe your message on them with an edible marker and leave to dry overnight or for  24 hours.
You can also use cupcakes with this topper as part of your table setting at reception parties. Write the guest names on the plaques and place the cupcakes on the table. This would be more fun than name tags or just place settings… and more delicious too!
Final Thoughts
We hope that we have fired up your imaginations with this write up and the accompanying pictures. Remember that there's so much you can do with a cupcake topper whether store bought, personalized or DIY. You don't have to be bound by any convention or rules are to how to work your cupcake toppers.
That said, however, there are things that you should bear in mind when choosing or making cupcake toppers. Some of these issues include the following:
Safety issues – Always ensure that all materials used are food grade to avoid health issues. Avoid the use of small inedible objects that can easily be swallowed especially by kids. So for kid's cupcake toppers extra care is needed.

Also avoid using sharp objects that can harm your guests; you'll be amazed to know that many people would attempt to eat anything on a cupcake.

Weight and size of the topper – When choosing or making a cupcake topper, consider the weight and size in relation to the weight and size of the cupcake. Choose a product or design whose size and weight is commensurate to that of the cupcake.
The theme or occasion – Remember that as much as you are encouraged to explore your creativity, there are things you best not do.

For example placing a beachwear topper on cupcakes for a dinner reception at the white house. How about placing X-rated models as topper for cupcakes for a church bazaar?

You get the point!
Your cupcakes can always be a crowd pleaser; all it takes is a little planning and loads of imagination.
Enjoy!
Topics
#baptismal cupcake toppers
#bridal shower cupcake toppers
#children's birthday cupcake toppers
#Christening cupcake toppers
#cupcake toppers
#edible cupcake toppers
#formal cupcake toppers
#graduation cupcake toppers
#valentine cupcake toppers
#wedding cupcake toppers