One thing that stands out in any wedding reception is the wedding cake topper. Whether an elegant bouquet of flower, traditional figurine of a bride and groom or something way out of the ordinary. Whichever, it is wedding cake toppers are attention grabbers.
Click here to check this out and buy on Amazon
Have you ever wondered who started the tradition of placing a topper on wedding cakes? We have and though it might seem trivial to you, we took out time to research this practice. Here's what we found ..
Wedding Cake Toppers ; Historical Facts or Myths?
According to Wikipedia, "the wedding cake topper was dominant in United States weddings in the 1950s where it represented togetherness.
Traditional wedding cake toppers depict the couple in formal attire and are often the only part of the cake which can be kept over the years, apart from photographs of it."
What we know as wedding cake toppers haven't been in existence as long as we thought. The trend became popular with the middle class and rich families in America before the Civil war. It became a common practice by 1890.
In those days wedding cake toppers were not costly items but sentimental objects or mementos.
They could be made with flowers, plaster of Paris, icing sugar or any craft material. They were often either love gifts from friends or family or artwork by a professional baker or cake decorator.
Wedding Cake Toppers (mostly figurines of a bride and groom) became increasingly popular after World War I. High society in America embraced this custom at that time.
This popularity went through the roof when the then American etiquette expert Emily Post mentioned it in her book in 1922. She said that wedding cakes were an important part of any wedding reception.
Furthermore she gave an example of a beautiful cake with one that had a figurine of a bride and groom. From then on wedding cake toppers became a must have on wedding cakes.
Click here to check this out and buy on Amazon
This version of the origin of wedding cake toppers is about a baker's daughter and her father.
The story goes that the girl requested that her father should make something that shows the love between her and her groom. This emblem was to be strategically placed where all who came to the wedding would see it.
After careful thought the father decided to make a one of a kind wedding cake; then top it off with a figurine of a bride and groom. This figurine would be the wedding cake topper which would symbolize the love between the couple.
It was said that on the wedding day, the cake was unique and the figurine was an attention grabber.
This  stunned and moved the daughter to tears. Not only was it a work of art but most importantly, it reflected her father's love for her. It was the best gift she got that day because of its the sentimental value.
The cake of course had to be displayed in a prominent spot for all to admire the masterpiece.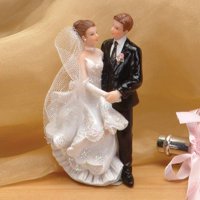 Click here to check this out and buy on Amazon
Wedding Cake Toppers and Personality Types
Wedding cake toppers are an excellent way for couples to express their personalities on their wedding day. Some people may not know, but everything about a wedding expresses or should express the personalities of the celebrants. (Celebrants may also include mothers and fathers of the bride lol).
One may say 'I couldn't be bothered about any of the details; I just want to get married". Another says "I want every detail to be perfect" These two statements already show the personality types of the persons involved.
First Things First
There are a thousand and one wedding cake toppers available both online and offline. You can walk into a bridal shop and pick up one or you can customize. Whatever you do, don't forget that your wedding cake topper has to fit the theme of the wedding.
This takes us way back to the beginning.
Before you get to the point of selecting a wedding cake topper, we assume you've already picked a theme. Is it a formal wedding? Beach casual/traditional? Garden informal? Evening wedding?
The list goes on.
After deciding on the theme, you then pick your colors and then the menu and wedding cake design. You may be wondering what this has to do with wedding cake toppers.
Hold your horses let's explain…
The theme of your wedding determines which colors would be most appropriate (some people may like to be deviant though). With that sorted, you can then give samples of your fabrics and colors to the cake decorator. This ensures that your cake fits in with  the wedding theme and not be a standalone piece.
How to Fit it All In
Ever heard the expression "square peg in round hole"? That's what would happen if you pick your wedding cake topper first. Either that or you'll have to change everything to fit (unless you couldn't be bothered).
If you have followed the progression we stated earlier (wedding theme, then color, then wedding cake design), you are now ready to pick a wedding cake topper.
In picking a wedding cake topper, bear in mind that it is like the icing on the icing of the cake. It should be a statement of sorts that points to who you are.
Wedding cake toppers are also not just ordinary ornaments placed on a cake but more of a symbol. It is a pictorial summary of the love in the hearts of the couple.
Thankfully there are myriads of designs and ideas that you can draw inspiration from. We would also help by showing you some samples that would inspire you.
So we've talked about the importance of a wedding cake topper and how it shows your personalities as a couple. Now you want to select a wedding cake topper that depicts both your relationship and your personalities.
Here are some tips and styles  that would help make this task both easy and fun.
There are so many ideas you can draw on to personalize your wedding cake topper. You can go with the story of how you met or your hobbies. Quirks and personalities can also help to direct your choice.
These days it's not uncommon to see unusual wedding cake toppers. From complete scenes of superhero movies to crazy sculptures or even bust of the bride and groom. All these go a long way to add some spice to you special day.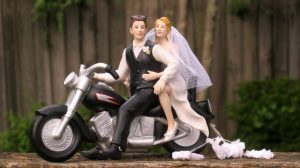 Click here to check this out and buy on Amazon
This could either be a formal figurine of a bride and groom or something a bit different. You could still have a bride and groom but it wouldn't be the conventional ones.
There are many designs of figurines that are cheeky, funny or downright irreverent. Though formal, these wedding cake toppers are not in any way boring.
Click here to check this out and buy on Amazon
For those who love nature , a floral wedding cake topper would do just fine. This can either be  fresh flowers, artificial or sugar craft flowers.  If they are fresh flowers, your florist and cake decorator would advise on how to treat them before use.
For sugar craft flowers, we trust that your cake decorator knows what to do. There are also Mr and Mrs monograms with artificial flower wreaths.
Click here to check this out and buy on Amazon
There are toppers that are designed to depict the couples love for animals. An exquisite acrylic silhouette of bride and groom with a dog or cat or both. A silhouette of two cats with inscriptions or two love cats.
These and many more designs would look cute on your wedding cake. However, remember that the wedding cake topper should blend in with your theme.
Click here to check this out and buy on Amazon
Some couples love woodsy stuff and anything outdoorsy. If you are such a person, you could pick a wooden rustic cake topper.
There are many wedding cake toppers that are made of wood or have wooden accents. You could have your initials carved from wood, or an artwork with inscriptions. These and any other woodcraft would work perfectly for a garden/evening wedding.
Click here to check this out and buy on Amazon
If your wedding theme is laid back or fun, then a funny wedding cake topper is just right.
There are many designs that would help remind you of all the funny moments you've had in your relationship. There are also others that would portray your humorous nature and also keep your guests entertained. You can also customize your story in a cheeky figurine or artwork.
Click here to check this out and buy on Amazon
Got a way with words? You can choose to express your heart in a nutshell with one of these wordy cake toppers. You can also personalize with your own words.
Click here to check this out and buy on Amazon
Some couples who have decided to break all the rules might choose to have fruit toppings.
This would work very well if you decide to have your wedding party at a tropical beach. The yummy, succulent fruits of the tropics would make a very mouthwatering masterpiece on your wedding cake.
However, if you want a memento of your beach wedding as a wedding cake topper, think shells. You can use shells, pine cones and beach stones to make one of a kind wedding cake topper. If you are on a budget you can DIY but if not, you can consult an artist or designer.
Click here to check this out and buy on Amazon
Sugar craft has grown and evolved through the years. Cake artists and decorators have been known to create masterpieces with edible ingredients.
If you don't mind having only pictures of your wedding cake topper and no souvenir, this is a good idea. Your cake decorator can create a unique and edible wedding cake topper for you.
Things like life-like bust of you and your mate or a miniature sculpture of both of you. For an artistic personalized topper, your only limitation is your imagination or budget… and your cake decorator lol.
 Keep it simple
Your wedding cake topper should complement your cake; it shouldn't overshadow it. If your wedding cake is already busy (with plenty of details and decorations) , then just go for a simple topper. A monogram, Mr & Mrs, acrylic silhouette or just your initials would do just fine.
Consider the size and weight 
Think of this in relation to the size and weight of your cake. Let's assume you want a bird cage with doves as your wedding cake topper, then your wedding cake must be solid.Furthermore, the top tier of the cake should be reinforced to keep the topper from falling over.
You shouldn't be thinking of putting a heaving wedding cake topper on a butter cream decorated wedding cake. Fondant cakes are safer for heavy wedding cake toppers however,cake recipes also matters.
In all, work with your cake decorator in choosing a wedding cake topper of the right size and weight.
Creating Memories
If you decide that you want to have your wedding cake topper as a souvenir, then factor that into your choice. Think of one that has a base that you can sit on your mantelpiece. If the one you choose doesn't have a base, you can always buy a base or make one yourself.
Budgetary issues
if you are working with a tight budget, you can make your wedding cake topper yourself. Be creative; these days there are no rules that must be kept. You can make something that depicts your relationship without it costing an arm and a leg. You can also use your parent's wedding cake topper if it's still available.
Think outside the box
In choosing a wedding cake topper, do not be caged by conventions. Go with who you are; choose a style that clearly screams your personalities. Rules? Well, they are made to be broken!
Final Words
Before we sign off, let's do a quick recap.
Wedding cake toppers are not just ornaments placed on top of a wedding cake; they are an expression of the couple's personality.
Not only are wedding cake toppers expression of personality, they also depict the love in the hearts of the couple.
Money should not stop you from having a unique wedding cake topper; think outside the box! Be creative!
Remember to follow the order of picking a wedding theme first, then color scheme, then menu and wedding cake, then wedding cake topper. This would make the selection process of your wedding cake topper less stressful and quicker.
Finally, don't be afraid to experiment. Trendsetters are not bound by convention! Dare to be unique.
You can also click here here to check out this article; it would help you as you prepare for your big day
Click here to check this out and buy on Amazon