Natural food colors are derived from fruits, root, vegetables or other natural sources. Though some of these substances are processed, no artificial ingredients are added. Natural food colors are used to add color to baked goods and other food items or drinks and are used both commercially and at home.
Click here to check this out and buy on Amazon
These days the awareness to reduce the level of toxins we ingest is at an all time high. People are looking for ways to eat more healthy foods and also to go all natural if possible.
Many people argue that artificial colors are not healthy but we know that colors make our m food more appealing. No cake decorator whether professional or hobbyist would think of baking or decorating without adding colors. Since we can't bear the thought of colorless food, cakes or baked goods, natural food colors comes to the rescue.
Click here to check this out and buy on Amazon
Natural food colors can be used for a wide variety of icing and cake decoration.
You can either use store bought natural food color powder or make your own powder from freeze dried fruits and other food items. There are also other types of natural food color powder that can be bought from health shops. They include moringa, matcha,  wheatgrass ,spirulina and acai powders.
These powders can be used with royal icing or buttercream; all you need to do is add the powder and stir very well. Ensure that the powder is properly incorporated to avoid specks of color. You can also first mix the powder with a little water to form a paste before adding to the icing. This would effectively eliminate the color specks.
How to Make Powdered Natural Food Colors
If you are interested in making your own powdered natural food colors, here are some pointers to guide you:
Get whatever fruit or vegetable you want to turn to powder, grate thinly with a cheese grater or slice thinly with a sharp knife.
Dehydrate using any of the following methods: (a) place in the oven at the lowest heat and allow to dry until crisp; keep stirring to ensure that one side doesn't get burnt (b) Allow to dry in the sun (c) place in a saucepan, skillet or frying pan and use low heat to dry on your stove (d) use a food dehydrator to dry; follow the instructions on the food dehydrator.
All these methods give you options to dry your fruits or vegetables safely.
When the fruit or vegetable is dry, allow to cool and then blend into a smooth powder. You would have to sieve the powder to remove the coarse granules and leave only the fine powder. Some people also blend those coarse granules to get as much fine powder as possible from the batch.
This natural food color powder can last for at least a year if properly stored.
Click here to check this out and buy on Amazon
Remainders
As you color your icing with natural food color powder, be reminded of the following:
If you want to use freeze dried fruits for your natural food powder, ensure that you do not add the seeds. They usually come with a packet of desiccants included; do not blend that with the fruit. You should also sieve the powder with a mesh sieve to ensure you get powder that's free of any particles.
Remember that natural food colors are not as intense and vibrant as artificial food colors. These powders would give you pastel colors of different variations. Also bear in mind that the powder would add its flavor to your icing; this means that if you use too much, you would alter the taste of your icing.
The recommended ratio of natural food powder to icing is one and half teaspoon of powder to one cup of icing. With this ratio, the taste of the cookie, cake or baked goods would mask that of the powder but anything higher might render your icing inedible.
Using Fresh Fruits and Vegetables As Natural Food Colors
Natural food colors can be achieved by extracting the juice of deeply colored fruits and veggies. There are a lot of recipes and tutorials online that would help you. However, we would share some tips on how to achieve different colors with fresh fruits and vegetables:
To achieve red icing naturally, you can use any of the following: pure beet juice, pure pomegranate juice, red raspberry purée. Remember that any fruit that has seeds needs to be strained to remove the seeds.
If you want to get a more concentrated color from these ingredients, you'll have to blend with some water until smooth. Then strain the puree with a mesh sieve and boil until you get a syrupy consistency.
One thing you have to bear in mind is that for the color red, it is difficult to achieve an intense red with natural food colors. This is because just like with artificial food colors, you would need a substantial quantity of color to get very intense colors.
We know that fruits, vegetables or plants that have intense colors also have strong flavors. That's why it wouldn't be wise to try to get intense hues with these natural ingredients. They would completely alter the taste and texture of your icing or even make it inedible.
Click here to check this out and buy on Amazon
You can get pink color on your icing by using pure beet juice. Additionally, cranberry juice and raspberry juice would also give you a beautiful pink color. For pink color, you wouldn't need to boil the pureed food to syrup. The juice would do just fine.
The process for achieving yellow and orange icing is the same with the above mentioned. For yellow icing you need Turmeric Juice or Saffron while for orange icing you need carrot juice or paprika

Click here to check this out and buy on Amazon
You can get your homemade green food color from spinach, parsley or wheatgrass juice. The process for extracting colors is the same for all the fruits and vegetables.
Click here to check this out and buy on Amazon
Blue and purples colors are notoriously difficult to achieve whether artificially or naturally. Most times you end up with a shade that's not what you're looking for. To get a beautiful shade of blue or violet you would need to use blue butterfly pea flowers.
You can also use red cabbage juice; if you want a brighter blue add a little baking soda or purple color to the juice.
Click here to check this out and buy on Amazon
To achieve purple natural food color, you need purple sweet potatoes, blueberry juice, purple grape juice or blue butterfly pea flowers.
Purple sweet potatoes produce beautiful deeper shade of purple. If you are using blue butterfly pea flowers, you have to add lemon juice. The acid in the lemon juice help to give it the purple hue.
Click here to check this out and buy on Amazon
Tan/Caucasian Skin Color
To achieve this color, just add a little cocoa powder to your icing. You can also use bentonite clay powder. Although this is edible clay, it is recommended that you use it in small quantities.
This is one of the easiest colors to achieve naturally. This is because there are many natural food items that are brown in colors and they include the following:
Pure espresso, black tea, cocoa powder, Instant coffee granules and cinnamon; all these items would give you different shades of brown. If you are using the black tea, ensure that it is thoroughly steeped for long.
Remember that for ingredients like coffee granules and cinnamon, a little goes a long way especially flavor wise.
Click here to check this out and buy on Amazon
You would think that black icing would be difficult to achieve naturally but odd enough there are things in nature that yield black color. Some natural items you can use to color your food black include: Black cocoa powder, squid ink and activated charcoal powder.
Click here to check this out and buy on Amazon
Squid ink is the substance that's removed from the ink sac of an ocean squid also known as calamari. This substance is the creature's defense mechanism against predators. It obviously doesn't stop humans because it is harvested and used for food flavoring and coloring. This substance is black and inky and helps to color food black and has a salty taste.
You can get squid ink in specialty grocery stores or seafood markets. It is rich in antioxidants and iron which makes it a really great alternative for coloring your icing. When using it to color your icing, don't forget the salty taste.
Click here to check this out and buy on Amazon
The thought that charcoal can be edible is odd right? But it really is edible and even beneficial to our health. The type of charcoal we are talking about is called activated charcoal. It is the byproduct of natural sources of carbon that has been activated at high temperature. Some of these materials include coconut shell, peat and wood.
Activated charcoal is not produced by burnt food or random materials. It is not the same thing as charcoal briquettes that are used to light up barbeque.
Years of use have proven that activated charcoal has many health benefits so it's very safe for  food coloring. It is most commonly used as emergency treatment for poisoning. It can also be used in teeth whitening, skin treatment and water filtration.
There are a lot of researches and articles to this effect; check them out for yourself.
Activated charcoal can be purchased both off and online at very reasonable prices.
Click here to check this out and buy on Amazon
Tips for Effective Preparation and Use of Homemade Natural Food Coloring
If you have decided to go the organic route in your cake decoration and other culinary ventures or you just want to have some natural alternatives, we are here for you. There are factors that you need to bear in mind as you prepare to make and work with natural food colors. We have mentioned some of them in passing but we'll discuss four of them in greater details now.
Natural Food Colors Don't Produce Vibrant and Intense Colors
When using natural food colors, bear in mind that unlike artificial food colors, the concentration is less. Artificial food colors are more concentrated than their natural counterparts; a little would go a long way to give you the desired effect. This means that the quantity of natural dye you need to get the same result would be multiple times more.
While artificial food colors can be used to achieve vibrant and intense hues without compromising the taste and texture of your recipe, same cannot be said for natural food colors. Too much use of natural food colors would greatly affect the taste and texture of your recipe.
The conclusion of this point is that you should just zero your mind that natural food colors are for recipes that require mute and demure colors. One advantage of natural food color is that with just the right quantity, you'll get a beautiful color without a hint of flavor of the fruit or vegetable used.
Click here to check this out and buy on Amazon
Food Items with Strong Colors Also Have Strong Flavors
Bear in mind that natural food colors are food items with unique flavors of their own. Because they have strong colors, it follows that they also have strong flavors. When working with them, it is imperative to note that the flavor would impact upon the general flavor of your recipe. This is particularly true if used in large quantities.
What this means in essence is that natural food colors are meant to be used in small quantities. Let's take an example of cinnamon; it gives a great flavor if used in small doses. But if you use a large dose of cinnamon say in your icing, be sure that the icing would be inedible.
Furthermore, you should try as much as possible to match natural food colors with recipes that have similar flavors. You can try using carrot powder to color the frosting for your carrot cake. That way there won't be a clash in the flavors.
You can  try out this recipe that we got from joythebaker.com; check it out for the method.
Chocolate Beet Cake with Beet Cream Cheese Frosting
This recipe makes one 8 or 9-inch layer cake. We hope this helps you understand the point we have discussed above.
For the Cake:
2 medium beets, unpeeled but trimmed of their greens
1 teaspoon vegetable oil
6 ounces (3/4 cup) unsalted butter, softened, plus more for greasing the pans
1 cup packed brown sugar
3/4 cup granulated sugar
2 large eggs
1 teaspoon pure vanilla extract
2 cups all-purpose flour, plus more for dusting the pans
2/3 cup unsweetened natural cocoa powder
1 teaspoon baking soda
1/2 teaspoon baking powder
1 teaspoon salt
1 1/4 cups buttermilk
For the Frosting:
1 cup (2 sticks) unsalted butter, softened
8 ounces (1 brick) cream cheese, softened
4 to 5 cups powdered sugar, sifted
2 tablespoons finely grated beets, mashed with a fork
1 teaspoon pure vanilla extract or scrapings of one vanilla bean pod
1-2 teaspoons milk, depending on desired consistency
1/2 teaspoon fresh lemon juice
pinch of salt
When you want to get a more concentrated color, try using powdered color. Once you have taken into consideration the impact of the flavor on your recipe, you can use powdered color without thinning out your recipe.
If you want o use natural food color to tint fondant, it is best to use the powder. This would help your fondant remain more pliable and easy to work with than if you had used liquid color.
Some experience cake decorators and avid naturalists have recommended reducing the liquid of the natural color to thick syrup. This would also help to reduce the liquid introduced into the recipe.
What this means is that when you add food color made from vegetables to any recipe that would be baked, the baked goods would come out brown.
The only way a vegetable based food color would retain its hue is if the recipe has enough acidic content. So the recipe has to contain enough lemon juice, buttermilk or vinegar. It is recommended that you add some lemon juice to the vegetable based food color in a ratio of 1 to 6; the lemon juice being one and the vegetable based color being six.
Click here to check this out and buy on Amazon
Extra Tips
We know this is a cake decorating site but we just feel like throwing in these extra tips on how to dye Easter eggs naturally
How to Dye Easter Eggs Naturally
Dyeing eggs for Easter egg hunt is a tradition that's been around for decades. These days a lot of parents are concerned about the effect of artificial colors on their kids. They are discovering innovative and natural ways to dye their Easter eggs. Here's a list of the tools and ingredients and also some of the fruits and veggies used.
Ingredients and Tools Required
(i)  fruit or vegetable that would produce the color (beet, turmeric or purple cabbage)
(ii) Water
(iii) Vinegar: 1 tablespoon for each dye color
(iv) Two pots; one for simmering ingredients and the other for the boiling eggs
(v) Mesh strainer
(vi) Small bowls
(vii) Eggs
Olive oil or coconut oil : this is only necessary if you want to add luster to the eggs
Here are the simple steps to follow:
Step 1
Measure the required quantity of water into a pot and add the material for the natural, then bring to a boil. Turn the heat under the pot down, keep the pot covered and allow the mixture to simmer for 15 to 60 minutes. The mixture should have reached the desired color between this period. Remember that the color of the eggs would be lighter after they are done so you should start out with a darker shade.
Step 2
Take the liquid off the heat and allow it to cool off till it gets to room temperature.
Step 3
Pour the liquid through the mesh strainer into your bowl. For every cup of this liquid dye you need one tablespoon of vinegar. So measure the liquid dye to determine how many tablespoons of vinegar needed.
Step 4
We believe you already know how to boil eggs so after you've boiled your eggs, clean them with warm soapy water and a dishrag. This is to remove the oils that would prevent natural food colors from adhering to the egg shells.
Step 5
The final step is to immerse the hard boiled eggs into the liquid dye and place in the fridge. Leave immersed eggs in the fridge until they get to the desired color. When the eggs are properly dyed as desired, remove them and place on a drying rack.
If you want your dyed eggs to be shiny, rub them with the olive or coconut oil.
There are several colors that can be made from these natural dyes.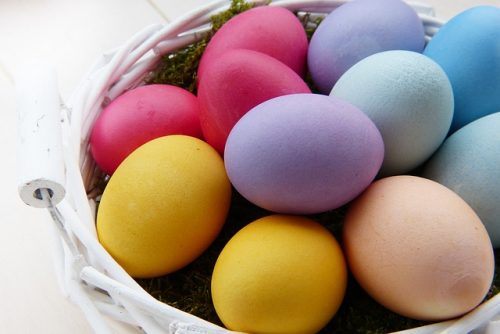 Pink Eggs
For pink eggs you'll need two cups of peeled grated beets for the recipe given before. This applies to all the colors.
Orange Eggs
You'll need 2 cups of yellow onion peels. Remember that the water has to cover the onion peels and then you measure the liquid after you have boiled to know how many spoons of vinegar to add.
Yellow Eggs
To make yellow Easter eggs you'll need two cups of water with one tablespoon of turmeric and two tablespoons of vinegar. This would give you a sharp yellow on white eggs and a deep gold hue on brown eggs.
You can also use chamomile tea that has been strongly brewed to achieve a soft yellow on eggs.
Blue or Green Eggs
The same ingredients would turn eggs either blue or green depending on the type of eggs. Place two cups of shredded cabbage with enough water to cover it by a least an inch. When it is properly boiled, add one tablespoon of vinegar to one cup of dye.
This mixture would turn white eggs blue while making brown eggs turn green.
If you want a darker green, you can use strongly brewed hibiscus tea; add one tablespoon of vinegar per cup. To create a marble blue color, use blueberries.
There are more colors that you can dye your Easter eggs with. This also gives you an idea that you can color elements for cake decoration with natural food colors.
For those who don't have either the time or inclination to go through the above stress, there's an alternative; fake Easter eggs!
Click here to check this out and buy on Amazon
Conclusion
We have discussed a lot on different issues concerning natural food colors. As much as we encourage people to embrace a more organic lifestyle, let's remain objective.
A professional cake decorator may not be able to totally avoid using artificial food colors. The responsible thing to do is to ensure that all ingredients used are certified by FDA as safe for human consumption.
You can always incorporate natural food colors into cakes and baked goods that would be ingested and then use artificial colors for decorative elements. We have some reviews on artificial food colors. Click here to read one of them .
Click here to check this out and buy on Amazon