Food colors are to cakes and baked goods what the rainbow is to the sky after a thunderstorm.
Imagine a world without colors; everything just white or bland. We can't even begin to describe a world without colors. Same goes for cakes and cake decoration; food colors incorporate beauty and vibrancy into your food, cakes and other baked goods.
There was a time when food colors were only in liquid form; these days they come in a variety of forms. From liquid to gel to paste and powder; any kind of food color form required by your recipe is available. Some of them are also labeled as icing colors.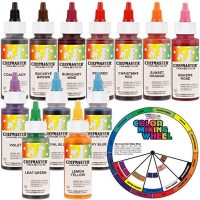 While  colors add the "extra" to your cakes and baked goods, wrong usage can be detrimental. In this article, we would help you understand all about food or icing colors and how to use them rightly. We would also mention some merits of natural food coloring with some helpful   tips to get you started.
Types of Food Colors
Like we already mentioned, there are several types of food colors and they include the following:
Liquid Food colors

This is the most common and traditional of all classes of food coloring agents.  Liquid food colors have been in existence for as far as we can remember. They are made with synthetic dye with a water base.
The liquidity of the  color comes from the water base which also lowers it concentration. This means that liquid food colors are the least concentrated of all types of food colors. The shades of color you get from this type of  colors are pastel colors.
Advantages of Liquid Food Colors
Liquid colors have several advantages and they include the following:
They are readily available in any grocery store.
Liquid food coloring work perfectly for recipes with thick consistency  that wont be compromised by the liquidity of the food color and those that require pastel colors.
They are the least expensive of all food colors.
You cannot over color your recipe with a liquid food color. This makes it ideal for beginners as it creates room for learning how to color food items.
Disadvantages of Liquid Food Colors
The following are some of the disadvantages of liquid food colors:
They are not concentrated enough to give vibrant or intense colors. This means that you have to use a considerable amount of the color to get an intense hue.
Liquid food colors can affect the consistency or texture of the recipe.
When added to recipes or icing, liquid food colors fade faster than other colors.
They are messier to work with than other types of food colors.
How to Use Liquid Food Colors
Most liquid food colors come in squeeze bottles which allows you to squeeze drops of color into your recipe. This makes it convenient for you to add your food colors but there are some other factors to consider when using liquid food colors. Here are some tips on how to use liquid food colors:-
Always factor in the liquidity of the food color into the liquid requirement of your recipe. Minus the volume of the food color from the volume of liquid required by your recipe. This would ensure that the food color does not thin out your recipe.
Endeavor to use liquid food color only for recipes that would not be compromised by the liquidity of the food color. Some of these recipes include dough, Easter eggs and drinks/smoothies.
Remember that liquid food colors are only ideal for pastel colors so do not attempt to use them to achieve intense or vibrant colors.
As with other types of food colors, color your recipe or food about two to three hours before use so that the color would deepen. However, note that if the cake, food or baked goods is kept out for long after coloring and in proximity to light, the colors would fade out. If you would bake or cook the recipe then this would not apply. Just add the color with an anticipation of the shade you want.
Add liquid food color one drop at a time until you get the shade of color that you want.
Liquid Gel Food Colors
This type of food color is made of synthetic dye with water and corn syrup or glycerin base. The glycerin or corn syrup mixed in the water base gives it a thick gel consistency that's also very concentrated. Liquid gel food colors are sold in dropper bottles of different sizes and are often labeled as icing colors.
Advantages of Liquid Gel Food Colors
This is an advanced form of the traditional liquid food colors and it has some of the following advantages:
1. It is concentrated and this makes a little go a long way; quite a cost effective coloring for large batches.
2. Because of the concentrated quality, liquid gel food colors are ideal for recipes that don't require much liquid.
3. They do not affect the flavor or consistency of the recipe because you don't need to use too much to achieve vibrant shades of color.
4. There is a wider range of colors in liquid food colors whereas the traditional liquid food colors have only the primary colors.
5. They are ideal for projects that require vibrant or intense food colors.
Disadvantages of Liquid Gel Food Colors
Although a very beneficial food coloring, liquid gel food colors also have some disadvantages. These include the following:
1. Liquid gel food colors are not sold in most grocery stores. They are usually found in specialty stores.
2. They are more expensive than the traditional liquid food colors.
3. The consistency of liquid food colors makes it difficult to incorporate it to recipes with stiff consistency.
How to Use Liquid Gel Food Colors
Liquid gel food colors can be used interchangeably with traditional liquid food colors. there are things you need to bear in when using liquid gel colors.
Some liquid gel food colors come in pot like containers while others come in drop bottles. For the liquid gel food colors in a pot, use toothpick to apply the color. The liquid gel food colors that are in drop/squeeze bottles allow you to apply colors in drops.
When using toothpicks to apply the food color, twirl the toothpick around in the pot and rub off in the icing, dough or whatever recipe you are making. Repeat the process until you get the desire shade of color. Remember that you shouldn't insert a toothpick back into the container of food color if you've already dipped it in icing. If you do, the icing from the toothpick would contaminate the food color.
Ensure that you color your icing at least two hours ahead. This would help the color to set and deepen. What this also means is that you should apply the color bearing in mind that it would deepen.
Liquid gel colors are concentrated which means you can easily add too much color than you require. To avoid this, add the color a little at a time. It's easier and cheaper to darken a lighter shade than to lighten a dark shade.
Gel Paste Food Colors
This kind of food colors are made of synthetic dye, with corn syrup and/or glycerin. They are even more concentrated that the liquid gel food colors and are usually sold in little jars or pots.
Advantages of Gel Paste Food Colors
Gel paste food colors are also labeled icing color and very popular with professional cake decorators. Here are some of the reasons why it is a food color of choice among professionals:
It is a cost effective type of food color because it is highly concentrated and a little goes a long way.
You can easily achieve deeper and intense shades of color without impacting on your recipe.
Gel paste food colors have long shelf life.
They are ideal and very effective for large batches of icing or recipes.
Gel paste food colors are less messy to use than liquid food colors.
It is effective for recipes that don't require much liquid.
Disadvantages of Gel Paste Food Colors
The consistency of gel food colors make them difficult to mix into dough or other recipes with stiff consistency.
It is easy to add too much color than required with a gel paste food color.
They are more expensive than the traditional liquid food colors.
Some people have complained that gel food colors taste awful. But that can be avoided if you use just a little of the food color or use the colors labeled "No Taste"
How to Use Gel Paste Food Colors
Gel paste food colors are to be used almost like liquid gel food color. This is possible because the only difference between gel paste food colors and liquid gel food colors is the consistency. Remember however that gel paste food colors are highly concentrated (sometimes more so than liquid gel food colors) and have to be used in little quantities.
To avoid repetition, we would just refer you to the section on How to Use Liquid Gel Food Colors.
Powdered Food Colors
Powdered food colors are made of synthetic dye without any liquid base of any form. As the name already tells us, they are sold in jars as dry powder.
Advantages of Powdered Food Colors
Powdered food colors are versatile ingredients that come in handy for decorating projects.
Let's examine some of its benefits:-
Because they come in powdered form this type of food color have long shelf life. They can be stored indefinitely since they don't dry out.
They can be used for different recipes without impacting on the taste and texture of the recipe.
Powdered food colors are most effective for recipes that are dry mix or require no liquid.
It's an easy medium to incorporate into dry or wet recipes.
Powdered food colors are effective for producing intense or dark shades of color.
Disadvantages of Powdered Food Colors
There are some disadvantages that make some cake decorators to shy away from using powdered food colors and they are as follows:-
Powdered food colors are not readily available. It's either you buy it online or at specialty stores.
You have to mix it yourself with presents the hassle of getting the right consistency. Not only that you also have to use the right ingredient to mix it since powdered food color is not water soluble.
The color options available are limited.
How to Use Powdered Food Colors
This type of food color as we have earlier mentioned is versatile and can be used in different ways. Here are some tips on how to use powdered  colors:-
You can incorporate powdered food coloring into dry mix before adding to liquids or adding liquids.
Another way is to mix the powder with edible spirit or vodka to make a paste and then use it as food paint.
Powdered edible colors can also be added to wet ingredients. In this method, ensure that the mixture is properly mixed so that there would be no specks of color. To avoid this, some decorators start out with mixing the powder with a little liquid from the recipe. This would help incorporate the colors better.
One sure way of getting the right shade of color with powdered food color is this: spoon your icing into a bowl and sprinkle some powdered food color into it. Stir properly until all the powder is incorporated into the icing. Leave the mixture to sit for not less than five minutes. This is to allow the color to set and then you see the shade of the color. If you need to darken the mixture, repeat this process until you get the desired shade.
You can also use powdered food colors as a finishing touch for your decoration. You can either sprinkle it over your baked goods using various methods or use a blush brush.
Natural Food Colors.
These are colors that are gotten from fruits, roots, herbs or vegetables; that is to say that they are organic. The main advantage of natural food colors is that they are organic; no additives of any kind. This means that it's healthy and safe for everyone. Except in cases of allergy to the food substance it is made of.
One down side of natural food coloring  is that they are not readily available and pretty expensive. Another downside is that you cannot easily get intense or vibrant colors from natural food colors.
We would not go into more details about this type of food coloring.  We'll leave it for another day.
Before we wrap up this piece, we would love to give you some tips on how to use food colors effectively. So here are some tips on using food colors for icing.
Tips for Achieving Intense Colors for Icing
There some colors that is so hard to achieve when coloring icing or frosting. This can be a rather challenging or frustrating situation to find oneself. The following tips would help you out the next time you get ready to work with these colors.
How to Color Icing a Deep/Intense Red
From experience we know that getting that fire engine red or apple red can be an uphill task. Some beginners complain that the more red food coloring they add, the pinker the icing gets. And they wonder what on earth is going on? We feel your pain.
When mixing red icing, start out with I teaspoon of red color to a cup of icing. With this, you'll be closer to getting the shade you want than using toothpicks. Bear in mind that you would need a considerable quantity of food color to get the shade you want.
There are a wide range of red  colors available these days and most of them would give you the deep red shade desired. One downside however is the aftertaste that comes because of the quantity you have to use. Thankfully, there are brands that have the "no taste" red  colors and these have proven to really be tasteless.
If you are making decorative elements that would not be eaten, you can mix one or two of the shades and you'd be amazed at the result. The fun thing about the world of arts is that you are allowed to use your imagination so experiment!
Black is one color that has floored many a novice cake decorator. They either end up with a deep grey icing or one with serious aftertaste. To avoid this there are two things you can do (1) start out with chocolate icing and then add your black color (2) first color the icing a deep chocolate color before adding black food color.
These two methods would help get the black color faster than if you started out with white or cream icing. Furthermore, the taste of the chocolate in the icing would help to mask the aftertaste of the black color.
Another thing we have discovered is that the longer your icing sits, the darker the black becomes. This is especially for fondant that is properly stored and not exposed to light of any kind. So color your fondant a day or two ahead and store properly.
You may decide to save yourself all that hassle and just buy pre made black icing.
How to Color Icing a Rich Dark Brown
Achieving a rich dark brown color for icing is not as difficult as red or black. This is so because you can always use chocolate icing especially when there are no issues of allergy. If you cannot use chocolate icing, you can start coloring your icing with one teaspoon of color per cup of icing.
Thankfully, most brands of brown food colors have no aftertaste; we are yet to come across anyone that has aftertaste. For this reason you can really use as much quantity as required to get the rich dark brown desired. As a matter of fact, gel paste or powdered  color would be best for these intense colors.
If you use cocoa for your chocolate icing, you should try mixing some European processed chocolate with other brands of cocoa. This combination would give you a rich flavor and color.
Mixing Different Food/Edible Colors
There are a lot of colors you can get by playing around with primary colors. As a cake decorator, you should not be afraid to experiment. No discovery has ever been made by playing safe.
When you have icing remnants from a project, that's a good time to add colors and see what you'll get. Keep a note pad/book by your side and note how many drops of which color you add per time. How do we know this? We've made the mistake of just mixing food colors without noting them and when we got a fascinating shade we couldn't replicate it.
The shade of a color would differ according to the brand. For example, the Wilton red, is different from Americolor red or Sugar flair  red. But one interesting fact we have discovered is that you can mix these three brands to get a unique red.
One other discovery is that you can also mix the different shades of one color by the same brand to get a unique color.
We have said all the above just to encourage you to experiment with colors to discover unique shades of one color.
Finally…
When you go shopping for food colors just as with other cake decorating products, ensure that you look out for good quality products. Do not let the cost of an item stop you from buying it; remember "you get what you pay for"
Well there may be exceptions to this rule but truly, good quality cost a pretty penny.
We would suggest that rather than buy myriads of colors that are of poor quality, buy top quality primary colors. With the aid of color charts and tutorials, you can always mix up fascinating colors from primary colors.
Now that you have the basic information about food colors, go ahead and have fun with your decorations!
Topics
#Food colors
#gel color
#gel paste color
#liquid food colors
#liquid gel colors