The Cheftronic SM-1088 Multifunction Stand Mixer is a culinary center all by itself. The possibilities are endless with this amazing machine. You can prepare everything you need for a sumptuous meal with  this multifunction stand mixer.
Imagine not having not to set out different appliances every time you have to cook.  No need to put out a blender, sausage maker/meat grinder, food processor and mixer. This one machine has it all! Just one machine on your countertop and your food prep needs are met.
The Cheftronic SM-1088 Multifunction Stand Mixer has many wonderful features which we shall discuss in detail. But before we go on, we would like to introduce you to the brand behind the product.
Brand Profile
CHEFTRONIC is one of the leading brands and suppliers of small kitchen appliances that's manufactured by Top Chef. These appliances include blenders, kitchen mixers and coffee makers.
The brands' core mission is to always deliver top quality products on time and also render great customer service. It constantly seeks to be a reliable partner in your culinary business by supplying the products  and services you need.
One of the ways in which it continues to render top quality service is by listening to its numerous customers. Through extensive market surveys, it learns what customers need and are able to come up with concepts and designs that meet those needs.
Another way it remains ahead in the game is by maintaining a strict quality control. It ensures that from procurement of raw materials to manufacturing, packaging and shipping all follow due process. This ensures end products that meet international standards.
Finally its manufacturing equipment and superior technology ensure that its products are on the cutting edge. In spite of its drive for excellence, CHEFTRONIC products are still affordable.
One of such products is the Cheftronic SM-1088 Multifunction Stand Mixer. Let us go back to discussing the features of this great mixer.
Multiple Sets of Attachments
The Cheftronic SM-1088 Multifunction Stand Mixer comes with seven attachments. They are a wire whip, Flat Beater, dough hook, pouring shield, sausage stuffer, meat grinder and blender.
These attachments are easy to attach and detach; all you need to do is push and turn in one motion to lock or unlock them.
The blender and food processor can be detached and put away when you need to use only the mixer.
LCD Operation Panel
The LCD operation panel provides both automatic and manual control modes. With this panel, you can set the speed, time and temperature of the machine.  It can either work in the automatic mode or the manual mode.
The automatic mode helps inexperienced chefs to get the hang of the controls while the pros can easily use the manual mode.
Large Capacity Mixing Bowl with Handles
The stainless steel mixing bowl has a capacity of 7 quarts. This is large enough for mixing a maximum of 1,500g of flour and 16 eggs.  You can also thaw butter, make soups and stews of up to 3.1quarts.
You can double or even triple most recipes with this mixing bowl. This makes the Cheftronic SM-1088 Multifunction Stand Mixer ideal for large families or small commercial kitchens.
Furthermore, the handle on two sides of the mixing bowl provides great convenience for the user.
Heating Element in Mixing Bowl
In addition to the size of the mixing bowl, the heating element in the mixing bowl provides more functionality.  This  feature allows the unit to  be pre-set to the temperature required by any recipe. You can temper chocolates, proof bread dough, cook egg custard, boil water and butter for choux pastry and other recipes with this mixing bowl.
High Powered Motor
The motor of this unit provides 1000 watts motor power and 750 watt cooking power.  This allows user to mix large quantities of ingredients  without overheating the unit.  The 750 watt cooking power provides heat that helps to raise your dough. It also works perfectly for recipes that require heat during preparation.
10 Speed Settings
The Cheftronic SM-1088 Multifunction Stand Mixer comes with a 10-speed setting. This is controlled by the variable speed dial. You can control how slow or fast you want the unit to run based on the task at hand.
The slow speed starts off your mixing process slowly to avoid splatters and then you can increase for proper incorporation of the ingredients.
Safety Features
These include the suction feet that ensures that mixer stays in place when in use. so no matter how heavy the task is, the unit would not wobble around.
Another feature that keeps the mixing bowl in place is the safety lock in the arm. You can use this switch to raise the arm or lower it and also release it to lock it in place.
Splash Guard/Bowl Cover
The bowl cover which also acts as a splash guard helps to keep the ingredients in the bowl and not all over your work space.  This cover is also transparent to allow you see your ingredients as they mix.
Tilt Head Design
The Cheftronic SM-1088 Multifunction Stand Mixer is made with the tilt head design. This design allows you to tilt back the head of the unit to attach and detach accessories. it also gives easy access to fix the bowl or remove  and also add ingredients to the bowl.
Pre- programmed Timer 
The unit has a pre programmed setting that helps you to set the time required for each recipe. This allows you to load the ingredients into the mixing bowl, set the timer and go do other tasks. Let the mixer do the work and then alert you when it's done.
Planetary Mixing Action
The planetary mixing action ensures that the mixing bowl has full coverage by the beaters. This means that the beaters reach all the corners of the bowl to fully incorporate all the ingredients.
Do you want to enjoy the goodness of this multifunction machine? Click here to buy the Cheftronic SM-1088 Multifunction Stand Mixer now.
The following are some of the benefits of the Cheftronic SM-1088 Multifunction Stand Mixer
Versatility
The multi functional  design of the Cheftronic SM-1088 Multifunction Stand Mixer makes it a versatile machine; a veritable culinary center.  With this 4-in-1 machine, you don't need to have other small appliances.
Most important is the fact that you can even perform all the functions at once. You can mix the bread dough while pureeing your tomatoes and mincing and dicing your vegetables. This brings us to the next point which is…
Time and Energy Saving Device
When you have a machine that can combine four food preparation tasks as one, you know you have a winner!
Imagine first mixing and kneading bread dough and leaving it to proof. Then secondly you move on to slice, dice and mince roots and veggies for salad. Then finally mincing or grinding the meat or sausage to complete your dish.  See how long that takes and the time and energy expended.
Little wonder a lot of homemakers are not inspired to prepare elaborate and healthy meals for their families.
However, with the Cheftronic SM-1088 Multifunction Stand Mixer, your food prep time can be cut in half if not shorter!  You can invest the time and energy saved into other endeavors.
Ease of Use and Cleaning
Although this mixer has many functional parts, each part is easy to use. The design of the mixer makes it easy for you to attach the accessories. Furthermore, it is easy to also detach these accessories and wash them after use.
Freedom to Multitask
The Cheftronic stand mixer comes with features that allow the user to multitask while using it.  The pre programmed timer allows you to set the appropriate time for the recipe and leave the mixer to do its job. You can use that time to do one small chore or the other.
The mixer would not wobble because of the suction cup that holds it firmly in place while in use. This means you don't have to stand over the mixer while it's working. You can also walk away to do some other things in the kitchen/home.
Large Capacity Mixing Bowl
The 7 quart mixing bowl provides the capacity to make large batches of food or baked goods. In contrast to mixers with smaller bowl capacity, this makes it easy to double or triple recipes.  An additional benefit is the heating element of the mixing bowl; it increases the range of recipes one can use it for.
Ideal for Commercial Purposes or High Frequency Use
The motor power, size and strength of the unit is above that of the average stand mixer. These features in addition to the capacity of the mixing bowl make it an ideal machine for commercial use.
Similarly, a homemaker who bakes frequently or cooks in large batches would really appreciate this mixer. It also has the ability to withstand regular and heavy duty use over a long period of time.
Money Saving Device
The cost of the Cheftronic SM-1088 Multifunction Stand Mixer is a real incentive to buy it.  If you calculate the value you get and what you pay for this machine , we can boldly say that you have a money saver.
There are some electric blenders that cost almost as much as this 4-in-1 machine. Now imagine having a food processor, blender, mixer and beef grinder in one? It's almost as good as buy one get four!
There are some disadvantages that make the Cheftronic SM-1088 Multifunction Stand Mixer less than ideal for some folks. Here are some of these disadvantages:-
One Power Button For All the Functions
One feature that majority of users didn't like was the power button. There's only one power button for all the four functions. What this means is that whenever you power the unit, all four functions are turned on.
This can be aggravating especially when you want to use only one function. It would have been better if each function had its own power knob.
User Manual is Hard to Understand
The Cheftronic SM-1088 Multifunction Stand Mixer is a complicated machine especially for novices. Unfortunately the user manual is not well written and may not be of any help to the user.  Users may have to find out how the machine works by themselves.  Thankfully there are videos online that can be of great help.
Although this might be  inconvenient, it might be a small price to pay if one really wants the product.
Can Get Rusty After Some Use
This unit has been noted to get rusty after some use.  For this reason, one has to be careful about cleaning and storing it. If carefully cleaned and dried after each use, the chances of rustiness can be reduced.
Noisy Operation
The unit is quite noisy when in use. You might not be able to make that whole wheat bread while the family is asleep. However if this is for a commercial kitchen, the noise level might not be a big deal.
Despite these negatives, many customers have found that this multifunction stand mixer is well worth the price.
Click here to buy the Cheftronic SM-1088 Multifunction Stand Mixer if you are convinced that this is the ideal product for you.
If you are not fully convinced about this stand mixer, we'll show you some alternatives.
But before we go on to show you some alternatives to this product, let's see what some customers have to say about it.
Good Reviews
In this section, we'll give you some key points of the positive reviews from customers.
Great Customer Care Service
The brand/seller has great customer service.  Many customers testified that no matter the issues they encountered with this mixer, the customer care service made them feel better. Some received their full money back while others received replacement parts at no cost.
Creative License and Great Versatility
This mixer has been a great kitchen helper. It makes baking cakes and bread very easy and life in the kitchen has never been easier. Customers can now experiment with a wide range of recipes. Customers with the above sentiments gave the product a 5 star rating because of the creative license this mixer has granted them.
Saves Time and Energy
The time and energy saved is one other factor that makes a lot of customers glad. The fact that they do not have to pay an arm and a leg for such a powerful machine is also heartening.
Provision for  Multitasking 
The pre set timer is a great plus because one can multitask while baking or preparing ingredients with this mixer.
No Risk of Over Mixing
There's no risk of over mixing or blending ingredients. This is also all thanks to the timer. One can now make recipes that require exact timing for mixing.
Bad Reviews
Here are some of the negatives that some buyers experienced with the Cheftronic SM-1088 Multifunction Stand Mixer.
Too Complicated for the Elderly and Instructions Are Not Clear Enough
An elderly couple bought this mixer and found it to be too heavy for them and too complicated to use. Furthermore the instructions were not clear enough or easy to understand.  This made the purchase not worthwhile for them.
Replacement Parts Are Not Readily Available In Some Regions
One of the three star reviews reports that in less than a year of use by the family, the base of the blender and its blades stopped working.  More saddening was the fact that they couldn't get replacement parts.
Doesn't Work Well For Some Recipes
There are some recipes that this mixer doesn't work perfectly for; an example of this is hard dough recipes. When making hard dough, the dough rides up to the dough hook and has to be constantly removed with a spatula.
Material of the Casing
Some customers stated that they were disappointed to discover that the casing of the stand mixer was not all metal.  However, this wasn't a deal breaker for them but they would have preferred an all-metal casing unit.
Now let's get to looking at the alternatives to the Cheftronic SM-1088 Multifunction Stand Mixer.
Cheaper Option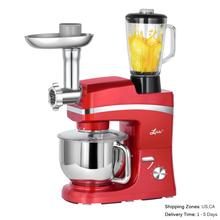 The Litchi 5.3 Quart Stand Mixer is an elegant multifunction stand mixer with an exciting red exterior.
It has a powerful 650 watts motor with a 6-speed setting and a pulse function. With the 6 speed settings you can set the unit to the required speed of any recipe. Furthermore, the pulse function provides the power needed for some light and fluffy recipes.
The mixing bowl has a 5.3 quart capacity with a transparent splash guard that allows you to see your ingredients as they mix. This mixing bowl is large enough to make four loaves of bread or dough for nine dozens of cookies at once.
The unit comes with 8 attachments that make it a very versatile and functional machine. These attachments are sausage stuffer, blender, meat grinder, pasta dies, BPA free splash guard, mixing blade, dough hook, egg whisk and flat beater.
The four beaters are dishwasher safe which makes clean up easier.
The Litchi 5.3 Quart Stand Mixer would make a great household gift for any occasion. Click here to buy either for yourself or a loved one!
High End Multifunction Stand Mixer
This KitchenAid Mixer adds some style to your kitchen while bringing the much needed innovation to your culinary endeavors.
It affords you the versatility and creative license needed to experiment with both old and new recipes. The many great features of the KitchenAid Artisan Design 5-Quart Stand Mixer makes it every Chef's dream come true.
The tilt head design allows you to easily attach and detach the accessories and also access the mixing bowl.  With the 10 speed settings you can control the mixing of your ingredients and get the right speed required for each recipe.
The mixing bowl is made of glass and has measurement markings in cups and liters on the side. This bowl is not only functional but is beautiful and can be used for many purposes.
The KitchenAid Artisan Design 5-Quart Stand Mixer is solidly built with high quality metal. The weight ensures that it stays firmly on the work surface even when handling the toughest of recipes.
This mixer comes with the regular attachments but also has additional attachments that are sold separately. These additions turn your KitchenAid Artisan Mixer into a one-stop culinary center!
Click here to buy the KitchenAid Artisan Design 5-Quart Stand Mixer now.
Simple Stand Mixer
This Hamilton Beach Stand Mixer offers hands free mixing and a planetary mixing action. It comes equipped with a powerful 300 watt motor with seven speed settings. These features allow you to mix your ingredients from a slow start to the fastest speed required.
The Hamilton Beach 63391 Stand Mixer is made to handle a wide variety of mixes and batters. It has three regular attachments for a variety of mixing tasks; the flat beater, dough hook and whisk.
There is a shield guard that keeps the ingredients from splattering all over. Furthermore, the non slip feet of the unit keep the mixer firmly on the countertop while in operation.
Most importantly, the guide on top of the mixer head helps user know the speed that's appropriate for different mixing methods.
Finally, the Hamilton Beach 63391 Stand Mixer is easy to use and clean up is a breeze.
Click here to buy the Hamilton Beach 63391 Stand Mixer now.
Heavy Duty Stand Mixer For Commercial Purposes Or Frequent Home Use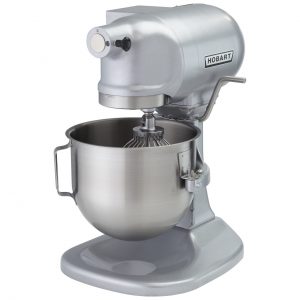 The Hobart N50-60 Countertop Mixer is a powerful mixer that's designed for heavy duty use. It's ideal for a commercial kitchen or a home cook/chef who does a lot of baking and cooking.
This mixer works with a three speed gear driven transmission ensures that you get professional result with every use.
The gear driven transmission makes the mixer more stable compared to other units that are belt driven.  Similarly, the push buttons are easier to understand and use than some dial controls. All you need to do is push the button to start or stop the machine.
In addition to the simple push button, the equally simple bowl lift makes it easy for user to raise and lower the mixing bowl. It works like a lever which one pushes to get the bowl lift to the position required.
The power hub is quite versatile and works with most regular No.10 attachments. This allows you to use a wide variety of additional attachments.  The mixer comes with the regular attachments which are the flat beater, dough hook and wire whip.
Are you a start up culinary business or an avid and frequent baker or cook? Click here to buy the Hobart N50-60 5-Quart Commercial Countertop Mixer for more professional results.
Before we round up this review, let's have a quick comparison of all the products discussed.
Table of Comparison
| | | | | | |
| --- | --- | --- | --- | --- | --- |
|   | Cheftronic SM-1088 Multifunction Stand Mixer | Litchi 5.3 Quart Stand Mixer | KitchenAid Artisan Design 5-Quart Stand Mixer | Hamilton Beach 63391 Stand Mixer | Hobart N50-60 5-Quart Commercial Countertop Mixer |
| Category | Multifunction Stand Mixer | Professional Multifunction Stand Mixer | Artisan Design Stand Mixer | Stand Mixer | Countertop  Mixer |
| | | | | | |
| Bowl Capacity  in Quarts | 7 | 5.3 | 5 | 4 | 5 |
| Attachments | Flat Beater, Dough Hook, Wire Whip, Pouring Shield, Sausage Stuffer, Meat Grinder and Juice Blender. | Meat Grinder, Sausage Stuffer, , Pasta Dies, Blender, Dough Hook, Flat Beater, Mixing Blade, Whisk and Pouring Shield | Traditional beaters, whisk, dough hooks and splash shield with power hub for over 12 optional attachments | Dough Hook, Whisk and flat beater | Flat beater , dough hook, and wire whip with power hub for additional attachments |
| Motor  Watt and Speed |  1000w motor power and 750W cooking power with 10 Speed Options | 650 watts and 6 speed settings | 550 Watts ,  10 Speed Settings | 300Wats ,7 Speed Options | 1/6-H.P. Hobart-designed,  Three fixed-speed motor |
| Color | Available in Silver and Red | Red and Silver | Available in over 10 colors | Black | Gray |
| Material | Die Casting | Not specified | Metal Construction | Stainless Steel | Not Specified |
| Extra Features | Precise Heat Mixing Bowl with sturdy handles, LCD operation panel, | 30 Days Full Money Back Guarantee | Glass Mixing bowl with measurement | Mixing Guide | Gear Driven |
| Product Dimensions | 16.5 x 13 x 13 in | Not specified | 14.1 x 8.8 x 13.9 inches | 10.4 x 15.55 x 16.3 in | 10.5 x 17 x 15 inches |
| Manufacturer | Top Chef | Litchi | KitchenAid | Hamilton Beach | Hobart |
Conclusion
If you are starting out in the culinary business, one of the important things to do is ensure that you invest in top quality appliances. Does this mean you have to buy only expensive products? Of course not!
That is the reason why you need to invest not only money but time; the time needed to do a thorough research on any product you are thinking of purchasing.
We hope this review has provided you with adequate information to make an informed decision concerning the stand mixer to buy.
Click here to buy the Cheftronic SM-1088 Multifunction Stand Mixer now for more precise and professional results always!
Topics
#commercial grade mixer
#heavy duty mixer
#Multi Function Stand Mixer
#Professional mixer