Sugar flowers are made from sugar dough  also known as gum paste. In some quarters, this sugar dough is referred to as Mexican paste, pastillage or flower paste. Although you might find some variation in the recipes for each of these pastes, they serve basically the same purpose. They are the best kind of paste for making sugar flowers.
For as far as can be remembered, flowers have been a prominent element in cake decoration. From natural to artificial flowers, to royal icing and buttercream flowers; cake decorators have always used flowers to embellish their work.
Tools For Making Sugar Flowers
A workman is only as good as his tools. This is true in every sphere of life including cake decoration. If you want to be the best at what you do, you need the right tools.
You may need to improvise from time to time but the basic tools have to be in place.
In this piece we would discuss some basic tools that are necessary to create sugar flowers. These are not all the tools for making sugar flowers but these would suffice for a start.
Stay Fresh Sugar Flower Mat
Click here to check this out and buy on Amazon
The stay fresh mats or cel mats help to keep your cut outs moist.  This is because gum paste and other medium used in making sugar flowers usually dry out fast. All you do is place your cutouts on a working surface and place the flap over it. Some cake decorators prefer to use two flaps at the same time; this means placing the cut outs between the two flaps.
The stay fresh mat is not only useful for flower making but also for other decorations. When you need a lot of gum paste or fondant cut outs, you just cut everything at once and place under the flap. It makes your work so much easier and stress free.
When shopping for this mat, be sure to specify "stay fresh mat for gum paste flowers" or Cel mat. This is because there are other types of stay fresh mats in the market.
Cel Sticks and Modeling Tools
This is a broad category of different stick tools that are used to achieve different effects on sugar flowers. They can either be made of plastic, wood or metal. We would briefly examine some of them individually.
Leaf Veining Rolling Pin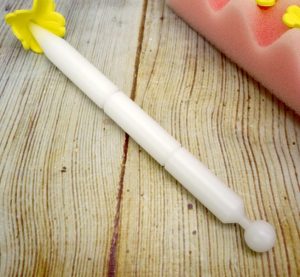 Click here to check this out and buy on Amazon
Leaf veining rolling pin is a small stick shaped like a rolling pin with different tools at each end. One end has a ball tool that's used to shape and thin out the edges of petals. The ball tool end is also used to indent and smooth out curves.
The other end of a leaf veining rolling pin is a cone tip for frilling and shaping sugar flowers. Some of these types of cel sticks have grooves in the middle that's useful for veining leaves and petals.
Sugar Flower Rolling Pin
Click here to check this out and buy on Amazon
Sugar flower rolling pin is specifically designed for rolling out small pieces of gum paste or other sugar dough. It has the additional feature of a rounded end and a cone shaped end. These two features are used for shaping, thinning and cupping sugar petals and leaves and also frilling and creating centers and cone shaped hollows for sugar flowers.
Frilling Tools
Click here to check this out and buy on Amazon
Frilling tools are gum paste tools that are used to add frills to sugar flowers and also hollow out Mexican hats or trumpet flowers. The rounded end is just right for frilling gumpaste carnation. There are several brands of these frilling tools and each one of them has slight differences in design. But they all perform the same function of frilling and shaping sugar flowers.
Dresden and Veining Tools
Click here to check this out and buy on Amazon
Dresden and veining tools are essential for frilling and fluting sugar petals. They are useful for increasing the size of sugar petals and in the process thinning them out. The pointed end can be used to accentuate the center of some kinds of flowers.
It also has a veining end that helps to create vein marks that are usually hard to achieve with ordinary leave veiners.
This tool is ideal for adding some details onto models, sugar sculpting and other kinds of sugar dough decorations.
Blade and Shell Tools
Click here to check this out and buy on Amazon
The blade end of blade and shell is used to cut and shape models and sugar flowers. This works well where regular fondant knives may be too wide to reach some areas of the element being made. The shell end is used to imprint patterns onto the models or sugar paste elements.
These are the modeling tools we have the time and space to discuss. There are still a number of tools that you'll come across in your sugar flower making venture. These tools are sold either in a set or singly.
Click here to check this out and buy on Amazon
Please bear in mind that different brands refer to the same tools by different names. We hope the pictures shown and the functions described would help you know what is being referred to no matter the brand name.
Petal and Leaf Board
Click here to check this out and buy on Amazon
A petal and leaf board is designed to be used to roll out fondant or gum paste and also vein the cut outs. It most often comes with two sides; one plain side and another side with grooves.
This board is useful for shaping sugar flowers, leaves and petals and other types of fondant cut outs. The grooved side also has holes for creating flower centers and also Mexican hat holes.
Ready Made Flower Centers or Buds
Click here to check this out and buy on Amazon
These are artificial rose centers that are made from food safe polystyrene. All you need to do is cut out and prepare your petals and then attach to the buds with edible glue. Though they are not tools but they are essential for perfectly placed petals.
Flower centers or rose buds though not hard to make, usually take time. This is because they have to be prepared before hand and left to dry before use.
There are two advantages of buying these ready to use flower centers: (a) you get uniform flower centers that you can use at any time (b) you save the time that would have been spent making your own and leaving them to dry.
Stamens
Click here to check this out and buy on Amazon
Just like flower centers/ buds discussed above, these are not tools but an essential part to realistic sugar flowers. The stamen of a sugar flower helps to make it look real life flowers.
Although you can make your own sugar flower stamens, but the time and effort required is not really worth it. This is because you can get over a thousand stamens of different colors for under $5. This coupled with the fact that you would always have stamens to use on demand makes buying a better option.
You can make some flowers without stamens but there are other flowers that would look real only if they had stamens. So unless you make only roses or carnations, you'll need stamens.
There are also a lot of imaginative ways you can use stamens in cake decoration.
Tools for Making Sugar Flower Bouquets
This last four tools we are about to discuss are essential for arranging sugar flowers. Although florist wires are used in the initial creation of sugar flowers, they are also essential for floral arrangement.
Florist Wires
Click here to check this out and buy on Amazon
Florist wires are used to support large petals and leaves; they are also useful for making and extending sugar flower stems and branches. It is very vital for making sugar flower bouquets and floral sprays.
These wires come in different sizes and are usually measured in gauges from 16g to 35g. The gauge determines how thick or thin the wire would be. The higher the gauge, the thinner the wire would be. This means that the 16g is the thickest of the range while 35g is the thinnest.
The gauge of the wire you choose would be determined by the weight of the piece you want to use it for. Heavy multilayered flowers would require wire gauge between 18g and 20g while delicate flowers or flower sprays would require wire of 30 or 33g.
What this entails is that flower bouquets require between 16 and 20 g depending on how many flowers would be in the bouquet.
Florist wires also come in different colors but the most prevalent colors are green and white.
Tips on Buying Sugar Flower Wires
For those who are just venturing into sugar flower making, you may not know what gauge of wires you should invest in. If finance Is not an issue, you should just go ahead and buy one packet of all the sizes.With that you'll have all the sizes needed for all types of flowers and project. You'll now be able to experiment by yourself and find out what works and what doesn't work.
If however, you are financially constrained, we advise that you buy the 18g to 30g, all in white. These sizes cover a wide range of flowers and projects. The white color would give you the freedom to use the right color of florist tape that you need. Whereas buying only green wires would limit your options.
As time goes on, you'll be able to ascertain the size and color of wires that you use most frequently. And then you'll be able to order the right things.
Florist Tape
Click here to check this out and buy on Amazon
Florist or floral tape is sometimes referred to as stem wrap. It is a self adhesive tape that is used to cover florist wires and also wrap and attach stems, leaves and flowers to form a bouquet.
This  elastic tape  stretches out as you pull to wrap around whatever you are using it for. It works perfectly well as a binding agent because it sticks only to itself. This self adhesion makes it ideal for wrapping wires because the wire becomes totally covered and you'd be hard pressed to separate the two.
The standard size for florist tape is 30 yards long and half an inch wide. However you can find some brands that are one fourth of an inch wide. A roll of florist tape can be used for many projects and would even go farther if you cut them into narrower strips.
Florist tapes come in wide range of colors; this allows you to choose the color that suits your project. That's the reason why we advise that you buy white florist wires and then you can have different colors of florist tapes.
One important tip to bear in mind is that you can apply petal dust to your white florist tape to get your desired color. This also means that you can just buy white florists wires and tapes and then color appropriately when needed.
Florist Wire Cutter
Click here to check this out and buy on Amazon
Although you can use knives and scissors to cut you florist wires, wire cutters are the best things to use. Knives won't cut the wires at once and you may injure yourself in your bid to cut the wires. Using a scissors would even be more cumbersome and the scissors could be ruined in the process.
Florist wire cutters make the job of cutting florist wires to size easy and they cut the wires precisely. Thankfully they are not expensive so you have no reason not to have one in your sugar flower tool box.
Flower Picks
Click here to check this out and buy on Amazon
Flowers picks are tools that allow you to arrange and display your sugar flowers on cakes without direct contact. They are very useful when you are inserting wired sugar flowers into cakes because they prevent the wires from touching the cake.
Florist wires are not safe to be in contact with food unless they are covered with food safe materials. There are some food safe materials that can be used but the most convenient is the flower picks.
All you have to do is wash the flower pick, dry it and then put the wires of the flower spray or bouquet into the pick. Next you insert the flower pick into the cake and push it in until it's no longer visible. They would work for all types of icing except maybe royal icing which set hard and fast.
They come in different sizes, with different brands having different size range. Be sure to select the flower pick that is the right size for your arrangement.
Flower picks also work for other decorations that you don't want to have direct contact with your cake.
Click here to check this out and buy on Amazon
A Short Buying Guide For Sugar Flower Tools
We would not be able to give you a comprehensive individual guide for all the tools we have discussed. However, we would give you general tips on how to go about shopping for the right sugar flower making tools.
You can also click here to read our article on Gumpaste flower cutters for more information.
We also recommend some of our previous articles for further reading:- 

Look Before You Leap
You need to take in a few tutorials before you embark on buying sugar flower tools that is if you haven't done that. This is because there are myriads of sugar flower tools out there. Even the ones we have discussed earlier have different variations that may confuse you.
But if you watch tutorials and videos on creating sugar flowers, you'll know which tools are important. You can also learn how to improvise in case some tools are not available.
Always research any tool that you are thinking of buying. This means that you read reviews on products, check out cake decorating forums and the likes. You would get a fair understanding of how the tool functions.
Check Out Functionality and Ease of Use
Look out for sugar flower tools that are simple to use and also functional. This is an important factor because there are some tools that are for advanced cake decorators. And even at that they take some getting used to. So to be safe, start out with simple tools.
It is easy for one to be conned into buying a tool that's not functional; don't be moved by fancy names. A functional tool is one that gets the job done and some extra too. All the ones we have discussed so far are easy to use and functional.
Look Out For Top Quality and Food Safe Material
Ensure that the sugar flower tools that you are buying are made of food grade top quality materials. As we stated at the beginning, these tools are made with either wood, plastic or metal.
The most popular material these days is plastic, although some cake decorators still prefer metal. If you opt for metal sugar flower tools, be sure that they are made with rust free stainless steel. Remember that your tools would always be in contact with food so they have to be food grade. Plastic tools also have to be made with BPA free FDA approved plastic.
Check For Durability
Check out reviews to find out the durability of the tools. This ties in directly with the quality of the tools. If you want durable tools then you would have to be ready to pay a bit more to get top quality tools.
Click here to check this out and buy on Amazon
Sugar Flowers – FAQs 
How Long Do Sugar Flowers Last?
Sugar flowers can last as long as 6 months if stored properly. The basics of storing sugar flowers properly include the following:-
(I) Allow the sugar flowers to dry completely.
(ii) Place them in an airtight container. You can line the container with tissue or rice paper and also place some crumpled tissue all over the container for the sugar flowers to rest on.
(iii) Keep the container in cool, dry and dark place but never in the fridge or freezer.
(iv) Make sure it doesn't come in contact with any form of moisture.
Check out this our article on how to store fondant decorations for more details.
Are Sugar Flowers Edible?
Technically, sugar flowers are edible because they are made with gum paste or some other type of sugar dough. These sugar dough are made with ingredients that are mainly sugar based and so can be ingested.
That being said however, sugar flower goes through the process of making, wiring it and arranging it into a bouquet. This entails a lot of handling which doesn't not make us favourably disposed to eating the finished product.
Secondly the taste of gum paste though sweet (in a saccharine way), is not as pleasant as fondant which is actually meant to be eaten with the cake that it covers.
Click here to check this out and buy on Amazon
Can You Put Fresh Flowers On Cake?
You can most definitely put fresh flowers on cake. But when you decide to put fresh flowers on cake, ensure that you adhere strictly to the following:-
(i) Fresh flowers are best used on fully iced cakes and not naked or semi-naked cakes. The icing on the cake would form a barrier between the cake and the flowers.
(ii) You must never insert fresh flowers directly into your cake. Place the stem in a flower pick so that it would form a barrier between the flower and the cake.
(iii) Ensure that the specie of flower that you have chosen is not toxic; consult an expert on this.
(iv) Remove the flowers completely from the cake before cutting the cake.
How Long Do Sugar Paste Flowers Take To Dry?
Sugar flowers can take anywhere from 24 hours to 2 days to dry completely. There are a number of factors that determine the time the sugar flower would take to dry and these factors include the following:-
The recipe of the sugar paste
The thinness or thickness of the petals and other parts of the sugar flower
The climate of the region you live in
We recommend our detailed article on how long it takes fondant decorations to dry for more info.
If you have more questions about sugar flower, we recommend that you read our article on gumpaste flower cutters .