A gum paste flower kit consists of everything that you need to make sugar flowers and all types of delicate and intricate gum paste and fondant decorations for cake. These tools are essential if you must get your sugarcraft right . That is why we are taking time to help you know what these tools are and their individual function.
Now that you know the importance of a gum paste flower kit, we know you are eager to go get one. But before we give you tips on how to choose a gum paste flower kit, you need to have a basic understanding of gum paste.
Click here to check this out and buy on Amazon
Understanding Gum Paste
Gum paste also referred to as sugar paste is an edible sugar dough. It is made with icing sugar, egg whites and vegetable shortening. Though it looks like fondant, it's not the same with fondant.
What is the Difference Between Fondant and Gum Paste?
In this next segment, we would explain to you the difference between fondant and gum paste:-
Fondant
Fondant is made with icing sugar, gelatin, glycerin and vegetable shortening. It is soft and malleable and easy to roll out thin enough to cover a cake.
When you use it to cover a cake, it maintains its shape and remains soft and easy to cut through.
You can also use fondant to decorate cakes and make designs that don't need stability. You can use it to cut out shapes that would lie flat on the cake.
Fondant doesn't work well for bows and modeling because it doesn't have the right stiffness required.
It can can be made from scratch with a little variation in recipes or you can buy already made fondant.
Click here to check this out and buy on Amazon
Gum Paste
Gum paste unlike fondant dries fast and hard. It is best for modeling designs that need stability and also good for making flowers. The stability allows you to roll out the gum paste very thin to achieve life-like flower petals.
You avoid the occurrence of breakage and drooping when you use gum paste to make flowers, characters or bows. This is because it dries hard unlike fondant.
You shouldn't use gum paste to cover your cake because it dries hard and most often don't taste nice. But again the taste depends on the recipe used.
Just like fondant, you can make your gum paste from scratch with a variation of recipes. You can also buy the powder mix or the ready to use variety.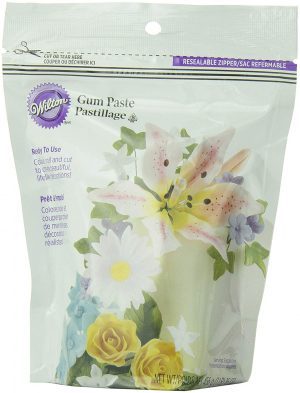 Click here to check this out and buy on Amazon
Working with Gum Paste
When working with gum paste, there are things that you need to bear in mind. Some of these things include the following…
Temperature
Gum paste is very sensitive to temperature; it would react to humidity and heat. So when working with gum paste, take note of the temperature.To ensure that your gum paste doesn't get sticky, you can use more icing sugar to dust your work surface. If the gum paste is drying out you can use vegetable shortening.
Proper Kneading of your Dough
Before you start working with your gum paste, ensure that you knead it properly. It should be quite soft and smooth to touch; this would make it easier for you to roll out.
Cover Unused Gum Paste Properly
When you are working with gum paste, always ensure that the unused portion is properly covered. Keep it under a plastic wrapping to keep it from drying out.
Color your paste right
Whether you are using ready to use gum paste or homemade recipe, every gum paste is white at the beginning. Color brings your flowers or designs to life so add the colors; however be careful to add the color a little at a time. Dip your toothpick into the color and rub into the paste, and then knead the paste to mix the color in thoroughly.
Remember that cornstarch dries out gum paste especially in dry weather. Using vegetable shortening when kneading gum paste would prevent it from drying out.
Gum Paste Flower Kit
After you have properly prepared your gum paste there are some basic tools that you need to start making your gum paste flowers. These tools include the following:
Rolling Pin
The rolling pin you need for making gum paste flowers is a smaller size than the regular rolling pin. These ones are usually about seven to eight inches long and an inch wide. This makes it easy for you to roll out small quantities of gum paste.
Click here to check this out and buy on Amazon
Rolling Mat or Board 
This mat/board should be a smooth one and can either be plastic or acrylic. They are also usually smaller than your regular working surface for fondant. Since you won't be rolling out large quantities of dough, this is ideal.
It saves you the stress of always having to mess up and clean up your entire working surface. You are also not tied to a particular working area because the board/mat  is portable.
Click here to check this out and buy on Amazon
Petal Cutters
Petal cutters  are used to cut out shapes (from gum paste or fondant) that are uniform and they come in different sizes and shapes. It is important to have petal cutters for uniformity of shapes. These cutters are either metal or plastic.
Metal cutters give the shapes sharper edges than the plastic ones however both plastic and metal cutters get the job done.
Click here to check this out and buy on Amazon
Foam Pad
The foam pad provides a firm surface that you can work on. It allows you to easily work on molding, thinning out, and softening the edges of  your leaves and petals.
Click here to check this out and buy on Amazon
Ball Tools
Ball tools are modeling tool that gives your cake decoration a finished and professional look. It is used to give your petals that natural look with ruffled edges and soft curves. They are also used  to thin out the edges of petals.
It is the pressure you exert on the ball tool that would determine the effect you get; a light pressure would give you light ruffles, while harder pressure would give you more pronounced ruffles.
Click here to check this out and buy on Amazon
Veining Tool / Real Leaves
The veining tool as the name implies is used to vein your leaves and petals to make them look authentic. If you do not have a veining tool, you can use real leaves to achieve the same result. Some decorators even prefer real leaves because they claim that it gives their petals a more authentic look than the veining tool.
Click here to check this out and buy on Amazon
Flower Former
Flower formers are  curved plastic equipment on which you dry gum paste flowers and other decorations. The curved design is what allows the flowers to dry and still retain that life-like look. In the absence of this tool, you can improvise with an empty egg carton.
Click here to check this out and buy on Amazon
Florist Wires
Florist wires are pliable aluminum wires that are used for sugar flower designs and arrangements. Most are often they are tinted green so that they blend with your floral design. However, there are some that come in white or silver.
Florist wires are categorized in gauge or thickness.The thinner ones are used for filler flowers and small flowers while the thicker ones are used for bigger flowers. The thicker ones also come in handy for assembling bouquets of flower.
Click here to check this out and buy on Amazon
Floral Tape
Floral tape is a self adhesive, extra strength and expendable tape that's used to hold sugar flowers together. It sticks to itself without adhering to the finger of the user.
Floral tape is an essential tool for sugarcraft; you can't assemble your gum paste flowers without this tape. Though the most prevalent color is green, they also come in different colors.
Click here to check this out and buy on Amazon
Wire Cutter
A wire cutter comes in handy for cutting florist wires and other sugarcraft wires. They are a time saving device that cuts through those wires real fast. With a wire cutter, you don't have to ruin your scissors.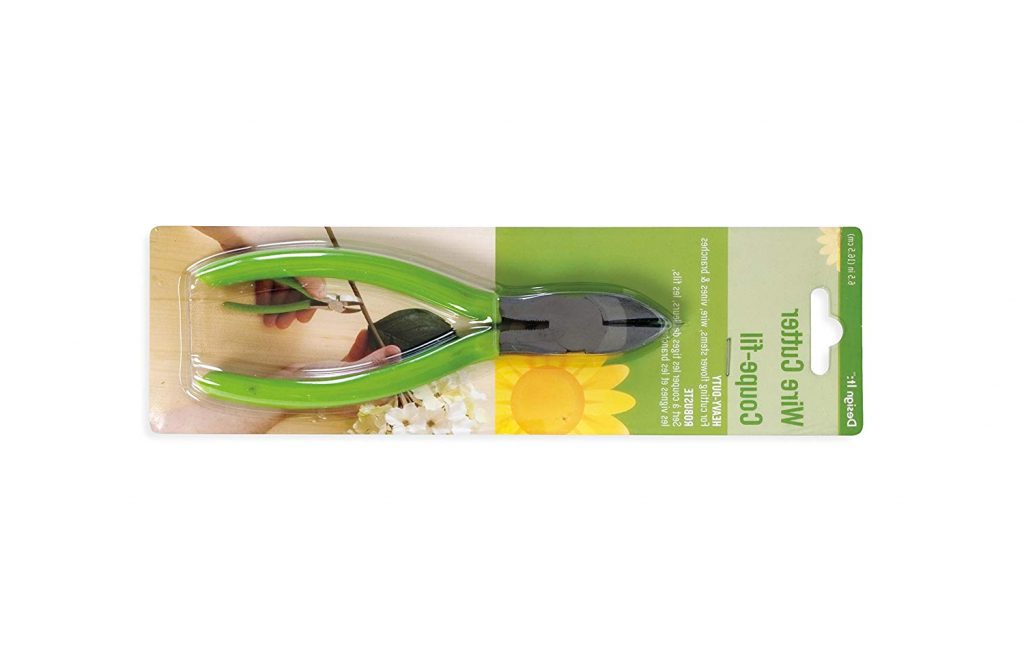 Click here to check this out and buy on Amazon
Paint Brush
Every cake decorator needs a set of paint brush to work with. They are useful for attaching flowers, applying petal dust and miscellaneous tasks.
A brush helps you to control how much glue or water is used on the gum paste.
Too much glue or water on the gum paste would ruin your work. So you dip your brush in the edible glue or water, shake off the excess before applying the brush.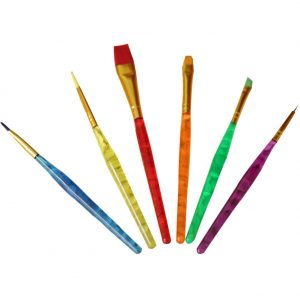 Click here to check this out and buy on Amazon
Petal Dust
Petal dust comes in a variety of colors; they are used to create authentic effects on your flowers. There are also other varieties of edible dust that creates different effects on cakes. These products include luster dust, pearl dust and edible glitter. Apart from the liquid color you added to the gum paste, these edible powders add more glitz to your work.
Click here to check this out and buy on Amazon
Choosing the Right Gum Paste Flower Kit
Sugar craft is a broad category of cake decoration. There are a lot of styles, techniques and designs that abound in this branch of cake decoration. Gum paste flower is just a small part of it.
Gum paste flowers are things that can never go out of fashion in the world of cake decoration. Instead new methods and designs are developed on a daily basis.
In order to get the best of your gum paste flower creation, you need the right tools.
Click here to check this out and buy on Amazon
Truth be told, there are a thousand and one tools that are used for gum paste flowers. So much so that a beginner can get confused about what's necessary and what's not.
We have given you a list of the tools that are essential; now we'll give you tips on how to make the right purchase.
Factors to Consider Before Buying a Gum Paste Flower Kit
What are the essentials?
You need to determine which tools are really essential before you buy a gum paste flower kit.
As is always the case with kits, there are always items in the kit that are not quite essential. Does this then rule out the need for a gum paste flower kit? The answer is No!
You do need a kit; especially if you are a beginner. However, you should look out for the most basic kit. This would ensure that you don't get too many unnecessary tools.
Another thing that would help you in getting only the essentials is to watch a lot of tutorials online.Also read lot of articles on gum paste flowers; but watching videos is better. When you watch several tutorials, you'll get to know which tools are the most important ones.
Durability
Before you make a choice on the gum paste flower kit that you desire you have to consider durability.
Like most cake decorating tools, gum paste flower kits come in either metal or plastic.
Some cake decorators would swear by metal gum paste kits while others would insist on plastic kits.
While each camp is right in their claim, there is no right or wrong material for gum paste kits.You have to do your research well to find out the durability of your desired product. Some plastic gum paste tools are not strong enough for rigorous use, while some metal tools would rust on you.
Buyer reviews would let you into how strong and durable a product is; you can also learn about its advantages and disadvantages.
Frequency of Use
One thing to consider before buying a gum paste flower kit is the frequency of use. How often do you plan to use these tools? This would help you to decide how much you are willing to spend and the type of kit you'll settle for.
Functionality
Functionality here describes the range of capabilities of a gum paste flower kit. What are the types of flowers you can produce with this kit?
Some kits offer you a wide range of possibilities while others limit you. If you are going all out into sugar craft, you should be considering a versatile tool set. But if all you want is just to be able to knock out a few flowers once in a while, then you need just a basic set.
Click here to check this out and buy on Amazon
Ease of Use and Cleaning
There are some gum paste kits that are quite difficult to clean and that's mostly because of the material and design.
There is a general consensus that metal or stainless steel products are easier to clean than plastic and silicone. But there are some plastic and silicon gum paste kits that are not that hard to clean too.


On this issue of ease of use and cleaning, individual preferences matter a lot. There are people who look out for only dishwasher safe products while others don't mind washing by hand.
If you are the type that prefer dishwasher safe products then that means you don't like wasting time on clean up duties. But bear in mind that some gum paste tools might not be dishwasher safe. Furthermore the manufacturer might also recommend washing by hand only.
Food Safe Material
Ensure that whichever gum paste flower kit you decide to buy is made with food grade material. This usually specified in the product description.
Cost
Some people make the mistake of equating expensive products to high quality products, while others would always look out for cheap articles.
Both extremes are not right when it comes to making a right choice of any product. There are a lot of factors that affect the cost of a product.
In considering how much you are willing to spend for a gum paste flower kit, think of all the points we have discussed above. They are all valid reasons to spend a little above the cheapest price to get good quality product.
Conclusion
Like we mentioned before, not all kits would have just the essential tools that you need. Some would have duplication, and other tools that are not too necessary. Some others yet wont have all the essentials that you need.
If you first of all get a good understanding of gum paste flowers and the tools you need to make them, this would help you a lot.
You can start out by buying the most basic of gum flower kits, then graduate to getting the tools you need individually.
Do not be in a haste to buy all the tools that are touted as very important; you might end up not using them at all.
Finally, check out some of our previous articles below:-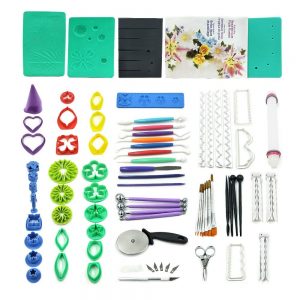 Click here to check this out and buy on Amazon