Cake pans are an essential tool in baking and culinary arts. As mundane and simplistic as it sounds, cake pans are very  important for successful baking. Your baking is greatly impacted upon by the kind of bakeware you use; no matter how wonderful your recipe is.
Due to the importance of cake pans, it's vital that you choose the right ones. There are so many designs, shapes and sizes of cake pans available and this can be confusing for a beginner. How can one determine which type of pan is appropriate for a recipe?
This write up would help you get a basic understanding of cake pans and which recipes they work best for.
Types of Cake Pans
In this segment, we would discuss the various types of bakeware based on their shape, design and material.
Traditional Cake Pans
Click here to buy this or other shapes on Amazon 
Traditional cake pans usually come in round, square and rectangles; they are the most common bakeware used to bake a wide variety of cake recipes. They are designed with flat bottoms and high straight sides.
Traditional cake pans are commonly used to bake cakes that can be sliced into layers and filled. These are the types of cake pans that are used to make wedding cakes and tiered cakes; this is because they come in different sizes.
Cupcake Pans or Mini Cake Pans
Click here to check out this or other brands on Amazon 
These types of cake pans  enable you to bake many mini or cup cakes at the same time. The cavities come in different shapes and can be used to bake mini square cakes, small Bundt cakes and round cupcakes.
Cupcake pans come with different numbers of cavities; ranging from six to forty eight. Although you can pour your batter directly into the cavities, most caked decorators prefer to use cupcake molds/cups .
This is because the cupcake molds/cups help you make uniform portions of cake that would easily pop out of the pans. They also add a decorative touch to the cupcakes.
Novelty Bakeware 
Click here to buy this or other designs on Amazon 
They are called novelty bakeware  because they come in different types of designs and characters different from the regular cake pan shapes. They usually have flat bottoms and tall sides, depending on the character or shapes.
These types of bakeware have many sides and corners that your cake batter can stick to. Therefore you have to carefully grease all the sides and corners so that your cake would come out easily without breaking.
The wonderful thing about this type of bakeware is that they help you bake cakes with unusual shapes without stress and waste. You don't have to carve and sculpt the cake; this eliminates error and irregularities in your cake design.
Cake Rings
Click here to buy this cake ring set on Amazon 
Cake rings are designed with tall sides but without bottoms and are ideal for baking cakes with many layers. They are most commonly used with sheet  pans; all you do is place the cake ring on a sheet pan and pour the cake batter into the ring. When doing this, you have to be careful to pour the batter slowly to avoid it leaking through the bottom of the ring.
The design allows you to slide the cake ring up and away from the cake when it is baked and cooled. Cake rings can also be used to cut up sheet cakes in uniform shapes or as cookie cutters.
They are usually made of thin metal that make them ideal for cutting though cakes to produce clean edges. They are great for creating exciting desserts and pastries.
Bundt Pans

These types of pans are designed with holes in their middle for making cakes with ring shape. Cakes made in bundt pans are usually baked upside down and then turned over and removed when they are cooled.
Bundt pans usually come with domed or angular bottoms because of the purpose.  The ones with domed bottoms bake rounded cakes while the ones with angular bottoms bake novelty designs.
The holes in the middle of the bundt pans help deep cakes to bake more evenly and quicker than regular round cakes of similar size.
Click here to buy this pan or other designs on Amazon 
Bundt pans have to be greased properly because of their irregular shape and design.  The best way to do this is by using baking spray; this would help you reach all the angles of the pan. If you don't grease your pan properly your cake might come out with missing corners and pieces.
Sheet Cake Pans
Click here to buy this or other brands on Amazon 
This type of bakeware is not as deep as other types of cake pans; they are shallow, usually about an inch deep. They are used to bake sheet cakes and also used as the base for cake rings. Some manufacturers and baker refer to them as jelly roll pan.
They are ideal for making thin cakes that are used in rolled recipes such as Yule logs and Swiss rolls.
Ensure you use paper liners and parchment papers when baking to get the best out of your sheep cake pan. They help stop your cake from sticking to the pan and also help you to handle the cakes for the rolled recipes.
Tube Pans or Angel Food Cake Pans
Click here to check out or buy this pan on Amazon 
These types of  pans are circular with high sides that are either tapered or straight. They are usually a two piece design made up of the center tube and bottom and the sides of the pan.
These separate parts fit together to form a whole for baking; this design makes it easy to remove your cake when it's cooled.
The design of the Angel food cake pan is similar to the bundt pan. The tube at the center allows the cake to bake faster. This is because it distributes heat evenly around the inner parts of the cake.
Angel food cake pans are not made with non stick material because of the recipes that are designed for. They are  recommended not to be sprayed with non stick material either. This is so that the recipes can adhere to the side of the pan as they rise while baking.
They are usually fitted with feet on the upper rim and are meant to be kept upside down while the cake cools. This is to prevent the cake from collapsing during the cooling period
Silicone Cake Molds
Click here to buy these molds or other designs/brands on Amazon 
Silicone cake molds  are made of silicone therefore they are flexible; this makes it easy for the baked goods to pop out of the pan.
These types of pans are made of oven safe silicone. They do not need lining like some other types of cake pans. However you may need to grease them lightly for some recipes so check your recipe to be sure.
Springform Cake Pans
Click here to buy this springform set on Amazon 
This kind of cake pan is ideal for delicate torte recipes, crumb cakes and cheese cakes that can't be turned upside down for removal. This is because springform cake pans have detachable bottoms and adjustable sides that are locked in with a clamp.
You leave your cake in the pan to cool totally and when cooled, you just open the clamp to detach the sides. You can remove the bottom of the pan or leave it on; it all depends on how you want to serve the cake.
Tips for Choosing the Right Cake Pans
From experience, it has been proven that the wrong cake pan can ruin a perfectly great recipe. For this reason, you need to know the right kind of cake pan to use.
Let's look at the different factors to consider when matching a cake pan with a recipe and what to look out for when buying cake pans.
Choose the Correct Size of Cake Pans
When thinking of trying out a recipe, consider the size of the cake pan called for. This is an important factor that would determine how well the cake pan will work with the recipe.
This especially true for recipes you have to bake in a single whole shape.
Ensure that you have the right size of cake pan. This would help you avoid the stress of having to alter the recipe to fit another size of pan.
Get the Right Number of Cake Pans Needed
If you are a home baker, you should consider the quantity of batter your recipes yield per time. It is usually more cost effective to have more than one cake pan. This is because you'd be able to bake more than one pan at once. This helps you to save energy (manual and electric) and  perishable ingredients such as milk and eggs.
Professional bakers would already know the type and size of cakes they bake most often. This helps them determine the number of a particular size of cake pan to have.
If you are just starting out commercially, it might be best to buy double of the most common cake sizes sold in bake shops.
As you progress, you would know how many cake pans would make more business sense for you.
Consider the Material the Cake Pan is made of
Cake pans are made of various materials and each material works well for one recipe or the other. There are glass cake pans, silicone cake pans, ceramic cake pans and metal cake pans.
Each of these cake pans has its advantages and disadvantages. Metal cake pan especially aluminized steel has been voted to be the best kind of cake pans to use. This is because they distribute heat evenly and fast.
A combination of aluminum and steel produces cake pans that are durable and won't bend out of shape.
Consider the Need for Specialty Cake Pans
If you bake novelty cakes often, that means that you would need specialty cake pans. Each project would require its special cake pans. One advantage of having the specific cake pan for each project is that you would get the exact shape required.
However, this may constitute a problem for a professional cake decorator. Imagine that you have a different novelty cake design every week of the year; this would translate into 52 different novelty cake pans. This might lead to you spending too much on cake pans and also having too many cake pans.
One way of solving this problem is to learn how to carve and sculpt cakes. This would allow you to use round or square cake pans to bake and then carve the shape you want.
That said however, there are recipes that call for a particular kind of cake pan; case in point is Bundt cakes. There's no way around it but to use the appropriate cake pan.
Click here to check out and buy the right bakeware on Amazon 
Consider the Durability of the Cake Pan
The durability of a cake pan would rest largely on the quality of the material it is made of.
If you are going into the business of cake decoration, you need to consider the durability of your cake pans.
Look for cake pans that are made with good quality material and also ensure that the material is food grade.
Apart from the fact that good quality cake pans would last for long, they also ensure that your cakes bake evenly and well.
Cake pans made from sturdy top quality metal would withstand wear and tear without losing their shape.
Frequently used Recipes
Since we have seen that there are some recipes that require specific cake pans, you need to factor this into your considerations.
Note the recipes that you make most frequently and get the adequate cake pans for them. Almost all recipes specify the type of bake ware to use. So when trying out a new recipe, always ensure that you have the right cake pan. If you use the wrong cake pan for a recipe you would definitely get the wrong result.
This point is especially true if you bake for commercial purposes. Using the right tool ensures that your products would always be excellent.
Cost of the Cake Pans and Your Budget
If you are starting out in the cake decorating business, we are sure that you have a budget that you are working with. Our aim here is to help you to get the best without breaking your budget.
One thing we have discovered through the years is that most products are not priced solely on the quality of the product.
Several other factors come into play in determining the price tag of a product. These factors include the popularity of the brand, celebrity endorsement and demand for the product. These factors are all interwoven in their cause and effect.
Let's explain…
Cake decorating products that have celebrity endorsements usually cost more than unknown brands. These products are the ones used in celebrity chef TV shows and events which is why the rating of the product goes up.
Once a celebrity cake decorator is known to be using a particular brand of cake pans, they become more popular. The unconscious belief would be that these cake pans contribute to the success of the celebrity chef. This may or may not be true.
However perception is reality which leads to higher demand for the product; this in turn leads to the increase in the price of the product.
That said, you shouldn't base your choice of a product 100% on the price. There may be other unknown brands  that would perform better than the known ones.
One way to ascertain the quality and performance of a product is to read the reviews by verified buyers. Another way is to check out online forum that discuss the pros and cons of products.
This has helped a lot of people to make the right decision concerning a product.
Although we have said that the quality of a product is not determined by the price, good quality products however, don't come cheap.
Consider the benefits you would gain from a product before you discard it based on the cost. You might need to adjust your budget for greater profit in future.
Click here to buy high end bakeware on Amazon 
Finally
It is the little things that cause the worst problems and they are most often overlooked.
One thing every experienced cake decorator knows is that every step in the process is important. From buying the raw ingredients to getting the right tools, using the right recipes and techniques; they all add up to success or failure.
Never take for granted the significance of appropriate cake pans. Unless of course you do not care how your baked goods turn out.
Do not be in a hurry to buy cake pans, take your time and research whichever brand you desire. It's also best to build up your stock of cake pans recipe by recipe. That way you'll get the appropriate product for you.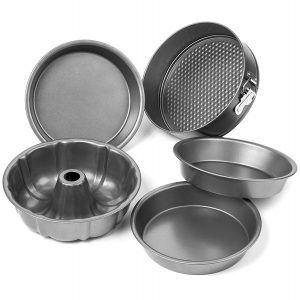 Click here to buy top quality bakeware on Amazon 
Topics
#cake pans
#cup cake pans
#mini cake pans
#novelty cake pans
#round cake pans
#silicone cake mold
#square cake pans